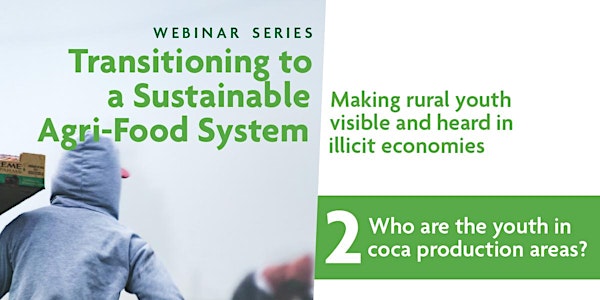 Transitioning to a Sustainable Agri-Food System Webinar Series
Who are the youth in coca production areas?
About this event
Webinar 2: Who are the youth in coca production areas? (10:00AM July 14th, 2022)
This webinar series explores the relationship between youth in Latin America, illicit economies and agri-food systems. It is an opportunity to discuss what territorial, political and social characteristics favour and hinder young people from participating in illicit value chains, and how to promote the transition to sustainable development models.
Webinar 2 focuses specifically on young people in Latin American countries working in coca production and illicit economies, as well as the characteristics of this population to understand their reality.
Panel with: Carlos Córdoba, Director of the Office of the Latin American Center for Rural Development in Colombia; Ángela Penagos, Director of the Agri-food Iniciative at the Universidad de los Andes; Dr. Silvia Sarapura, Assistant Professor of Environmental Design and Rural Development at the University of Guelph
This event is in Spanish with English translation services. Following the webinar series, presentations and a detailed summary of the webinars will available online for participants.