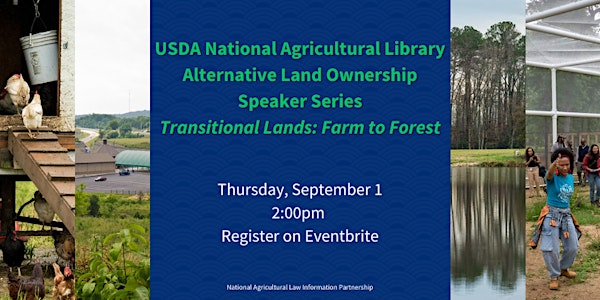 Transitional Lands: Farm to Forest
USDA-NAL Alternative Land Ownership Models Speaker Series, Part 1: Transitional Lands: Farm to Forest
About this event
The USDA National Agricultural Library is hosting a three-part series on alternative land ownership models organized by the Agricultural Law Information Partnership.
The first part, Transitional Lands: Farm to Forest will take place on Thursday, September 1st at 2:00pm ET. Alex Harvey, President and Founder of Legacy Land Management, LLC, will discuss the importance of transitional lands and how land owners can move property into forest and conservation areas to maintain ownership while generating passive income.
The importance of alternative land models:
Wealth is more than money; it includes community resources, social networks, and physical assets. Land ownership is a significant generator of wealth in the U.S.; however, many lack access to acquiring land. This issue disproportionately impacts Black, Indigenous, people of color (BIPOC)and low-income communities. Throughout history, racist systems have denied historically excluded communities continuous land ownership, which hinders these communities from accruing individual and generational wealth. Alternative means of land ownership help create a more equitable system by supporting community needs related to both agriculture and conservation.
Don't forget to register for the other two parts of our series:
- Emerging Land Ownership Models: Agrarian Commons - September 22 - 2:00pm ET featuring Duron Chavis, urban farmer and educator and Kristin King-Riess, legal expert on Community Land Trusts, moderated by Francine Miller of the Center for Agriculture and Food Systems at Vermont Law School
- Equitable Land Access: Resources & Tools - September 29th - 2:00pm ET with Kirstin Nelson, Senior Law Librarian, and Jamie Flood, Outreach Specialist with the Agricultural Law Information Partnership.