Transition to Adulthood - Virtual Field Trip
Transition to Adulthood - Virtual Field Trip
About this event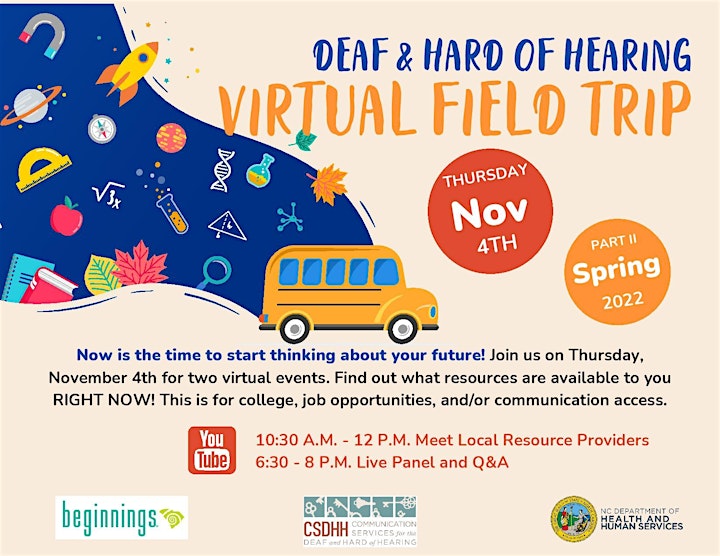 Now is the time to start thinking about your future! Join us on Thursday, November 4th for two virtual events (10:30 am & 6:30 pm). Find out what resources are available to you RIGHT NOW! This is for college, job opportunities, and/or communication access.
**The 10:30 session is geared towards students the 6:30 is geared towards parents and young adults. Please use the same green 'register' link for both `10:30 and 6:30 event. Talk with your child and their teacher to ensure they have registered for the morning session. ***
Agencies who will be present at both events: DSDHH (Division of Services for the Deaf and Hard of Hearing), CSDHH (Communication Services for the Deaf and Hard of Hearing), Vocational Rehabilitation, Beginnings for Parents with Children Hearing and UNCG (University of North Carolina at Greensboro).
This will be presented in spoken English and ASL with ASL/English interpreters provided (as well TASL and CART - Communication Access RealTime Translation).
***RSVP by 10.21.2021 -- If the above accommodations are need and or additional accommodations (second or other spoken language such as Spanish) are needed please let Christina Moore know at Christina.moore@dhhs.nc.gov***
FYI - This event will focus on these school systems: Guilford, Randolph, Alamance, Rockingham, Caswell, Davidson, Davie, Yadkin, Surrey, Stokes, Lexington City, Thomasville City, Asheboro City and Forsyth.
*** We are asking that IF possible, students register with their emails using thier school or personal email address. IF that is not possilbe, teachers / 504 Coor. / EC Teachers, please register students using your email address. Make arrangements for students to watch and participate during the day - in a lab, in an office setting, etc. Information shared is vital for their transition to prepare for AFTER high school during this very interactive event. You will have to share the link for students and parents to watch the evening session. The link for both events are the same. ***
Register by October 29th to get your Transition Kit needed on the day of the event.
Organizer of Transition to Adulthood - Virtual Field Trip