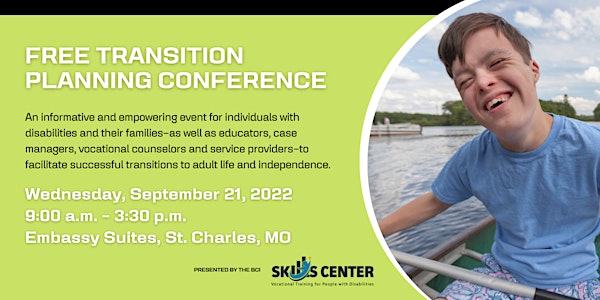 Transition Planning Conference
An informative event to facilitate successful transitions to adult life and independence for people with developmental disabilities.
When and where
Location
Embassy Suites, Windsor Room Two Convention Center Blvd. Saint Charles, MO 63303
About this event
YOU'LL LEARN ABOUT: 
Planning for the transition from high school to adulthood
Disability and work benefits
Supports and funding through Vocational Rehabilitation, Workforce Development, Developmental Disabilities Resource Board, and Department of Mental Health
Programs through Higher Education
Vocational programs at the BCI Skills Center
FREE ATTENDANCE AND LUNCH
Thanks to generous grants from theSaighFoundation.org and LIFT.
KEYNOTE SPEAKER
Danny Combs is a fourth-generation woodworker and mechanical tinkerer who grew up making "stuff" with his family. Eventually he decided to follow his own path and went to Nashville. After 10 years in the music industry, he began to cultivate his passion for education.
His love for teaching lead to teaching private lessons and running the music program at an inner-city high school. He was granted several awards in teaching – including a Grammy Enterprise Award for the program he designed in the Nashville schools.
Danny has a Master's Degree in Education, is a Board Certified Cognitive Specialist, a Certified Autism Specialist, and a classic car junkie. He has two incredible children – Dylan and Ellie.
When his son Dylan was diagnosed with autism, Danny formed Teaching the Autism Community Trades (TACT) to help other kids like his own and their families. TACT serves individuals ages 5-30 living with autism spectrum disorder (ASD) through a variety of introductory workshops and career training in the skilled trades industry, one of the fastest growing and most difficult to fill professions in the country. TACT's enriching, innovative, hands-on educational programs are intended to help effectively prepare individuals living with ASD for employment and long-term self-sufficiency.
Outside of TACT, Danny is the Board Chair/President of the Autism Society of Colorado and proudly serves in the Air Force Reserves one weekend a month working in Space System Operations out of Buckley Air Force Base.