Transit Special Constables Women's Symposium 2019
Description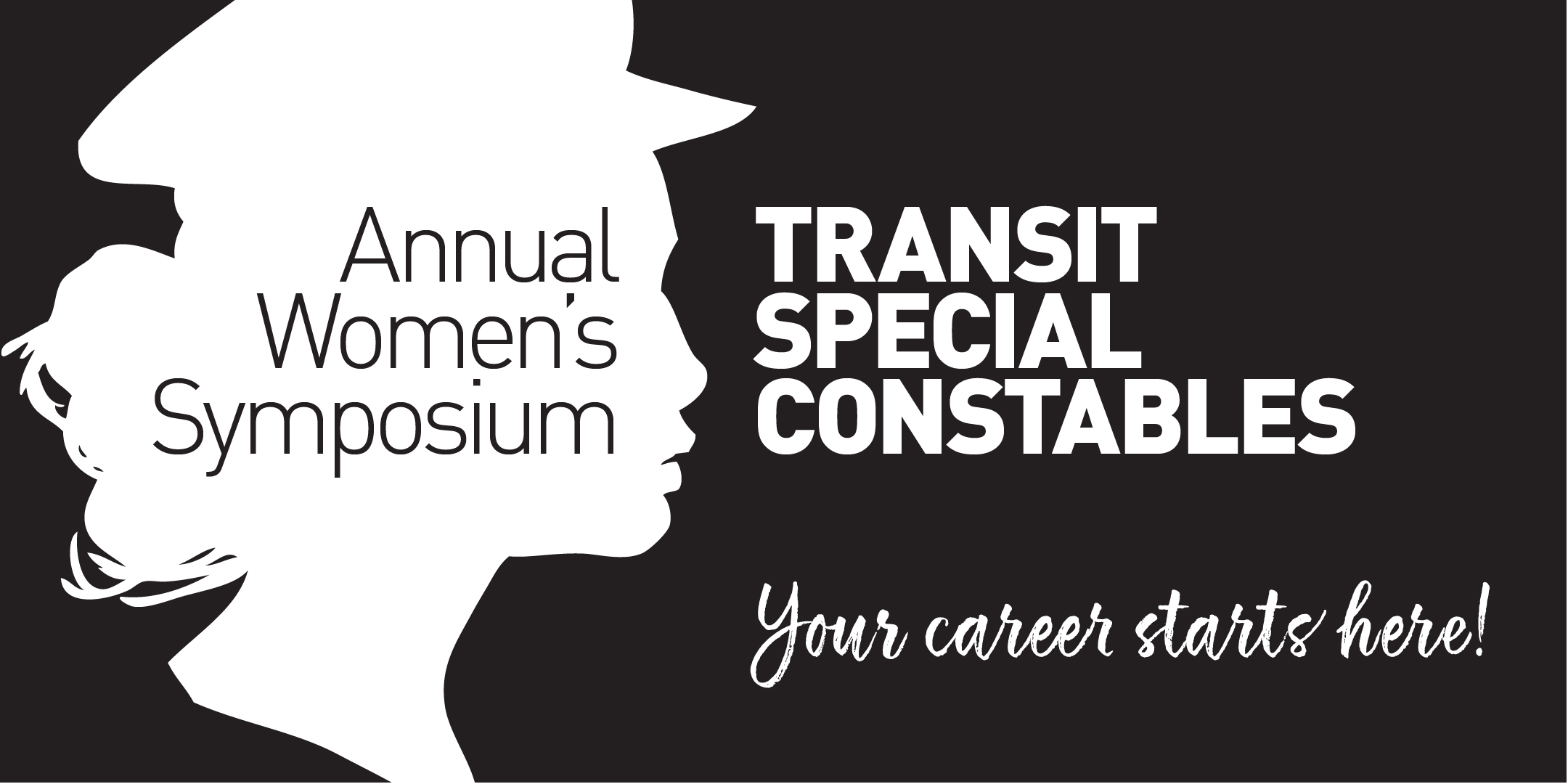 Interested in a career in law enforcement? Your career starts here.
Toronto Transit Commission (TTC), York Region Transit (YRT), Metrolinx (GO) and Ottawa Carleton Transportation (OC) Special Constables are collaborating to host the Annual Transit Special Constable Women's Symposium.
Come spend the day with us – inclusive to anyone who identifies as female, transgender and non-binary gender.
You will have the opportunity to meet, hear from and question Transit Special Constables from across our agencies. Learn about effective interviewing skills and get tips on obtaining the Applicant Testing Services (ATS) Special Constable Certificate, and the Ontario Fitness PIN. Recruitment staff will be onsite to discuss the hiring process in detail for your agency of interest.
This is a full day event from morning until early afternoon, and not intended for drop-in visits. Please prepare to attend for the full day.
Transit Special Constables, at the request of their agency, are appointed through the jurisdictional Police Services Board and are Peace Officers employed to protect the patrons, employees and assets of the agency in which they are employed.
If you require accommodation due to a disability to participate, please contact 1-877-464-9675 Ext. 75773
#joinTSC
Une carrière dans le domaine de l'application de la loi, ça vous intéresse? Votre carrière commence ici! La Commission de transport en commun de Toronto (TTC), York Region Transit (YRT), Metrolinx (GO) et Ottawa Carleton Transportation (OC) collaborent à l'organisation du Symposium annuel des femmes Agentes spéciales du transport en commun.
Venez passer la journée avec nous, particulièrement si vous vous identifiez au sexe féminin, transgenre ou non binaire.
Vous aurez l'occasion de rencontrer, d'entendre et de poser des questions à nos Agentes spéciales du transport en commun qui font partie de l'ensemble de nos agences. Apprenez les techniques d'entrevue efficaces et obtenez des conseils sur l'obtention d'un certificat d'Agent spécial du Service de test des candidats (ATS) et de l'Ontario Fitness PIN. Des membres du personnel de recrutement seront sur place pour discuter en détail du processus de recrutement de l'agence de votre choix.
L'événement se déroulera du matin au début de l'après-midi et n'est pas destiné aux visites impromptues. Préparez-vous à être présent toute la journée.
Les Agentes spéciales du transport en commun, à la demande de leur agence, sont nommées par la Commission des services policiers juridictionnelle. Elles sont des agentes de la paix chargées de protéger les clients, les employés et les actifs de l'agence pour laquelle elles sont employées.
Si vous avez besoin d'un service en raison d'un handicap pour participer, contactez-nous au 1 877 464-9675, poste 75773
#joinTSC