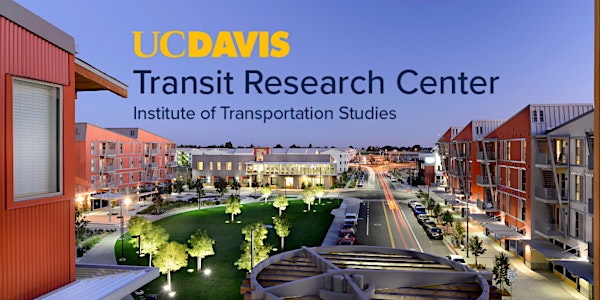 Transit Research Symposium 2022
Transit Research Symposium: May 25, 2022 @ 1:00pm - 6:00pm (PT)
By UC Davis Institute of Transportation Studies
Date and time
Wednesday, May 25, 2022 · 1 - 6pm PDT
Location
UC Davis International Center 463 California Avenue #3140 Davis, CA 95616
Refund Policy
Contact the organizer to request a refund.
Eventbrite's fee is nonrefundable.
About this event
The newly-launched UC Davis Transit Research Center is hosting a Transit Research Symposium on May 25 at The UC Davis International Center!
This event will showcase research underway at UC Davis exploring how transit agencies are adopting emerging technologies, the relationship between public transit and shared-use mobility, how COVID-19 has affected transit use and transit agencies, and how land use and other factors contribute to transit use.
The inaugural Transit Research Symposium will advance the dialogue between the UC Davis Transit Research Center public transit stakeholders, practitioners, policy makers, and others. And, by highlighting key policy relevant research outcomes and connecting researchers with policy makers, this event will help inform future work of the growing Transit Research Center.
This study was made possible with funding received by the University of California Institute of Transportation Studies from the State of California through the Public Transportation Account and the Road Repair and Accountability Act of 2017 (Senate Bill 1). This document is disseminated under the sponsorship of the State of California in the interest of information exchange and does not necessarily reflect the official views or policies of the State of California.
For registration and scholarship questions please contact Conference and Outreach Assistant, Cristina Etcheverry at cfetcheverry@ucdavis.edu.
Preliminary Agenda:
All times are listed in Pacific Time.
Wednesday, May 25, 2022 - UC Davis International Center
12:30 - 1:00 p.m. Registration
1:00 - 1:30 p.m. Welcome / Opening Remarks
Welcome and Why a Transit Research Center and Symposium? (Susie Pike)
UC ITS and RIMI Transit Research (Susan Shaheen)
Opening Remarks (Gillian Gillett)
1:30 - 2:45 p.m. Session 1 - Bridging the Last Mile
Designing with Sunlight (Beth J Ferguson)
Does Dockless Bike-Share Influence Transit Use? Evidence from the Sacramento Region (Hossain Mohiuddin)
A glimpse of microtransit at an early stage: A case study of SmaRT Ride in the Sacramento Area (Yan Xing et al)
Responses/Discussion - (Susie Pike)
2:45 - 3:15 p.m. Break
3:15 - 4:30 p.m. Session 2 - Transit Passengers and Equity
Transit trends in mid-sized cities: An analysis of ridership barriers and opportunities in Illinois (Jesus M Barajas)
Going Places: Universal Basic Mobility Pilot Programs in California (Eli Alston-Stepnit et al)
Stochastic Transit OD Demand Estimation Using APC Observations (Ran Sun and Yueyue Fan)
Response/Discussion (Laurel Paget-Seekins)
4:30 - 4:45 p.m. Closing Remarks
What is next for the transit research center (Susie Pike)
Thank you and reflections (Dan Sperling)
4:45 - 6:00 p.m. Poster Session and Happy Hour (Outside)
Laurel Paget-Seekins Transit game set up to play!
Appetizers with beer and wine
Symposium Speakers and Bios
Beth Ferguson, Assistant Professor
Beth Ferguson a designer whose practice blends solar mobility, climate resiliency, and public engagement. She is an assistant professor of design at the University of California Davis and the director of the Adapting City Lab, a studio that works on creating adaptation solutions for the post petroleum world.
Hossain Mohiuddin, PhD Candidate
Hossain Mohiuddin is a PhD Candidate in the Transportation Technology and Policy program at the University of California, Davis. His research focuses on the adoption preference for emerging transportation services, their impact on travel behavior, and their influence on public transit. He holds a Bachelor of Urban and Regional Planning degree from the Bangladesh University of Engineering and Technology and a Master of Science in Urban and Regional Planning degree from the University of Iowa.
Yan Xing, Postdoctoral Scholar
Dr. Xing is currently a postdoctoral researcher at the Institute of Transportation Studies (ITS) at UC Davis. She received her MS degree in Public Administration from Tsinghua University, China, and her Ph.D. degree in Transportation Technology & Policy from ITS, UC Davis, USA. Her research focuses on travel behavior studies and recent work includes bicycling, electric-assisted bicycles, plug-in electric vehicles, and automated shuttle, and shared mobility.
Ran Sun, PhD Candidate
Ran is a doctoral student in Transportation at the University of California, Davis. His research is related to optimization in networks, data-driven travel demand modeling and graph based statistical machine learning. His recent focus is on designing optimization and machine learning methods for measurement and estimation of urban transportation systems.
Jesus M. Barajas, Assistant Professor
Jesus M. Barajas is an assistant professor in the Department of Environmental Science and Policy at UC Davis and affiliated faculty at the UC Davis Institute of Transportation Studies. His research on transportation equity addresses how systems of inequities influence travel behavior and how policymakers respond. He has led projects on topics including travel behavior, transportation safety, and the implications of policing for transportation planning. Some of his current work examines the role of equity in transportation project prioritization and community impact assessment across multiple projects for state transportation and environmental agencies. He holds a PhD in City and Regional Planning from UC Berkeley.
Eli Alston-Stepnitz, PhD Candidate
Eli Alston-Stepnitz, M.A. is a PhD Candidate in Sociology. He is interested in decarbonization and electrification especially as they intersect with access and equity, specifically in the ways underrepresented groups and individuals are impacted by new technologies. Since coming to UC Davis he has worked in several different institutes on projects related to electrification including ones that focus on micromobility, alternative fuel vehicles, medium and heavy-duty fleets, commercial and residential technologies, and affordable housing.
Maria Carolina Lecompte, PhD Student
Maria Carolina Lecompte is a Ph.D student at the Institute of Transport Studies (ITS) at UC Davis. She is a Civil Engineer with a Master's degree in Engineering with an emphasis on Transportation from the University of Los Andes, Colombia, and a Master's degree in Urban Development Planning from University College London. Before joining UC Davis, Maria Carolina was working as an Advisor to the Secretary of Mobility in Bogota. She has over 10 years of experience in transportation planning, especially in Colombia, where she worked in both the public and private sectors, as well as in academia.
Maha Ahmad, PhD student
Maha is a second-year doctoral researcher at ITS. Her research interests include travel behavior, micromobility and innovations in transit. She is currently working on (i) mode displacement and motivations behind the use of shared e-scooters; and (ii) understanding changes in activities and travel behavior before and the after the pandemic using discrete choice models.
Laurel Paget-Seekins, 2021 Leadership in Government fellow
Dr. Laurel Paget-Seekins was a 2021 Leadership in Government fellow with Open Society Foundation working on a project on transit equity in the recovery from COVID. Until December 2020 Laurel was the Assistant General Manager for Policy at the Massachusetts Bay Transportation Authority. She worked on service and fare policy with the goal to improve transit equity, including collaborating with community partners to lower fares for youth, add early morning service for shift workers, and decriminalize fare evasion. Previously Laurel was a Director in the Office of Performance Management and Innovation for the MBTA and Massachusetts Department of Transportation. She led a diverse interdisciplinary team that analyzed transportation data across the modal silos to address policy and operational challenges.
Before joining the public sector, Laurel was a post-doc fellow at the BRT Center of Excellence in Santiago, Chile and at the Technical University of Munich. She is the co-editor of Restructuring Public Transport through Bus Rapid Transit from Policy Press. She earned a BA from Oberlin College and a master's in City and Regional Planning and a Ph.D. in Civil Engineering from Georgia Institute of Technology.
Susie Pike, Director UC Davis Transit Research Center
Dr. Susie Pike is a research faculty at the University of California, Davis Institute of Transportation Studies. Her work integrates travel behavior, environmental policy and sustainable transportation. Recent projects include understanding the factors that impact unbanked transit riders in the Sacramento area, and payment preferences among passengers; how the use of active modes including walking, biking and transit have changed in California, and what factors drive transit agencies to adopt innovations including partnerships with ridehailing companies as well as how transit agencies were impacted by the COVID-19 pandemic. Dr. Pike earned her PhD from UC Davis in Transportation Technology and Policy in 2015 and worked as a postdoctoral scholar at the UC Davis Institute of Transportation Studies prior to becoming a professional researcher.
Gillian Gillett, Program Manager, CA DOT
Gillian Gillett manages the California Integrated Mobility Program at Caltrans. Prior to coming to Caltrans, she managed San Francisco's broadband and wireless permitting program, was San Francisco Mayor Lee's Transportation Policy Director, and Chief of Staff to then-Supervisor Scott Wiener. She Chaired the Caltrain Board of Directors in 2019. Prior to public service, Gillian was a business process reengineering/workflow consultant to the private sector, focusing on financial services. Before that she co-founded a financial service startup. She has a Bachelor's Degree from St. John's College in Annapolis, MD (the Great Books School). She lives in San Francisco with her partner and two children.
COVID Protocol:
Please note, everyone in attendance is required to complete and show an approved Daily Symptom Survey upon registration. We strongly recommend wearing a mask when indoors.