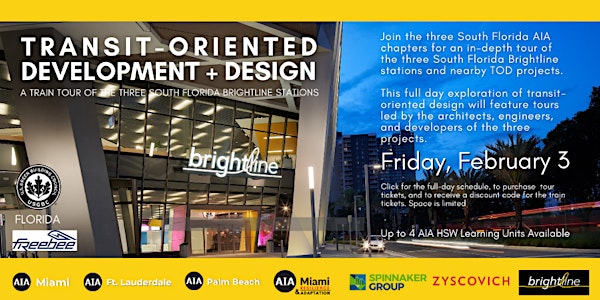 Transit-Oriented Development + Design: A Brightline Station & TOD Tour
Join AIA Miami, Fort Lauderdale, and Palm Beach for a train tour of the three South Florida Brightline Stations and .
About this event
Join the American Institute of Architects for a three-stop tour of transit oriented development and design, featuring the three South Florida Brightline Stations and surrounding developments. The tour will be led by developers, architects and others who were instrumental in its development and construction. There will be up to 4 AIA HSW learning units available. Presented by AIA Miami's Resilience & Adaptation Committee.
How to participate:
1. Purchase your TOUR TICKET
2. Look for a confirmation email from EventBrite (check your junk mail folder) which will have instructions to purchase your Brightline Train tickets. You will receive a link and a discount code for 25% off.
3. Purchase your TRAIN TICKET; NOTE: TRAIN TICKETS ARE NOT INCLUDED IN THE TOUR PRICE. Each person will have different train prices, dependent on where they embark/depart from the tour. You will need to purchase a ticket for each leg of the trip.
TOUR SCHEDULE:
10:00 AM Miami Brightline Station Tour by Bernard Zyscovich, FAIA + Brightline
10:30 AM Miami Worldcenter Tour by Spinnaker Group + Square Edge
11:30 AM Arrive at AIA Miami Brightline Station
11:45 AM Depart Miami Brightline Station to Fort Lauderdale via Brightline Train
12:18 PM Lunch TBD
12:50 PM Fort Lauderdale Riverwalk Tour by AIA Fort Lauderdale
2:05 PM Arrive at Fort Lauderdale Brightline Station
2:20 PM Depart Fort Lauderdale Brightline Station to West Palm Beach via Brightline Train
3:00 PM West Palm Beach Brightline Station Tour
3:30 PM 360 Rosemary, 575 Rosemary, & The Square Tour by Related Companies + Spinnaker Group
5:00 PM Optional Happy Hour Following Tour
TBD Return to Fort Lauderdale or Miami
THIS TOUR HAPPENS RAIN OR SHINE. THERE ARE NO REFUNDS.
T