Transgender People: Exploring our Diversity and Health Service Needs
Description
PLEASE NOTE: THIS SPACE IS LIMTED TO 60 SEATS. REGISTER TODAY!
Join us for this important event and gain a better understanding of the gender spectrum. Whether you are new to serving this population or already a seasoned TGNC clinician (or think you are), this workshop is for you!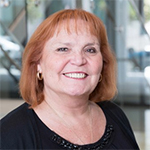 Presenter: JoAnne Keatley, MSW / Director, UCSF

Center of Excellence for Transgender Health



Utilizing an interactive approach, workshop participants will explore the diversity within the transgender community and discuss the unique health care needs of transgender people along the gender continuum. Participants will gain a working knowledge of key core concepts for understanding sexual orientation and gender identity issues as they relate to transgender people.
2 CE credits
LEARNING OBJECTIVES
• Identify the complexities in understanding and treating transgender individuals at different points along the gender spectrum.
• Analyze disparities in behavioral health access and treatment and their relationship to gender identity affirmation.
• Describe the formulation and implementation of health care services that address transgender individuals' needs.
SCHEDULE
• 6:00pm: Registration/check-in, socializing
• 6:30-6:45: Introduction and overview
• 6:45-7:45: Presentation
• 7:45-8:15: Experiential learning component: "Transgender Jeopardy!"
• 8:15-8:30: Q & A
Food (heavy appetizers) and beverages will be provided.

ABOUT THE PRESENTER:
JoAnne Keatley received a Master of Social Welfare degree from the University of California, Berkeley. At UCSF since 1999, she was the founding Director of the Center of Excellence for Transgender Health. JoAnne is Co-PI of the HRSA funded Special Projects of the National Significance (SPNS)-Transgender Evaluation and Technical Assistance (TETAC) Project. JoAnne has worked diligently to enhance transgender care services in California, the nation and the world. In partnership with the Pan American Health Organization (PAHO), she co-authored the PAHO document "Blueprint for the Provision of Comprehensive Care to Transgender and Transsexual persons and their communities in Latin America and the Caribbean" that has impacted the quality of transgender care throughout the region. In 2015 she was co-chair of the development committee responsible for the TRANSIT, a UNDP, USAID and WHO sponsored guideline for working with transgender people. In 2016 she was a guest editor of the JIAS special issue HIV Epidemics among Transgender Populations. JoAnne has directed multiple federally funded research and HIV prevention projects and has consulted on transgender health at the World Health Organization, the NIH, CDC, HRSA, SAMHSA and at the White House. JoAnne has received numerous awards and recognition including, in 2001, being the first staff recipient of the UCSF Chancellor's Award for LGBT Leadership, in 2009 the UCSF Martin Luther King Jr. Chancellor's Award for advancing cultural diversity and social justice on campus, and in 2015 was recognized by the State of California for LGBT leadership.