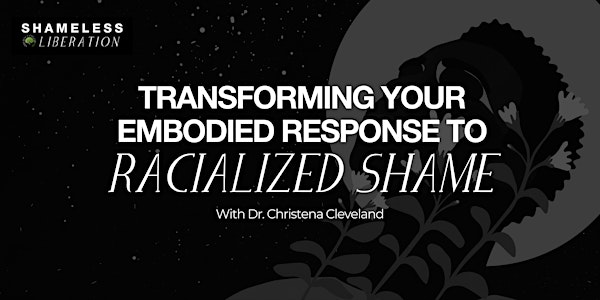 Transforming Your Embodied Response to Racialized Shame
A free two-day masterclass (June 8th + June 9th) series to confront, disarm, and transform racialized shame.
By Dr. Christena Cleveland
Date and time
Thursday, June 8 · 4 - 5:30pm PDT
About this event
1 hour 30 minutes

Mobile eTicket
Shame is the enemy of racial liberation. Whether our shame stems from internalized white supremacy, our lineage and how we have benefitted from white supremacy, our ignorance of the structures of white supremacy, harm we have caused, our fear of speaking truth to power, or not being as woke as our social media accounts might suggest – shame weighs us down and holds us back when all we really want is to embody liberation as we work to heal our racially-fragmented world. This Juneteenth, we're celebrating Black liberation by calling all people to move beyond racialized shame and into embodied freedom.
During this free masterclass series, join social psychologist, somatic practitioner and activist Christena Cleveland, Ph,D. on this life-changing journey to confront, disarm, and transform racialized shame. Integrating social science research, somatic wisdom, art, and lively story-telling, Dr. Cleveland will uncover the subtle ways that racialized shame – the shame that arises in the context of internalized or externalized racial oppression, interracial interactions, and/or racial equity work – stifles our liberation journeys. Over the course of two days, Dr. Cleveland will share the 4 Signature Shame Spirals© – the Shame-full Shirker, the Shame-full Strangler, the Shame-full Scholar, and the Shame-full Space Cadet – which are the most common embodied responses to racialized shame. During this masterclass, you will identify your Signature Shame Spiral, disarm your racialized shame by discovering the specific ways your Signature Shame Spiral prevents you from moving into compassionate action, and develop somatic practices to transform your racialized shame even in the midst of a spiral. Additionally, you will learn how to tenderly and effectively recognize shame spirals in others and begin to hold shame-free space for them.
Frequently asked questions
Do I need to register separately for both days?
Will there be a recording?
I have another question, who can I reach out to?