Description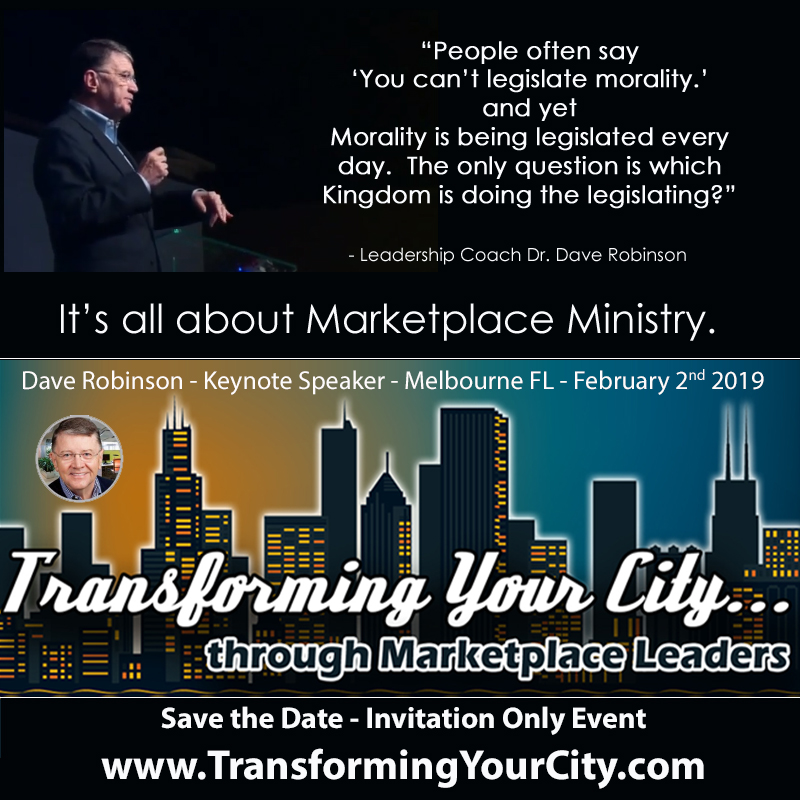 Your Personal Invitation
I'm Dave Robinson, and as someone who expressed interest in and has been connected with our Transforming Your City Day events here in Melbourne, Florida, I'd like to extend a personal invitation for you and your guest(s) to attend a special morning Transforming Your City Master Class on Saturday morning, February 2nd, 2019, 9am-1230pm. We'll meet in the Chapel at Christian Care Ministry in Melbourne Florida and I look forward to welcoming you there.
This short - but intense - class is designed to help you excel in Marketplace Leadership. We'll spend time discussing the three Gates of Influence that we, as Christian leaders, must be present and active in. We've assembled some top notch speakers and an incredible Marketplace Ministry panel to equip you to expand your territory in the Marketplace.
Those who participate will receive a Certificate of Completion from Chesapeake Bible College & Seminary and Tapestry Christian College & Academy and your participation may be eligible for Bible College credit.
There is no cost to attend this class - you are welcome to attend - but we ask that you please Pre-Register to ensure you seating. We have a maximium of 50 seats available in this class.
Thank you so much for your interest in Kingdom-building and I look forward to welcoming you to the 2019 Transforming Your City Master Class.
Call you Blessed,
Dr. Dave Robinson
FAQs
For More Information?
Please visit at TransformingYourCity.com/MasterClass
May I bring a guest with me?
We would be delighted to welcome you and your associates - space permitting. Please be sure to register each person (up to 4 persons total per registration) - so that we can ensure space available for you and your associates.
What are my transportation/parking options for getting to and from the event?
Our meeting takes place in the Chapel at the rear of the Christian Care Ministry campus. There is plenty of free parking available - please enter the Parking Lot from Trent House Drive to access the rear of the campus.
How can I contact the organizer with any questions?
We'd love to hear from you! Please email us at Info@TransformingYourCity.com.