How do we create a sense of belonging at work now we are no longer tied to bricks and mortar?
About this event
With the ongoing shift to hybrid working, this event will delve into what the wider implications are for managers with a work force split between different locations and how we can ensure that work is a positive and valuable experience for all.
Our speaker Professor Denise Skinner CMgr CCMI will explore:
How people's expectations have changed during Covid.
What are the benefits to individuals to going back into the office?
When adopting hybrid working, how can you make sure that time spent in the office is value adding.
How do you ensure consistency of approach to staff in different locations
With the high demand for labour, can leaders afford not to reconsider how we define place?
Our Speaker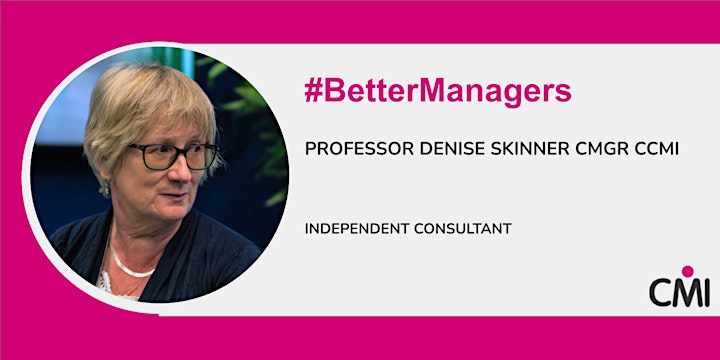 Professor Denise Skinner CMgr CCMI
Independent Consultant
Currently working as an independent consultant Denise is a passionate believer in the need for excellent leadership and outstanding management practice in organisations. Her personal experience has been gained in a range of public and private sector organisations including having been an owner/ Director of a retail SME, a Board member of two private limited companies, a civil servant and holding academic and strategic leadership roles in Universities; most notably having been an Executive Dean contributing to the outstanding success of Coventry University in recent years. Her particular expertise lies in the fields of trust, diversity and change management. She has an international academic reputation and has published refereed journal articles, co-edited books and book chapters on these topics, regularly presented papers at international conferences and been an invited speaker at professional events. In addition to being a Companion of the Chartered Institute of Management, Denise is an Emeritus Professor of Coventry University, a Chartered Fellow of the Chartered Institute of Personnel & Development (CIPD) and was CMI's Volunteer of the Year in 2020.
Our Host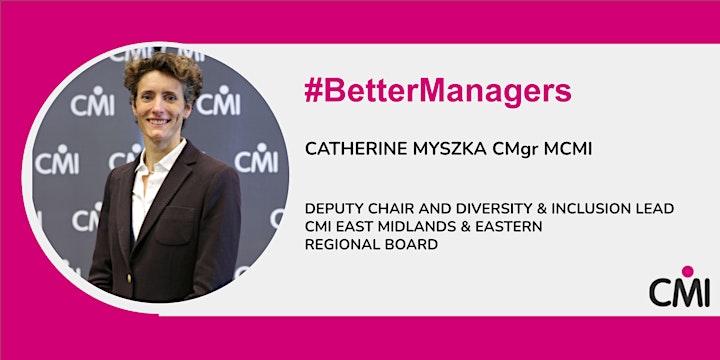 Catherine Myszka CMgr MCMI
Deputy Chair and Diversity & Inclusion Lead, CMI East Midlands & Eastern Regional Board
With an early career as a practicing Chartered Accountant, followed by a variety of corporate governance, risk management and project change roles, I have spent the last decade as an independent transformation consultant, helping clients to transform their Finance functions. Focussing on process excellence, efficiency, human-centred design, and delivery at pace, I help clients to unlock the potential in their organisations. I have a strong appreciation for the value that diversity and inclusivity bring to an organisation; not only in financial performance, but equally as importantly in employee engagement, mental health and wellbeing, and the design and delivery of robust, effective, innovative and disruptive design solutions.
Our Co-Host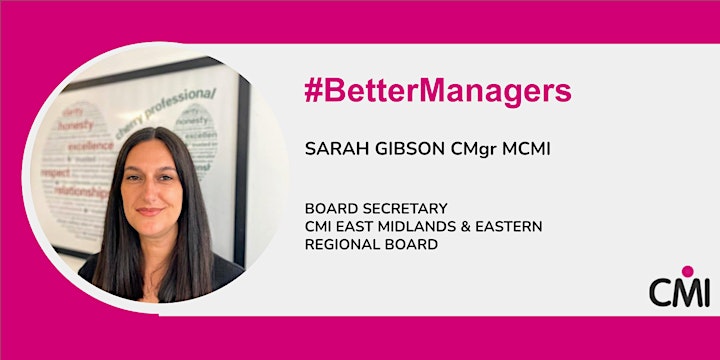 Sarah Gibson CMgr MCMI
Board Secretary, CMI East Midlands & Eastern Board
In my current role as Project Manager for a Recruitment Consultancy I am responsible for implementing and overseeing strategic change projects and ensuring that both internal and external stakeholders benefit from our progressive continuous improvement programme.
I completed my MBA at Derby University which is where I gained my Chartered status with the CMI. I am passionate about personal development and can speak from the heart about how the CMI has helped with my own development and has equipped me with some of the most important tools I need to be successful and to keep developing myself.
I am delighted to have been appointed as a volunteer member to the EME Regional Board and am excited to support the CMI and the regional members. I am a strong advocate of the values of the CMI and am keen to begin work supporting the organisation in driving these values forward.
For more information about the CMI East Midlands & Eastern Regional Board you can visit the Board's webpage:
https://www.managers.org.uk/community/regional-networks/east-midlands-and-eastern/
Or you can connect via social media:
Twitter: @CMIEME
LinkedIn: https://www.linkedin.com/groups/5187723/
In the meantime...
If you're a member of CMI, or subscribe to our content, you can find thousands of exclusive, practical development resources in ManagementDirect. Log in here and search for a topic to get started!
Not yet subscribed?
From free newsletters packed with the latest trends, insights and tips for managers and leaders, to the full suite of invaluable tools and benefits that come with being a CMI member, we've got something for everyone. Visit our website to find out more.