Description
You are Invited
to the 1st Annual Fundraising Dinner for
Transforming Lives Academy
Saturday, August 15, 2015
5:00 - 10:00 p.m.
Ashton Place
341 75th Street
Willowbrook, IL 60527
Donation: $50 Per Person
Please RSVP by August 8, 2015
Purchase tickets at:
http://transforminglivesacademy.eventbrite.com
For additional information:
Transforming Lives Academy
P.O. Box 1585
Bolingbrook, IL 60440
(630) 540-8097
transforminglivesacademy@comcast.net
www.transforminglivesacademy.org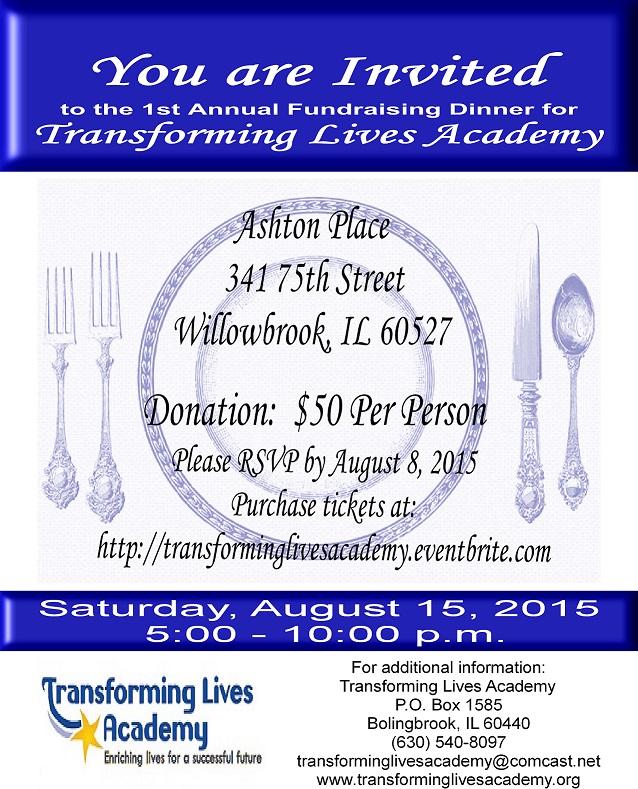 Organizer of Transforming Lives Academy Dinner Fundraiser
Transforming Lives Academy's mission is to work within the community to mentor and coach individuals desirious of becoming successful in all aspects of their lives. Our dedication to higher education provides the platform by which we service today's working learner.  We provide services to help clients with mentoring, tutoring, coaching, GED, and computer training.  In addition, clients may attend seminars that provide training on dressing for success, entrepreneurship, career building and resume writing all to advance the community.   

(630) 540-8087
transforminglivesacademy@comcast.net