Description
Voice assistants, Alexa, Google, Siri, and Cortana, are revolutionizing how we connect with information instantly just by speaking. Now, a Vanderbilt team led by Dr. Yaa Kumah-Crystal is developing EVA, a voice assistant for doctors and other healthcare providers for interactions with Electronic Health Records (EHR). Soon they will be able to say, "Eva, who are the patients I will be seeing today?" And, "Let's order a BMP," and it's just done.
In this session, Dr. Kumah-Crystal will discuss the benefits EVA provides caregivers, and how she is approaching this unique project with their development team that can work hand-in-hand with providers to quickly iterate new technology. Right now her main focus is the way providers and people on the medical side interact with the computer and EHR workflow, but it can be broadened out to encompass patients and anyone else.
Using artificial intelligence and natural language processing, the Vanderbilt EHR Voice Assistant (V-EVA) accepts voice request inputs, translates voice into text and then uses the natural language understanding engine to map the text to intents and synthesize results. V-EVA returns results to the user as voice replies, textual information and graphical data representations. These design principles support the busy caregiver workflow and decrease the EHR burden on providers.
Please park in P2 in the oneC1TY parking garage.
7:15 AM - Coffee with light breakfast and networking

8:00 AM - Dr. Kumah-Crystal will present followed by a Q&A session

9:00 AM - Program ends
---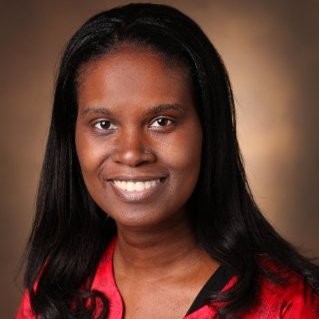 Yaa Kumah-Crystal, MD, MPH, MS, is an Assistant Professor of Biomedical Informatics and Pediatric Endocrinology at Vanderbilt University Medical Center (VUMC). Dr. Kumah-Crystal's research focuses on studying communication and documentation in healthcare and developing strategies to improve workflow and patient care delivery. Dr. Kumah-Crystal works in the Innovations Portfolio at Vanderbilt HealthIT on the development of Voice Assistant Technology to improve the usability of the EHR through Natural language communication. She is the project lead for the Vanderbilt EHR Voice Assistant (V-EVA) initiative to incorporate voice user interfaces into the EHR provider workflow. Within VUMC HealthIT, Dr. Kumah-Crystal functions as a Core Design Advisor. In this role, she works across clinical systems, to perform internal reviews on and provide advice about EHR change and integration projects– with the goals of optimizing products and processes. Dr. Kumah-Crystal remains clinically active and supervises Pediatric Endocrine Fellows and sees her own clinic patients. Her research and affiliated publications define the use of technology to improve care and communication for providers and patients.