Event Information
Location
UNITAR
3-01A, Level 2, Tierra Crest
Jalan SS6/3, Kelana Jaya
Petaling Jaya, Selangor 47301
Malaysia
Description
THIS IS A PAID EVENT
Registration Fees: RM200
Register your interest to receive payment details.
PS: We do not accept cash on hand on the day of the event as seats need to be reserved.


Calling All Teachers and Education Enthusiasts!!!
Coming well into the 21st century of internet technology, where knowledge is literally at our fingertips, Global Peace Education Summit 2018 will discuss what it takes for teachers and the education system to adapt to the changing times and needs of the industry 4.0.
The objectives of the Summit include :
To act as a resource connection point for cross sector partners who see values, are passionate and resourceful in driving the transformational education outcomes in public schools
To fulfill the intellectual curiosity of well educated teachers
Address the urgency and need for alternative strategies and approaches in teaches capacity building and professional development
Themed 'Moral and Innovative Leadership: Realigning the Purpose to Educate', The Summit will feature the following :
High Level Plenary: "Transforming Education Outcome with Character and Creativity"
Education Forum: Creating Value through Entrepreneurship, Leadership and Digital Learning"
Principals and Teachers Transformative Leadership Development Workshop
Idea Generation
Sharing Stories of Change: Opportunities, Challenges of Creative and Collaborative Teaching
Q&A Sessions
**Sessions will feature prominent speakers and experts of various industries passionate in transformating the quality of education in Malaysia.
Target participants/entities:
Administrators of public schools (G10) based in Selangor State and the Federal Territory of Kuala Lumpur

Teachers Training Colleges

Ministry of Education

District Education Offices

Corporates

Civic Leaders

Public School Student Leaders
While at the event, be inspired by the talks and ideas offered by experts and education pioneers and network with like minded education enthusiasts! Register soon as seats are limited.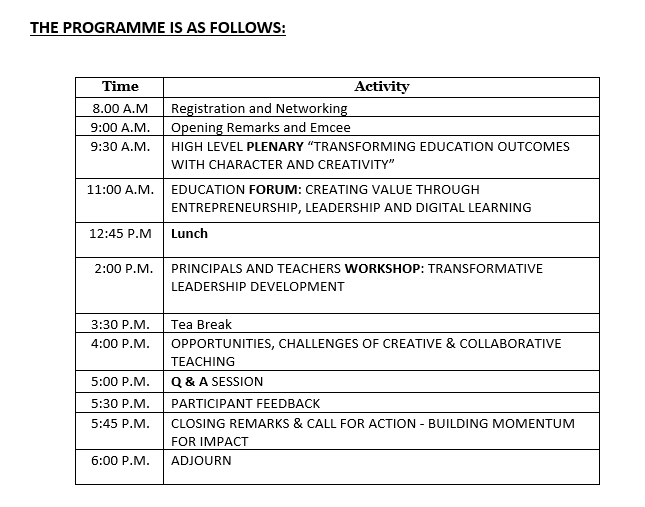 **Wondering why 'free' but yet you were asked to pay RM200?
Here is our explanation:
1. This is not a free event.
2. Eventbrite is an excellent app for event organiser.
3. The hindsight is - Eventbrite charges 2.5% of every ticket price and 3% payment processing fee. It ends up you
will have to pay RM11 extra in addition to RM200.
3. For this reason, if you are keen please email us to receive payment details.
See you there! :)
Please provide your details here if you're interested so we can contact you: https://goo.gl/forms/NYvoeBSUclLxYE4p1
Date and Time
Location
UNITAR
3-01A, Level 2, Tierra Crest
Jalan SS6/3, Kelana Jaya
Petaling Jaya, Selangor 47301
Malaysia