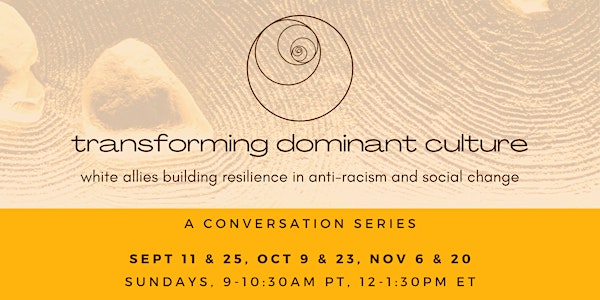 Transforming Dominant Culture
Conversation series for white allies building resilience for social change. Two Sundays/month starting Sept 11, 9-10:30am PT / 12-1:30pm ET
Refund Policy
Contact the organizer to request a refund.
Eventbrite's fee is nonrefundable.
About this event
Want to boost your effectiveness as an anti-racist ally?
Create social change in ways that feel energizing and resonant instead of draining?
Cultivate a greater sense of belonging, identity and agency?
Conducted as a white caucus*, this series builds resilience for racial justice and social change by exploring:
The origins and evolution of white racial identity
How dominant culture triggers our survival instincts and keeps us in patterns of fear and self-sabotage
Techniques to strengthen emotional intelligence so we can disrupt harmful patterns, tap into our wisdom, and achieve the inner and outer transformation we desire
Discover powerful, grounded entry points into anti-racism and learn practical skills for bringing our best selves to this important work.
Join this courageous space for white change agents to learn, process and grow together to be of greater service to a collaborative racial justice movement.
Schedule:
Sept 11 & 25, Oct 9 & 23, Nov 6 & 20
Sundays 9-10:30am PT / 12-1:30pm ET
These conversations are interactive and take place in real-time. Please be available to attend as many live calls as possible.
Please note there are 30-60 mins of pre-work per session.
Cost:
Registration fees are offered on a sliding scale from $100 to $400. No one will be turned away for lack of resources. Please contact us to learn more.
About your facilitators:
Tiana Doht is a certified professional coach with a background in communities and social change. Building on her work with anti-racism dialogue groups, Tiana has facilitated courses exploring whiteness, dominant culture and techniques for building awareness, confidence and impact in the work of dismantling racism. Throughout her life, she has sought ways to bring about positive change through coaching, non-profit work, education and sustainable food systems. She is excited to share this work and shift collectively toward a more integrated and thriving society.
Kyle Pearce is the owner and principal of think: act consulting, which focuses on improving services and access for marginalized communities. He has been interrogating whiteness for several decades. His Masters thesis investigated how dominance is communicated and maintained by white people in mainstream media. He is inspired by the recent emergence of analytical and transformative tools, including mindfulness and meditation, that link racism with trauma. Kyle leverages the power of curiosity, presence and empathetic listening to create and achieve a shared vision of the future.
*A white affinity group or caucus consists of people who self-identify as white. The purpose of racial affinity groups is not to discriminate or exclude, but to provide courageous spaces for discovery, healing and growth that allow us to come back together with a greater capacity to engage constructively with each other.