Highlighting the importance of building effective EDI policies, practices and cultures and creating an inclusive working environment.
About this event
Over the last year, organisations have faced many challenges due to the pandemic, with 48% of employees now working remotely or in a hybrid way. Many managers and leaders have had to transform in response to the challenges they have faced, which is crucial in ensuring the long-term effectiveness of organisations.
Following our successful introduction (The Fundamentals of Transformation), this is the second themed session in a series of events hosted by CMI's East Midlands and Eastern board where we explore the topic of Transformation. The events focus on individual elements, highlighted in CMI's Management Transformed research, from communication, through to people and location.
In this session, we will explore some areas of EDI during periods of transformation, and why it is so important for managers and leaders to ensure they are building a safe, inclusive environment that allows all colleagues to thrive.
Join us on Wednesday 7th July when we are delighted to be joined by Tristan Canfer, Diagnostics Technician at Science Technology, Prospect Union Equality Rep, and UKRI Pride Network Chair, and Kenny Faulds, EDI Specialist, UK Research and Innovation, where our speakers will outline the importance of building effective EDI policies, practices, and cultures; embracing the full spectrum of diversity; and sharing some of their own experiences and tips for creating thriving and inclusive environments.
Visit the dedicated area of our website for full details on the Management Transformed research and links to relevant resources.
Watch the other events in this series: The Fundamentals of Transformation and Transforming Communication.
Our Speakers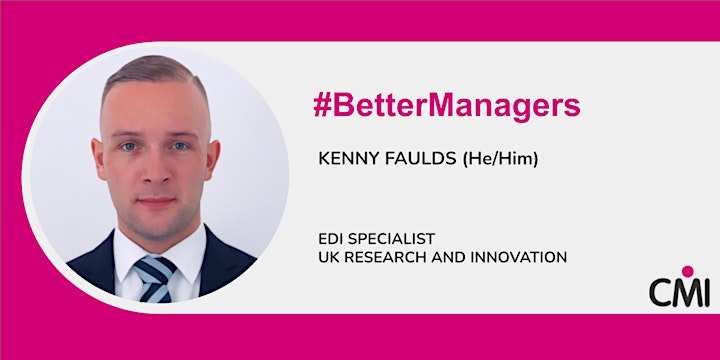 Kenny Faulds (He/Him)
EDI Specialist, UK Research and Innovation
I have led diversity and inclusion efforts across the voluntary, public, and private sectors for over a decade. I started my EDI career initially as the Education Director for the largest anti-racism charity in Europe - Show Racism The Red Card - where I led a team of over 30 educators and footballers delivering anti-racism initiatives and workshops the length and breadth of the UK. From there I went on to become the Director of Equality, Diversity, Inclusion and Change at the UK Government's Foreign and Commonwealth Office, where I was responsible for the design, implementation, and monitoring of the Governments foreign policy across 270 diplomatic locations as it related to EDI and Human Rights. Finally, over the last six years I have been the Chief Diversity and Inclusion Officer for the Royal Bank of Scotland. In lieu of relocating to the US in the Autumn to take up a position as Director of EDI with Boeing, I have worked as an EDI consultant with the UK Government's Research and Innovation department helping to design and implement a robust and effective EDI framework for the organisation. In addition to my EDI work experience, I hold both a master's and bachelor's degree in EDI disciplines, and just completed my PhD thesis on the 'Black Lives Matter' movement for the University of Edinburgh. Above and beyond these credentials, I am a happily married gay man in the early stages of the surrogacy process who holds the advancement of equality, equity, diversity, and inclusion close to his heart.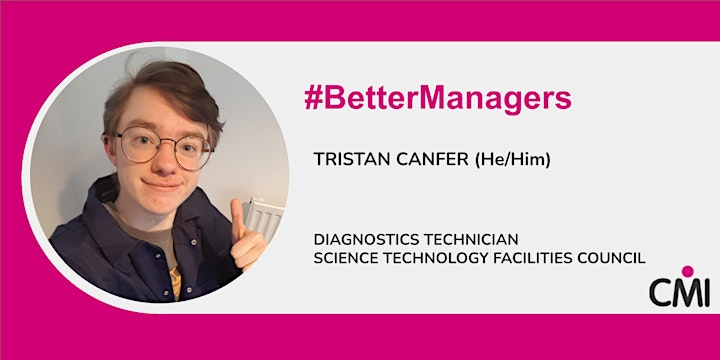 Tristan Canfer (He/Him)
Diagnostics Technician, Science Technology Facilities Council
Tristan Canfer is an Electronics Technician for the ISIS Neutron and Muon Source. He came out as transgender during his electronics apprenticeship with the Science and Technology Facilities Council, and has since been involved in EDI work across UKRI. Tristan chairs the UKRI Pride Network and is an Equal Opportunities Representative for the Prospect trade union.
Our Host
Catherine Myszka (She/Her) CMgr MCMI
Deputy Chair and Diversity & Inclusion Lead, CMI East Midlands & Eastern Regional Board
With an early career as a practicing Chartered Accountant, followed by a variety of corporate governance, risk management and project change roles, I have spent the last decade as an independent transformation consultant, helping clients to transform their Finance functions. Focussing on process excellence, efficiency, human-centred design, and delivery at pace, I help clients to unlock the potential in their organisations. I have a strong appreciation for the value that diversity and inclusivity bring to an organisation; not only in financial performance, but equally as importantly in employee engagement, mental health and wellbeing, and the design and delivery of robust, effective, innovative and disruptive design solutions.
I gained Chartered Manager status following the experiential route after completing my MBA with Leicester University. I truly believe in the CMI's values - Professional, Progressive, Passionate, and Practical - and the benefits that membership of the CMI delivers, and I'm proud to be rejoining the East Midlands and East Board as Diversity and Inclusion Champion.
As we begin to work in "the new normal" that 2020 has brought about, I'm excited to be able to support the Board's strategic objectives, and champion inclusive leadership in a fast-evolving world.
For more information about the CMI East Midlands & Eastern Regional Board you can visit the Board's webpage:
https://www.managers.org.uk/community/regional-networks/east-midlands-and-eastern/
Or you can connect via social media:
Twitter: @CMIEME
LinkedIn: https://www.linkedin.com/groups/5187723/
In the meantime...
If you're a member of CMI, or subscribe to our content, you can find thousands of exclusive, practical development resources in ManagementDirect. Log in here and search for a topic to get started!
Not yet subscribed?
From free newsletters packed with the latest trends, insights and tips for managers and leaders, to the full suite of invaluable tools and benefits that come with being a CMI member, we've got something for everyone. Visit our website to find out more.