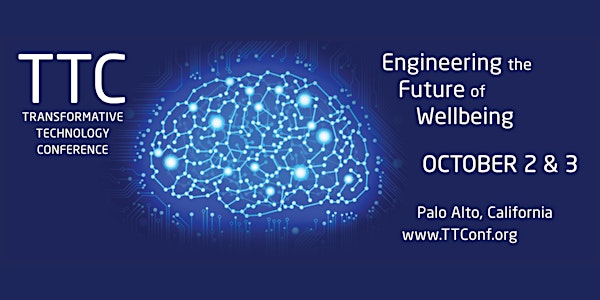 Transformative Technology Conference
When and where
Location
Sofia University 1069 East Meadow Circle Palo Alto, CA 94303
Refund Policy
Contact the organizer to request a refund.
Description

If you're excited by technology's potential to elevate the human experience and solve global problems from the inside out, this is your conference. Our focus is on getting technology that supports mental and emotional wellbeing out to the world. From leading neuroscientists to ground-breaking start-ups, this is your community.
What if technology did more than just make us more productive? What if technology supported our wellbeing too? What would the world look like then?
For the last few years, a global community has been developing to explore this, and bring it into reality…and is about to meet in person for the first time. Join us and add your voice to this growing and incredibly important community.
Transformative Technology is science-based hardware and software that produces reliable and positive change in psychological well-being. This includes developmental-level shifts and significant changes in conscious experience.
The conference will be a crossroads of the interested public, scientists, makers, investors, researchers, inventors, entrepreneurs, public policy makers, and industry veterans and YOU.
Enjoy

informative speakers on timely topics related to the technology innovation for exploration of consciousness
Network

over lunch and cocktail parties with leading experts from diverse disciplines, such as tech, investing, consciousness, neuroscience, physics, engineering and more
Meet

leading industry experts with strategic insights and members of the community
Discover

fascinating startups and investment opportunities in this emerging market
Uncover

opportunities for new tools such as software, mobiles, apps, wearables, music, audio, devices, and measurement and

tracking of quantified self
Learn

how Transformative Technologies provide actionable data from monitoring our physical and psychological processes, and use this data to improve our lives
Current speakers include:
Luke Nosek
Co-founder & Managing Partner, Founders Fund
Co-founder, PayPal
Ariel Garten
CEO, Interaxon
Adam Gazzaley
Director, Neuroscience Imaging Center, UCSF
Chris Berka
CEO, Co-Founder, Advanced Brain Monitoring
Judson Brewer
Director of Research, Center for Mindfulness and
Associate Professor in medicine and psychiatry
UMass Medical School
Jamie Wheal
Executive Director, Flow Genome Project
Stuart Hameroff
Director, Center for Consciousness Studies
The University of Arizona, Tucson, Arizona
Tim Chang
Managing Director, Mayfield Fund
Deborah Rozman
CEO, HeartMath
Mohamad Tarifi
Google Research
Poonacha Machaiah
Co-Founder, JIYO
Neema Moraveji
CEO, Spire.io
Joe Hudson
Founder, One Earth Capital
Whatever your focus, this event will help you find even more to move ahead with, and in new ways you probably can't even imagine right now.
We've designed it to be a synergistic and community-based environment that will help get you there.
The event will also include a demo area that allows you to try out the most cutting edge stuff out there.
We hope you'll come, because I believe that you have an important voice to contribute.
There is so much to explore, but often 'traditional' methods such as meditation get all the attention, while emerging technological ones do not.
It's easy to understand this bias, but also critical to keep in mind that in their day these now 'traditional' methods were the absolute cutting edge of technology.
This is a rare opportunity see what is at the leading edge of transformation today, so that you can take maximum advantage of it.
Featured Sessions Include:
Introduction to Transformative Technology

Enhancing Cognition to Improve Quality of Life

Transformative Technology Lab: Supportiung the TT Ecosystem

Market and Investment Opportunities in Transformative Technology

Scaling Transformative Technology For The Masses

The Role of Flow in Transformative Technology

Translating Foundational Transformative Technology

TransTech Research for Business and Government

Jiyo: Building Digital Platforms to Serve The Wholeself,

Spire: Bringing Transtech to Corporate Wellness

HeartMath: Founding the Transformative Technology Product Space, Lessons Learned for New Entrants

The Muse: Taking the Next Generation of Transformative Technology to the Masses
We will also be running a mini-summit during the first part of Friday:
The conference will begin with a mini-summit which aims to explore and establish the core questions defining this space.
This will be an open and collaborative process. Working in small groups, we will explore four core topics: definitions, outcomes, methods, and ethics. The goal will be a working document defining 3-5 core questions for each of these topic areas. These questions will act as a means of defining the territory of Transformative Technology, which recognizing that there is still much to learn.
Sponsors and Partners Include:
Transformative Technology Lab

Consciousness Hacking

Heartmath

Quantified Self

Humanity+

Unify

IONS

Buddhist Geeks

Society for Consciousness Studies

Center for Consciousness Studies

The Science of Consciousness conference

Sofia University

LeapForward

Spire

Neuromore

Soundself

Thync

Finders Course

Biofluent

IEET

Western Association for Biofeedback and Neuroscience

Asia Consciousness Society

Foundations of Mind

GamaJam

Lifeboat Foundation

& more…
Enquiries: info@ttconf.org
Web address: http://ttconf.org