Description
1. Muse: Portable EEG device for meditaion - live demonstration on how to use Muse to help improve meditation practice and mental health. (iBriz AI team:Sagar, Aavas, Sandeep)

- live demo of portable EEG device
- measure the level of calmness using EEG signals.
- meditators and others interested in mental health.
- understand data for research purposes.
2. The enhancement of human well-being with neurotechnology - Dr. Jay Sanguinetti (Neuro-Scientist)
(On Skype)
Dr. Jay will discuss his current research investigating various forms of noninvasive brain stimulation to enhance human well-being, including focused ultrasound and low-level light stimulation. Jay will be presenting at TedTalk on the 26th of Jan, right before the Nepal event.
Scientific literature shows that these neurotechnologies can be used to enhance human well-being in clinical populations, but they also open the possibilities that these technologies could enhance happiness for non-clinical populations
3. Sound Healing - (David Gibson: Director of the Sound Healing Institute San Francisco)
(On Skype)
David will talk about how each of us have a unique vibration. Now with the advancement of technology, we are able to measure that vibration and using customized sound/music we can address certain, psychological, cognitive and physical well being of an individual.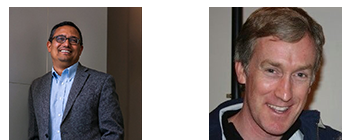 4. Open EEG data: Kumar Pandey (CTO iBriz.ai) & Dan Brehmer (Chief Data Scientist iBriz.ai)
Just like how Human Genome Project made scientific research more accessible at a global scale, Open EEG data can play similar role in fostering innovation and lowering the barrier to entry for starups in this space. Enabling technologies like AI/ML and Blockchain will be explored.
5. Myndscape (CEO/Founder - Silicon Valley Trasformative Tech Startup)
(On Skype)
- How Silicon Valley startups are looking at Trasformative Tech.
- A gym for the mind using AI and VR.
6. Pati Pallerito (Sound Healer:St. Louis - USA)
(On Skype)
As a therapist and sound artist she will talk about science of sound and vibrational medicine to create a safe and sacred space for inner peace and joy
Transformative Tech Mini Fair (9 AM to 10 AM)
1. Muse - participants will have the opportunity to test calmness using Muse EEG device.
2. Sound healing and Music Therapy
Contact Info: bijay@iBriz.ai or Call: (977) 9813 - 424 - 525
---
What is Transformative Tech?
Tools that leverage technology for mental-health and emotional wellbeing to enhance human performance. The same technology is being used to better understand the pursuit of sprituality.
Why Nepal?
Great opportunity for spawning new businesses by using innovation, startups and the spiritual backdrop prevelant in Nepal.
The global upswing in stress, anxiety and depression has created a need for people to seek accessible, scalable, and affordable means to support mental health and emotional wellbeing.
At the recently concluded CES 2019, world's largest consumer electronic show in Las Vegas, mental well being was the center of attraction. Transformative Technology, is at the beginning of becoming the hottest area of innovation not only in the Silicon Valley but also globally.
With the spiritual backdrop and growing number of extremely talented technology and non-technology pool of younger generation, Nepal is perfectly poised to be at the forfront of this movement.
Who should attend this event?
1. Those interested to understand how the well-being of the brain is being pursued by the scientific and non-scientific community. The event will bring the two together.
2. Those who are interested to fund and support innovative startups in this space.
3. Those intersted to learn more about how tech companies from Silicon Valley and beyond are working in this space and how Nepal can be a major part of this eco-system.
4. Those who would like to see and use portable EEG devices to measure, in a non-invasive manner, their brain's level of calmness. You will also gain ideas and insights on how you might increase your ability to focus.
5. Meditators or those interested in meditation who want to learn about examples of modern technology tools to help them in their quest for achieving calmness of the mind in pursuit of consciousness.
Click here for Resources Links for Transformative Technology Event

---
SPEAKERS
Dr. Jay Sanguinetti
Jay is a Neurotherapists and applications specalists. He is working as a Research Assistant Professor at Army Research Laboratory. Jay is more interested and has expertise on Neurourocognitive enhancement with noninvasive brain stimulation, including transcranial magnetic stimulation, transcranial ultrasound, and transcranial electrical stimulation.Has researched the neural basis and neurophysiological markers of depression by using combined EEG-fMRI methods. Also developed new noninvasive treatment for depression with transcranial ultrasound. A long time meditator, Dr. Jay brings a unique perspective regarding the intersection of tech and consciousness.
---
David A. Gibson
David is the author of the #1 selling book in the field of Sound Healing, The Complete Guide to SoundHealing (CompleteGuidetoSoundHealing). David has produced 7 International Sound Healing Conference and is also the founder of the Sound Healing Research Foundatio. David Gibson has been teaching, engineering and producing groups in major 24 track studios since 1982. David taught Recording at Cabrillo College in Santa Cruz for five years. He is the author of the best selling book, "The Art of Mixing," that uses visuals to explain and show every style of mix in the world. He is also the inventor of the Patented, "Virtual Mixer," which uses visuals of the mix to control mixing consoles and computerized mixers. David has done recording for James Brown's Band, Bobby Whitlock (Derek and the Dominoes), The Atlanta Rhythm Section, Hank Williams Jr.'s Band, and has worked with members of the Doobie Brothers, Lacy J. Dalton's Band, Herbie Hancock's Band and It's a Beautiful Day. He has produced a variety of other records ranging from New Age to Heavy Metal to Hip Hop and Electronica.n (www.SoundHealingResearchFoundation.org) designed to help bring sound healing into the mainstream (homes & hospitals).
---
Kumar Pandey
Chief Technical Officer (iBriz.ai)
With a software architecture background, he has worked in Global companies like Visa and few silicon valley startups, Kumar is working in Fintech and Blockchain technology. He believes that decentralization, integrity and open access of data such as EEG data could immensely help foster innovation in this space.
---
Dr. Dan Brehmer (PhD Physics)
Chief Data Scientist (iBriz.ai)
Dan is a Data Scientist and an Entrepreneur. He has been working in AI and ML space for sometime. A meditator himself, Dan approaches EEG and other bio-feedback data with a touch of mindfulness.
Follow Dan on LinkedIn for more work
---
Ibriz AI Nepal
Sagar Duwal, Sandeep Sthapit, Aavas Parajuli - All of them Graduates of Computer Science, they are pursuing a career in AI and ML.
Sagar is software architect at iBriz. He's interested in AI and Blockchain.
Sandeep comes from Computational Neuro Science and AI, ML background.
Aavas is from Robotics background and has his expertise on Internet of things, automation and hardware development.
---
Pati Pallerito
As a therapist and sound artist, Pati Pellerito is passionate about the intersection of healing and art. She has her expertise on therapeutic bodywork, Eastern philosophies of wellness, shamanic studies, ancient wisdom teachings, and the science of sound and vibrational medicine to create a safe and sacred space for inner peace and joy. In practice for more than 25 years, Pati has a deep connection to helping others create a healthy and harmonious life, living from the heart.
Pati visits Nepal on a regular basis to learn more about sound healing practices here and also to buy the ever so pouplar himalayan singing bowls.
Follow her events and work on her website centerofsound.com
Read more about Pati and her journey in Nepal at PATI PALLERITO, A Sound Therapist and Artist
---
Roshan Sriram
Roshan is CEO/Founder of myndscape, a company dedicated to caring for the wellness and balance of individuals, families and businesses through the collaboration of various holistic modalities encouraging healing and wellness from within the person or organization. Roshan is a passionate technology entrepreneur with strong interest in Virtual & Augmented Reality, Cognitive Neuroscience, Brain Computer Interface, Machine Learning & Artificial Intelligence. His vision is to reprogram the human mind by leveraging bleeding edge technology & science to unlock the innate creative & spiritual potential within each and every human being.
Myndscape specialities includes Psychotherapy, life coaching, diet and nutrition, massage therapy, yoga, mediation, staff training and development, compliance, and stress management.
Follow Roshan on LinkedIn for more.
---
Bijay Niraula (CEO iBriz.ai)
Event Co-ordinator - Bijay is a serial entrepreneur living in the San Francisco Bay Area. He did his MBA from SIUE. He is passionate about the field of Transformative Technology because he feels that if we have control over our mind, the rest will follow. With the advancement in technologies like AI and ML, the potential to understand the mind has tremendously increased. Nepal can be a key player in the Transformative Tech Eco System. The opportunity to include our younger generation is tremendous.