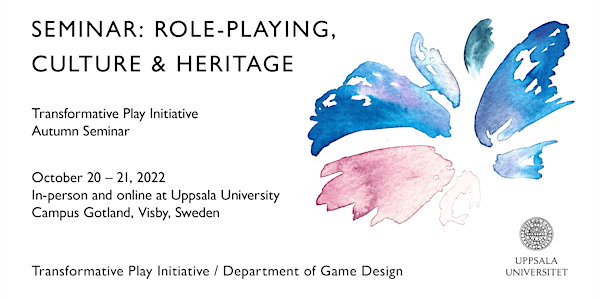 Transformative Play Initiative Seminar: Role-playing, Culture, and Heritage
Announcing the Transformative Play Initiative Seminar 2022 at Uppsala University Campus Gotland in Sweden!
When and where
Location
Cramérgatan 3 3 Cramérgatan 621 57 Innerstaden Sweden
About this event
Announcing the Transformative Play Initiative Seminar 2022 at Uppsala University Campus Gotland in Sweden! Organized by the Games & Society Lab at the Department of Game Design with financial support from the Sustainable Heritage Research Forum (SuHRF), this hybrid in-person and online event will feature short academic presentations by researchers and practitioners in the fields of Role-playing Game Studies and adjacent activities. Our theme for this year is Role-playing, Culture, and Heritage.
Where: Cramérgatan 3, Room B51, 621 57, Visby, Sweden
When: October 20-21, 2022
RSVP for the event: https://fb.me/e/2lZD4SZoP
Register for the online event: https://tinyurl.com/mvwsw9je
View the full programme: https://tinyurl.com/yp33a75v
The Transformative Play Initiative studies the use of analog role-playing games such as tabletop and live action role-playing (larp) as vehicles for personal and social change. We focus on researching these games in applied contexts, e.g. education, therapy, social work, youth work, activism, community work, spiritual guidance, etc.
While this event will be streaming and poster presentations will take place online, the majority of this seminar will take place in Visby, Sweden. Visby is located on the island of Gotland. Honored by UNESCO as one of the best preserved medieval cities in Europe, we plan to offer optional heritage activities on the island, as well as opportunities for play and design.
Keynotes:
Tadeu Rodrigues Iuama, Belas Artes University in São Paulo, Brazil
"Towards Post-Modern Art Week: Anthropophagic Reflexes in Brazilian Larp Scenes"
Liv Hernø-Toftild, Culture and Learning Consultant in Copehagen, Denmark
"Historical Empathy: How Larp Can Facilitate Cultural and Historical Understanding"
Mohamad Rabah, The Palestinian Circus School in Ramallah, Palestine
"Playing to Protect; Protecting to Play"
Michał Mochocki, University Kazimierza Wielkiego in Bydgoszczy, Poland
"Multilayered, Selective and Contested: The Heritage of Polish-Lithuanian Commonwealth in Polish Role-playing and Reenactment"
Please review the Seminar's Code of Conduct and Guidelines for Encouraged Behavior: https://tinyurl.com/4d4st5hf
If you have questions, please message us at transformativeplay-speldesign@uu.se
---
To register, you will be asked information about your background. We request that you provide this information to help us get to know you better and develop this series. By including this information, you consent to Uppsala University using this data in its anonymized form for research purposes.