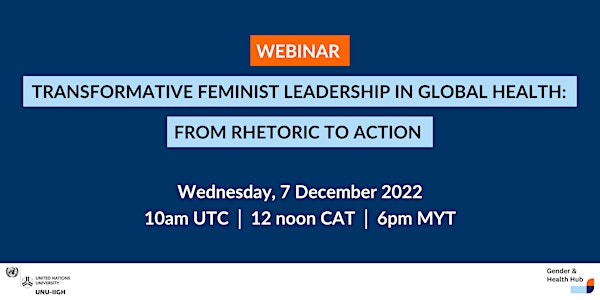 Transformative Feminist Leadership In Global Health
Transformative Feminist Leadership In Global Health: From Rhetoric to Action
About this event
About the webinar
As we work in health-related institutions and organisations to advance gender equality and health equity, how do we make sure we do not perpetuate the very harmful structures and norms we are working to transform?
A growing discourse highlighting the importance of women in leadership as central to advancing gender rights and achieving health equity has translated into increasing calls for gender parity in leadership positions. However, evidence has shown that to ensure genuine and sustainable transformation, we need to move beyond parity as a tick-box exercise to transformative feminist leadership that tackles patriarchal and oppressive power structures. It is not just the gender of the leader that matters — the values and principles that underpin that leadership are essential.
Feminist leadership is committed to creating alternatives to hierarchies and transforming oppressive norms internalised by individuals and organisational cultures and structures. As such, feminist leadership can take different forms, adapting to particular contexts, representing an ongoing process of individual and collective learning and unlearning to develop more just and equitable organisations that meaningfully work towards health equity and gender equality. This webinar seeks to hear from those that strive to put these changes into practice.