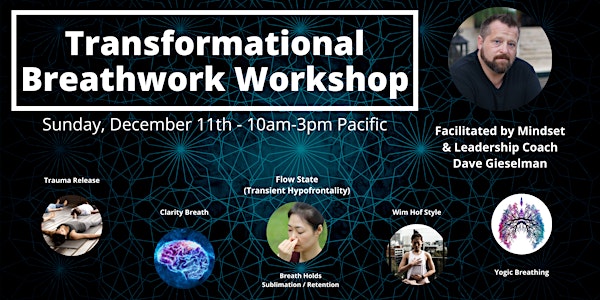 Transformational Breathwork Workshop
Half-day, in-depth workshop led by Mindset & Leadership Coach Dave Gieselman, concluding with a 60 min Transformational Breathwork Session.
About this event
What To Expect:
We will be exploring a variety of breathwork techniques and practices. From techniques you can do standing, sitting at your desk, driving or walking, to practices designed to trigger altered states of consciousness, some have been known to induce hallucinations when done properly.
This workshop includes:
Intense 60 minute Transformational Breathwork session
Meditation / Suspension
Final check in, experiences, questions / answers
First timers to breathwork are welcome!
What You Need:
Yoga mat -or-
Space to lay down (bed, floor, couch, recliner)
Water
Pillow or blanket (optional)
Good speaker or headphones/earphones (wireless is ideal)
Journal/pen to write down any awarenesses or insights you receive in your session
Set up your zoom camera to show you from the waist up as you are laying down. This helps me coach your breath throughout the session (recommended, but optional)
Who Is This For?
This session is suitable for everyone, but does require a basic level of health. Out of precaution, we advise against participation during pregnancy, or if you are epileptic. People with cardiovascular issues, or any other serious health conditions should always consult a medical professional before starting breathwork.
Why Is This Workshop Virtual?
It's easier for people to let go of all their stuff when they're home in their safe space
You can lay there and enjoy the payoff for as long as you like
There is no one else around to distract you
You don't have to drive afterwards
We all need this badly right now