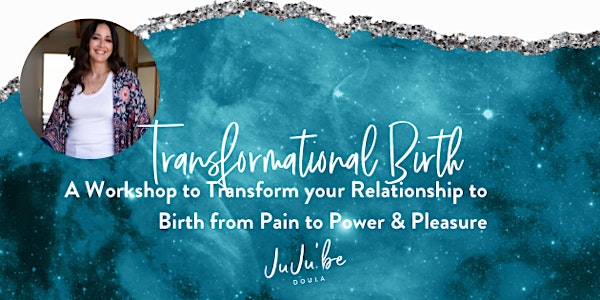 Transformational Birth - From Pain to Power & Pleasure
Transformational Birth - A Workshop to Transform your Relationship to Birth from Pain to Power & Pleasure
About this event
I so often hear that we can't know how a birth will unfold and while that is true to some degree, I feel it's important to share that you have way more control over your birth than you may think.
During this workshop, you will receive some practices and support tools to get clear on how you can have a Transformational Birth Experience and go from fearing the pain to welcoming in the Power and Pleasure available to you during birth.
What are the elements of birth that you usually can control?
Birthing Location
Care-Provider
Information/Education
Mind-Body Preparation
Birth Team
Your Attitude and Energy
How do these effect how birth unfolds?
If you feel safe and comfortable in your birthing location it allows you to birth more freely.
If you trust your Care-Provider and they are in alignment with how you wish to birth, you can communicate openly and can trust you will be heard and will play an active role in decision-making.
If you take the time to understand birthing options, medical interventions, the process of labor and physiological birth, you will feel more confident and in control of how your birth unfolds and you will feel ready to make choices when and where needed.
If you take time to explore how to prepare for birth, find coping strategies for labor, listen to your body, learn about your body and prepare your body, your birth will be less painful and you will feel more in control.
If you take the time to create a Birth Team, communicate your needs and desires to them and go over your preferences with them, you will feel more deeply supported and less out of control during birth.
If you take the time to get clear on how you want to feel leading up to and during birth, and cultivate the mindset, energy and attitude in all ways and as a practice, you will likely feel that way during birth!
We will go over each of these elements in this short workshop and open up the space for Q and A after.