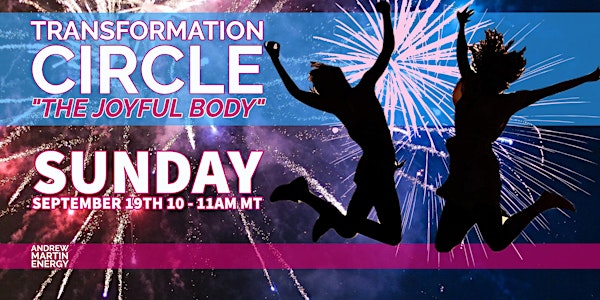 Transformation Energy Circle - The Joyful Body
This special 2 hour Transformation Circle focuses on expanding and turning up the frequencies of joy and freedom in our physical bodies.
Refund Policy
Refunds up to 1 day before event
Eventbrite's fee is nonrefundable.
About this event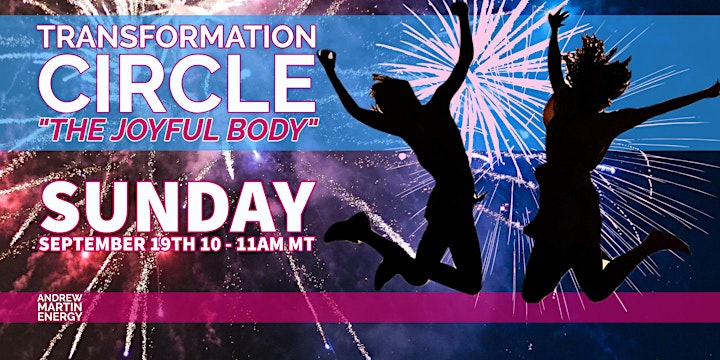 The Transformation Energy Circle happens Sunday, September 19th from 10AM - 11AM MT. Attendees may join on their computer or mobile device via the Zoom link.
This online gathering will offer a combination of: Energy Work, Meditation, and Channeled Messages for the group.
The theme for September's gathering is: "The Joyful Body". This month's gathering is a special 2 hour session. We're going to be diving deep into activating resonant codes in the body. This is in preparation for the upcoming Equinox on the 22nd as well as the remainder of 2021.
The past18 months have put our physical bodies through the wringer. So much fear, uncertainty, and chaos have taken a toll on our physical systems. As we prepare for the approaching Equinox and the intensity of the remaining year, it's a good time to take a moment to focus on our bodies.
In this month's Transformation Circle we will focus on clearing any remaining debris in our fields and physical systems, and bringing the frequency of joy to the front of our experience. We will be diving deep into the body to activate the codes that are resonant with the experiences of joy and freedom.
The Transformation Energy Circle opens a space for you to merge with your Ascended Self and reconnect with your Divine Blueprint. It is this pristine, uncorrupted blueprint that provides a template for this work. Gathering together, with shared intent, magnifies the energies for the whole group.
This event happens Sunday, September 19th at 10AM MT. An MP3 recording of the session will be provided to all registrants after each call so they can review the information and re-immerse themselves in the energy work if they desire. When you register, you'll receive an MP3 recording of the call even if you can't attend live.