Refund policy
Contact the organizer to request a refund.
Eventbrite's fee is nonrefundable.
TRANScend is an annual retreat designed for and by transgender and genderqueer folks, happening VIRTUAL this year due to COVID-19
About this event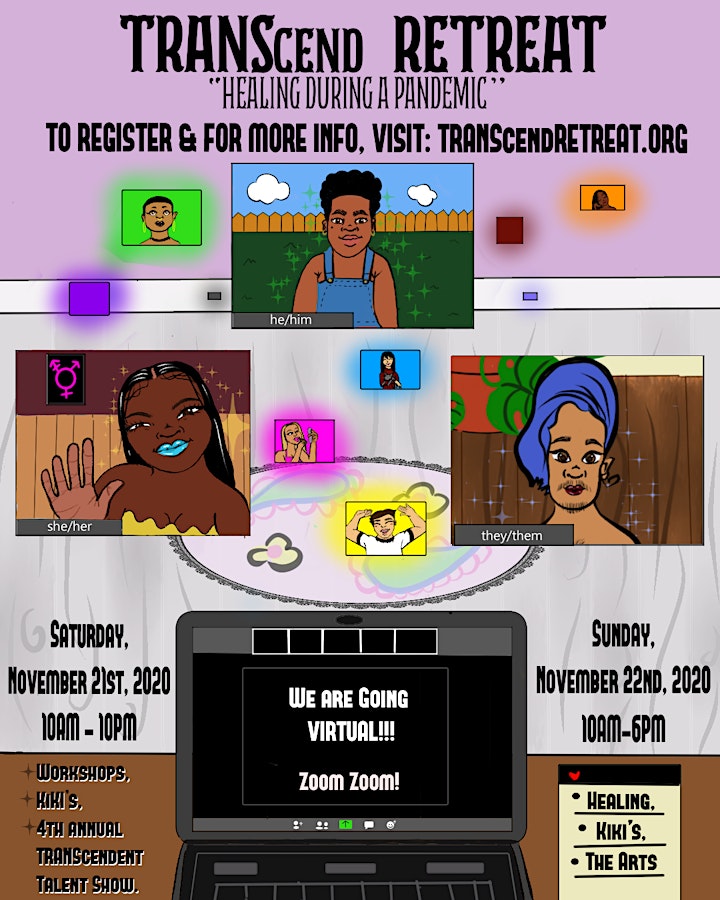 TRANScend is an annual retreat designed for and by transgender and genderqueer folks. We build community with one another by deepening our ability to self-organize, create paths of resilience, redefine resistance, heal, socialize and further develop our social justice movements. Through workshops and rituals we empower each other by centering the needs of our community, which includes, focusing on mental, physical, spiritual, and emotional health as pivotal aspects of strong leadership. We know that both self and community care are critical to our wellness; so there will be plenty of time to heal and relax virtually with friends.
Usually our retreat happens over three days at Saratoga Spring Resort, however due to COVID-19 restrictions we have decided to go VIRTUAL this year. We cannot let this pandemic stop us from one of our most integral programs. Especially as we continue to see, yet again, a rise is trans violence and the federal government's war on trans bodies. TRANScend has decided that our approach to this violence includes: centering black trans women's leadership, building national solidarity and collectively raising awareness.
We have decided to go virtual this year to ensure the safety of all of our participants. This will be a full two-day retreat with workshops and healing opportunities on both days.
We know that when trans and genderqueer folks come together we create majick, we shift narratives, and we make visible changes that have the ability to overthrow antiquated cis-tems. In this current administration it is important for us to find common purpose while appreciating our differences; it is in so doing that we can truly move forward in our quest for intersectional liberation.
Check out our website for more details: transcendretreat.org
Or our FB event page: https://www.facebook.com/events/632243570782684/
***Presenters and Healer info will be added 11/13, check out tentitive schedule below for a glimpse of our 2020 program for:
TRANScend Retreat: Healing During a Pandemic
SCHEDULE:
Saturday 11/21
10am Opening w/ Janelle and Spring
10:30 Land Acknowledgement w/Snowflake
11-12 Opening Ceremony
12-1 Lunch and Plenary Panel
1-2:30 Workshop Block 1
3-4:30 Workshop Block 2
5- Dinner Kiki- Cook and share food together
7-Evening Program-Speed Dating w/ Trans:Thrive
8 TRANScendent No-Talent Show
10 DJ and Dance Party
Sunday 11/22
10am: Welcome Back
10:30-12pm: Healing Session 1
Noon: Lunch
1-2:30pm: Healing Session 2
3-4:30: Healing Session 3
5: Closing Ceremony