Description
://OPENING NIGHT AngelLauch HAPPY HOUR
04:30pm-08:30pm AngelLaunch Happy Hour with Free Drinks: Network with investors and entrepreneurs, food, drinks, and demo tables.
Come network with other entrepreneurs, Angels and VCs from: SFAngel, cale Partners, Draper Nexus Ventures, Deepfork Capital, Angels Forum, and DBL Investors.

://WRAP PARTY @ DIMENSION 7 STUDIOS
We're giving away a limited number of free passes to the Transbay Fest 2013 Wrap Party @ Dimension 7 Studios, in San Francisco! (* Recommended donation of $15-$50 to support the venue)
Featuring a special edition of Dorkbot SF with talks/demos & performances including:
MC: Jonathan Foote: Electrical Engineering Cornell Graduate/fmr. development engineer for Teradyne/Electrical Engineering Ph. D @ Brown & Presidential Teaching Award & Outstanding Research Award from Sigma Xi/ postdoctoral researcher at Cambridge University/Fulbright Fellow at the Institute of Systems Science (now A*STAR), fmr. Senior Research Scientist at FX Palo Alto Laboratory, Inc., awarded eighteen US patents and has many more pending.

Act 1: Session 1
"Cypherpunks Part II: Fight!" w/Andy Isaacson: a co-founder of Noisebridge, and runs their Tor exit node.

"Texting Sea Turtles and Cars Making Music" w/Tom Zimmerman: an inventor, educator and researcher at IBM Research-Almaden exploring the boundaries of human/creature/machine interface. His inventions include the DataGlove (controller for Virtual Reality), Personal Area Network (sending data through the body), Lensless Stereo Microscope+more.

"New Human Interfaces for Music" w/Matt Moldover: a composer/producer/performer & product specialist for Native Instruments Inc./has worked with artists like Sarah Fimm, Jennifer Matthews, Kelly Buchanan, and The Emphatics, and designed a customized control interface for Bassnectar with 60-Works Controllers.

Act 2: Intermission

Act 3: Session 2
"Digital Fabrication and Interactive 3D: A Better Way To Build" w/Damon Hernandez: actively involved with the 3D web convergence with technologies including GIS, CAD/BIM/CAM, AR & mobile/has built numerous mixed reality applications & has lead dozens of research projects & worked with several 3D web and virtual world companies and is currently with IDEAbuilder.

"Aerial Imaging and Drones: A Different Perspective" w/ Eric Cheng: the founder and publisher of Wetpixel.com, the premiere community website for underwater image makers.

"Analog Modular Video Synthesis" w/ Jordan Gray aka Starpause the k9d: is Manager of Creative Labs @OrganicInc and co-founder of CODAME, a SF based event celebrating the intersection of ART+TECH.

Sound reactive generative visuals by Karen Marcelo (Founder @ DorkbotSF)

Snacks from @GrilledCheezGuy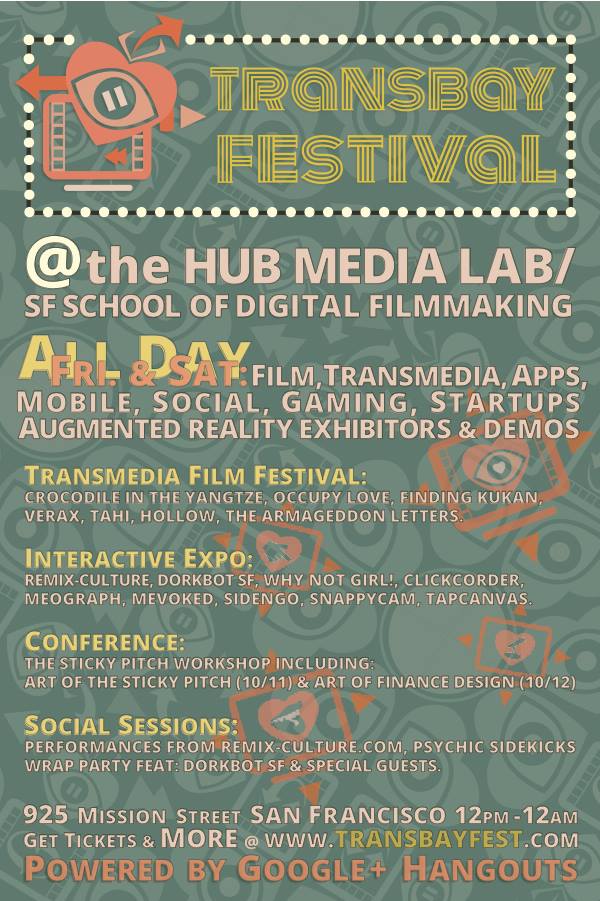 The Transbay Fest is an innovative modular event series that celebrates film, transmedia, video, apps, games and augmented reality and acts as a catalyst for conversation, exploration, and engagement through four modules:
MEDIA: Film and Video: The 2nd Annual Transmedia Film Festival at the Transbay Fest features selected films and videos from international and up-and-coming filmmakers.
INTERACTIVE: Apps, Games, Augmented-Reality: Transbay Fest becomes a live forum to introduce, explore, and test Apps, Games, Augmented Reality and other innovative entertainment and technology.
CONFERENCE: Keynotes, Panels, Workshops: Learn how Transmedia is changing the face of content and engagement through live presentations and panel discussions with notable media and entertainment industry leaders.
SOCIAL SESSIONS: Networking and Parties: This year, our real-time social events include the Opening Night and our Wrap Parties at Dimension 7 Studios, that we invite you to with talks and performances from: Remix-Culture, Psychic Sidekicks, and a special edition DorkbotSF.
WHERE & WHEN?
The Transbay Fest Wrap Party features two performance sessions, from 7:30pm - 9:00pm & 9:30 - 11:30pm on Saturday 10/12 at Dimension 7 Studios @ 150 Folsom Street, San Francisco, 94105.
/////*MORE DETAILS AT TRANSBAYFEST.COM!/////
Organizer of Transbay Fest 2013: Social Sessions