Updating the Positions of the United States, Europe and Poland.
About this Event
American Affairs Journal in cooperation with the Warsaw Institute think tank and The Warsaw Institute Review quarterly have an honour to invite you to our upcoming online debate:
Transatlantic Relations in the Biden Era
Updating the Positions of the United States, Europe and Poland
Date: Tuesday, March 2, 2021
Time: 1 PM (EST) | 7 PM (CET)
Register to receive a reminder and a direct link to the stream 10 minutes before the event:
PANELISTS
Elbridge Colby, Principal, The Marathon Initiative
Paweł Pawłowski, Chairman of the Foundation Council, Warsaw Institute
MODERATOR
Gladden Pappin, American Affairs
The main points of the discussion will include, among others:
• How the relationship between Washington and the European Union might change with China's ascent on the world stage?
• Does the arrival of the Biden administration mark a return to American foreign policy based on ideology?
• Will the prioritization of national interests in American foreign policy brought by the Trump administration leave a lasting stamp on Biden's foreign policy?
• How do the current shifts in geopolitics affect the place of Germany in Europe?
• What role do the nations of Central and Eastern Europe have to play in American-European relations?
• Can we expect further U.S. involvement in the Three Seas Initiative, or will it have a solely regional character?
Don't forget to register and see you there!
ABOUT THE PARTICIPANTS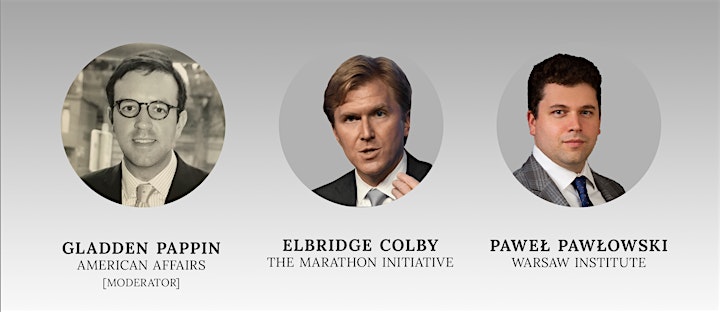 Gladden Pappin [Moderator]
Dr. Pappin is the cofounder and deputy editor of American Affairs. He is assistant professor of politics at the University of Dallas and a senior adviser the University of Notre Dame's de Nicola Center for Ethics and Culture. He received his AB (history) and PhD (government) from Harvard.
Elbridge Colby
Mr. Colby is a co-founder and principal of The Marathon Initiative, a policy research think tank focused on developing strategies to prepare the United States for an era of sustained great power competition.
Previously, Colby was from 2018-2019 the Director of the Defense Program at the Center for a New American Security, where he led the Center's work on defense issues.
Before that, he served as the Deputy Assistant Secretary of Defense for Strategy and Force Development from 2017-2018. He also served as the primary Defense Department representative in the development of the 2017 National Security Strategy.
Paweł Pawłowski
Mr. Pawłowski is a Chairman of the Foundation Council at the Warsaw Institute, a geopolitical think tank based in Poland. He is also Vice-President of the Board in the Cegielski Center for Analysis. Graduate of the Faculty of Law and Administration, University of Warsaw and Babson Entrepreneurship Program at Babson College. He was an intern as research assistant at the Institute of World Politics in Washington, DC. He gained his professional experience in the best banks in Poland. Currently he works as a manager in the leading company in the regional transportation sector.