Transamerica Chicago Triathlon: Open Water Swim Clinic #5 + Aquathlon

Tuesday, August 5, 2014 from 6:00 PM to 7:30 PM (CDT)
Event Details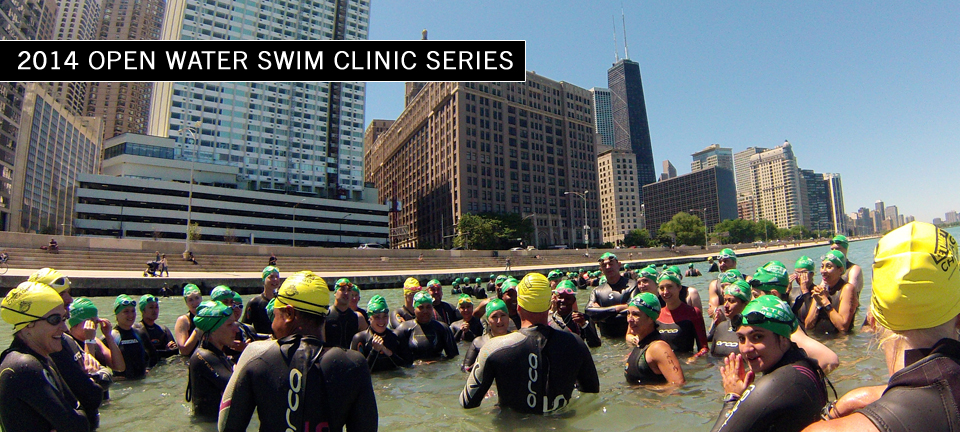 2014 OPEN WATER SWIM CLINICS
The Transamerica Chicago Triathlon is pleased to again launch a complimentary series of clinics specifically designed to help new triathletes safely enter into - and properly prepare for - our wonderful sport.
With the help of fellow coaches, veteran athletes and other volunteers within the local tri community, our goal is to promote the benefits of the multisport lifestyle and increase triathlon participation. 
This event is complimentary, although we recommend a suggested donation of $5 to RSVP for this event. 100% of ALL proceeds will be distributed among official Chicago Triathlon charities. Space is limited. Please read the details below before registering:
EVENT OPTIONS
Participants have two options to choose from: 

1. OPEN WATER SWIM CLINIC
Without a doubt, the swim is the most intimidating event for first-time triathletes. In reality, experienced triathletes consider the swim much easier than the bike or run -- it's faster, low impact and much easier with a wetsuit. After a few sessions, we think you'll agree with us!
If you are new to open water swimming, or need to refine your swim skills, the Swim Clinic portion is perfect for you. This option is truly focused on newbies - including those who have never worn a wetsuit. A fleet of local coaches will offer basic tri education, then lead you through several drills providing one-on-one feedback.
Curriculum:
How open water is different from the pool

Rules of triathlon swim

Swim etiquette at Ohio Street Beach

Properly putting-on/taking-off a wetsuit

Common issues (hyperventilating, poor breathing, sighting, etc.)
Separate swim instruction will be offered for both new and experienced swimmers. Don't worry if you are not efficient in the water, we'll help you! Lifeguards and/or certified coaches will also be on-hand. Swimmers will be divided into smaller groups once entering the water -- all in shallow water.
2. AQUATHLON
An Aquathlon is a Swim + Run multisport event, and a great opportunity to experience back-to-back triathlon disciplines in a single workout. We have two separate swim distances for you to choose from: 750 meter (Sprint) or 1,500 meter (International). Swimmers will begin together, simulating a typical triathlon mass swim start.
After the swim, you will immediately head to your transition area, grab your shoes, then run a 5K (3.1 mile) course along the lakefront path. An aid station will be provided at the turnaround.
Please arrive at least 30 minutes prior to the event start, allowing adequate time to register, check your gear, review the course map, etc.
We will start promptly at 6:00 PM, with separate starts for the 750 meter or 1.5K swimmers. Buoys will mark both turnaround distances, and mile markers posted along the 5K run course. A small transition area will be setup with water and gels.
TIMELINE
5:00 PM    Registration Opens, Wetsuit Rental & Gear Check Open

6:00 PM    Registration Closes, Aquathlon & Swim Clinic Briefing

6:10 PM    Aquathlon & Swim Clinic Begins

7:00 PM    Swim Clinic Concludes, Social Outing begins at Caffe' Oliva

7:30 PM    Run Course Closes

7:45 PM    Gear Check Closes
WHAT TO BRING
Swim Suit

Goggles

Towel

Running Shoes & socks

Water Bottle (water fountain available on the beach)

Wetsuit (optional, if you already have one)

$10 Cash & Drivers License (if renting wetsuit, on-site)

Extra $ for Post-Event Socializing

Plastic baggie for your cell phone and valuables (should it rain, keep them dry)!
 SPECIAL NOTES
> Register Now! If you're not yet registered for the 2014 Transamerica Chicago Triathlon, now is the time! Register at www.chicagotriathlon.com. 
> Kids Welcome!  This year, we are happy to welcome children ages 7+ into the clinics. Dedicated, experienced coaches will work specifically with the youth who participate in the Swim Clinic portions. We simply ask that legal guardians alert us when checking-in (on-site) at the session, and remain on the beach through the duration. 
> Wetsuits: If you do not own a wetsuit, don't worry! Fleet Feet Sports will supply 50 demo wetsuits for you to experiment with (first-come, first-served). They charge a $10 rental fee, which is offset in the form of a store gift card. Use that credit towards buying your suit! Plan to bring a valid ID (as collateral) when renting a wetsuit.
> Post-Swim Social: After the session, plan to congregate with everyone at Caffe' Oliva: The Official Bar of the Transamerica Chicago Triathlon (adjacent to the beach) for $3 beer specials. Discounted parking is also available through the Caffe'.  Details below.
> Charity Donations: This event is complimentary for the first 100 registrants, although we recommend a suggested donation of $5 to RSVP for this event. After the first 100 registrations, a mandatory donation (of at least $1) will be required.100% of ALL proceeds will be divided among our Transamerica Chicago Triathlon charities. 
> Come dressed for the swim. Ohio Street Beach does not have adjacent changing facilities.
> Gear check is for bags and loose items only (keys, wallets, etc.). We cannot be responsible for bikes and other large gear.
> $10 discounted parking (up to 12 hours) is available at the River East Art Center garage, located at 456 E. Illinois Street. Validate your parking ticket at Caffe' Olivia.
When & Where

Ohio Street Beach
550 E. Ohio St
Chicago, IL 60611


Tuesday, August 5, 2014 from 6:00 PM to 7:30 PM (CDT)
Add to my calendar
Organizer
Chicago Triathlon
This is the Transamerica Chicago Triathlon — where the world comes to race in, around and under this historic city's architectural masterpieces. It's where beginner and elite athletes alike come to be challenged, as well as inspired. It's Chicago's only triathlon, with 34 years of premier venues, premium amenities and awe inspiring spectating. It's your chance to race this incredible city and include yourself in one of its greatest traditions.
Race weekend also includes the Chicago Triathlon SuperSprint and the Life Time Kids Tri Chicago, the largest youth triathlons in the world drawing more than 1,200 children ages 7–14 in itself.
For more information on the Chicago Triathlon, visit www.chicagotriathlon.com
Transamerica Chicago Triathlon: Open Water Swim Clinic #5 + Aquathlon