About this Event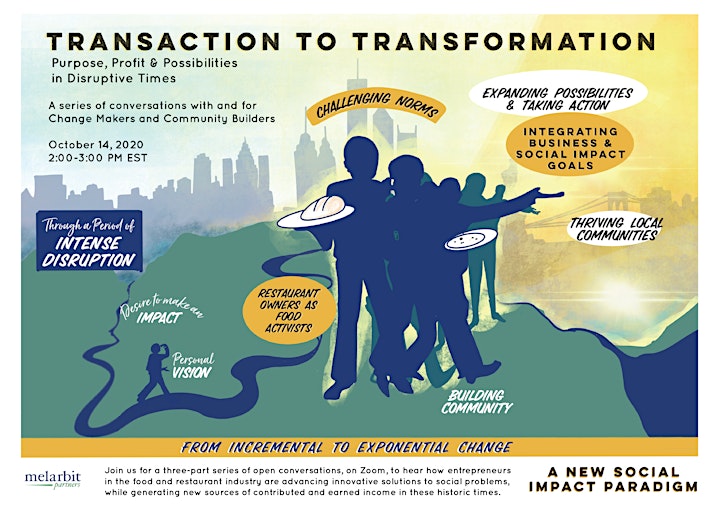 Purpose, Profit & Possibilities in Disruptive Times explores how restaurant owners and food activists are charting their own course and creating new opportunities these days by re-imagining their business and social impact goals.
Navigating Purpose, Profit & Possibilities in Disruptive Times is based on Melarbit's signature talk, Transaction to Transformation.*
* Transaction to Transformation is a new paradigm that supports mission-driven enterprises, entrepreneurs and investors who are looking to thrive during periods of major change. It is based on the principles of social/urban entrepreneurship that extend philanthropic traditions by using innovation and community wealth building approaches to drive more sustainable and equitable local enterprises and economies.
Restaurant Owners and Food Activists as Change Makers & Community Builders
As anchors in our community, restaurants are connected to just about every facet of our daily lives; as gathering places, drivers of the local economy, and agents of community change. It is a highly resilient and creative industry and it comes as no surprise that so many of them are re-imagining their mission and business model to chart out a new future.
Expect to be connected with a community of like-minded change agents and come away with:
A real-time understanding of how other community & business leaders are navigating these tumultuous times
A fuller understanding of the opportunities for transformational change
Resources (financial and other) to boost your fundraising, philanthropic and community impact
An expanded network of pioneering leaders who share your commitment and "get it"
Make connections that will help kick-start your ideas into action, regardless of your industry affiliation.
Conversations conducted by Melarbit Founder & President, Bruce Arbit