Trans Love Trans Liberation - An Action to Protect Trans Lives. Join us Thursday, June 24th 2021, 5pm at the Billy DeFrank LGBTQ+ Center
About this event
Silicon Valley Pride is inviting you to attend our rally, Trans Love Trans Liberation - An Action to Protect Trans Lives. Join us Thursday, June 24th 2021, 5pm at the Billy DeFrank LGBTQ+ Center parking lot as we amplify the stories of queer trans BIPOC folx and stand together for transgender love and liberation. Community members and leaders will be in attendance to lead this rally for action.
Event Guidelines
🖤 Center Queer Trans BIPOC Experiences
Be intentional with our mission in lifting up the stories of trans youth and black and brown queer trans people of color. Take action with, not for, people of trans lived experience. Speak up, not over, and use your voice to amplify the message of community members.
🤎 Be Hella Inclusive
We invite the entire Bay Area across all intersecting identities to attend our rally. This will be a peaceful protest. Use the buddy system, be mindful of folx with accessibility needs, and be open to perspectives and ideas different than yours.
💙 Respect Personal Space
Practice social distancing and wear a mask if you are not yet vaccinated.
💖 Make Connections
Seek out speakers and resources through networking. Know the names and stories of those who have fallen victim to anti-trans violence. Understand that queer trans lives are under attack.
No Pride for Some of Us Without Liberation for All of Us.
For more information about Trans Love Trans Liberation Rally, please email us at info@svpride.com
#svpride #translove #transliberation #protecttranskids #letthemplay #blacktranslivesmatter #blackqueerlivesmatter #wontbeerased #svpride #btlm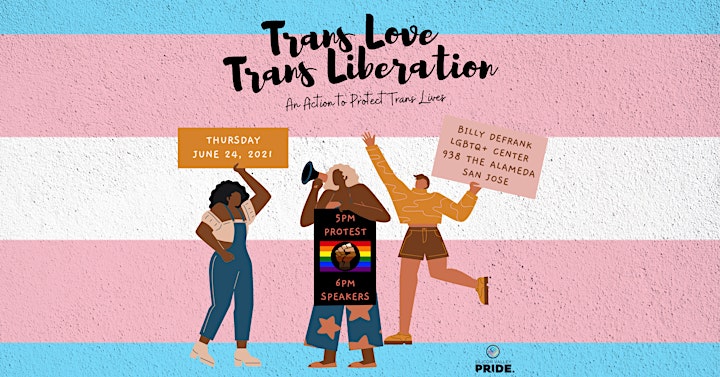 Organizer of Trans Love Trans Liberation RALLY
Silicon Valley Pride is a celebration of the LGBTQ+ community and our allies. It all started back in 1975 as a gay rights rally and evolved into San Jose Pride Festival in 1976. The following year, 1977 San Jose added its first parade to the celebration. In 2014 San Jose Pride was changed to Silicon Valley Pride to include neighboring cities to encourage unity. It is now the largest Pride celebration of the South Bay and is a family friendly event. That is 44 years of honoring and celebrating our rights to choose whom we love and spend our lives with! The LGBTQ+ movement has been built on the backs of people who have fought hard for equality and progression. We choose to honor those individuals and those whom we've lost. It is important, now more than ever, to make our voices heard and to celebrate our diversity! We will not be pushed aside and we will not be erased!