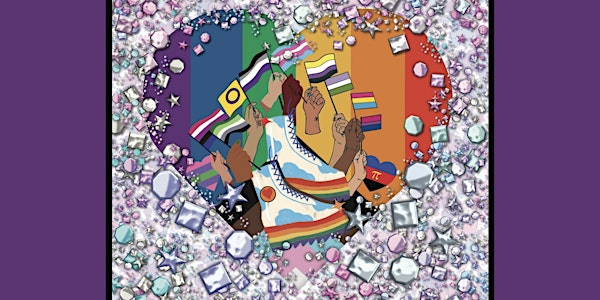 Trans-LATE!: A Spectacular Evening of Cabaret, Dance, and Chill Vibes.
Trans-LATE!: An extravaganza of Trans, Intersex, & Nonbinary entertainment early in the evening & a late night dance party till Midnight!
When and where
Location
Bryant Lake Bowl and Theater 810 West Lake Street Minneapolis, MN 55408
Refund Policy
Contact the organizer to request a refund.
Eventbrite's fee is nonrefundable.
About this event
FOMO in community? Come to Trans-LATE! Trans-LATE! is a fun, new low-key bimonthly wellness event and community fundraiser created, founded, & produced by Atlas O Phoenix.
This event centers Trans, Intersex, Asexual, and Nonbinary folx with QTIPOC majority representation in our rotating cast of performers. See that anywhere else? We didn't think so! Talk about FOMO! All are welcome! Please, be respectful of those in the center.
Trans-LATE! is a hybrid show. The performances can be seen on Zoom or in-person at Bryant Lake Bowl.
The theme of the night: What is Love? Come see the performers and find out! The show will move from dark to light in the name or not of Love!
Cabaret 7-9pm,
Dance party & **Free Taco Bar 9ish-Midnight
ASL interpreters will be present!
Zoom links will be sent to ticket holders the day before the show. Be sure to email: transcendencecabaret@gmail.com the day before the show to get the link.
You can tip from home or in-person via apps. The troupe members share all the tips, so make it (Purple)rain!!
From Transcendence Cabaret:
"Transcendence Cabaret is pleased to present the following artists for your entertainment pleasure! Oliver Yew, Seamus Shenanigan, Megan the Maneater, and Chad Tayo along with your fave smol Porg, Eun Bee Yes!
Our troupe is one of a handful of primarily BI&POC trans/ nonbinary/two spirit artists here on Turtle Island (known by the colonizer name United States)."
We're also featuring Newbie Draggons (Drag and Dragons!) who will be performing for the first or second time on stage or online. Performers to be determined by those who apply with the Trans-LATE! Newbie Draggons Google form. We are looking for 3 performers for this show. Never done drag before and you want to give it a shot? Fill out the form HERE!
DJ Drew UNTETHERED will be spinning chill House grooves after the show till Midnight. This party is a Red/Yellow/Green/Purple light dance party! Neon Bracelets will be given out at the box-office.
Red - Unavailable, Yellow - It's Complicated, Green - Available, Purple - WILD CARD!
**For those who are experiencing food insecurity the day of the show, and are unable to purchase food at BLB and are in-person, we'll have a free taco bar that serves about 15, and other small dishes for those who haven't had a meal that day or in the past few days.
***Masks are mandatory for the performance half of the evening for our performers. We understand you'll be eating and drinking, please be mindful! Thanks!
Trans-LATE! is also a community fundraiser. This month, we're raising money for TIGERRS, a Trans, Intersex, Gender-Expansive Radical Resources & Services cooperative organization whose mission is to fill critical gaps in support in MN, and we're also raising money for The Phoenix Ascension Grant, a grant for BI&POC transmasculine and nonbinary individuals seeking a small grant to assist with gender- affirming services, such as electrolysis for bottom surgery, post surgery medical supplies, and other services TBD.
TPAG is just starting up, and we'll be taking applications in the spring. A randomized drawing for grantees will be held mid-summer. Funding will be managed by RARE Productions and will also be matched by other generous donors from our community.
Acknowledgments:
Funding for Trans-LATE! is provided by the Minnesota Transgender Health Coalition, MN Dept of Health, and RARE Productions. Our community thanks you!
Promotions provided by RARE Productions and Twin Cities Gay Scene.
Thanks Rox and David for your generous donations!
We make our home on the ceded land of the Dakota, Ojibwe, and other Indigenous nations now known as Minneapolis, Minnesota.
@trans_late_mpls
@rareproductionsmpls
@transcendencecabaret
@tigerrsmpls
@beautifulboiatlasphoenix
@duntethered
TIGERRS Facebook TIGERRS Instagram TIGERRS Twitter TIGERRS Donation Page
Email: trans.late.mpls@gmail.com
There will be a sliding scale for tickets, you can pay $5, $10, or $15
Doors are at 6:30!