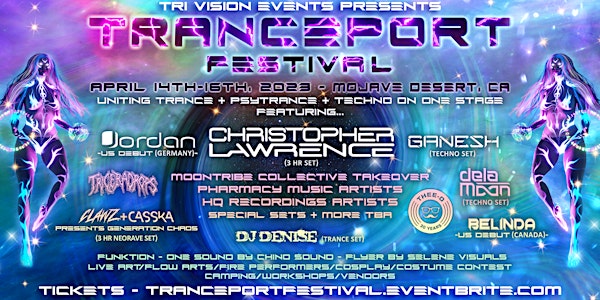 Tranceport Festival
A hypnotic trance-inducing affirmation begins..
Date and time
April 14 · 1pm - April 16 · 1pm PDT
About this event
Welcome to TRANCEPORT FESTIVAL 2023
-A new, co-creative boutique experience, centered in Art, Flow Arts & Cosplay, while showcasing the very best in underground TRANCE, PSYTRANCE & TECHNO!🎶🌵✨🪩
ART- Tranceport Festival is a mecca for artists of all styles, backgrounds, and talents. Since our event is based on a co-creative experience where everyone is a participant, dressing for the occasion is essential in bringing this magical, otherworldly atmosphere to life. This year we are going with a SCI-FI & FANTASY theme - any COSPLAY attire is welcome & highly encouraged! There will be a costume contest, flow meetups, and skills workshops TBA!
MUSIC- We have carefully curated our musical lineup with thoughtfulness and seek out those who love to experiment and have a true passion for what they do. While we enjoy all styles of electronic music, Tranceport Festival will explore and blur the lines between the many subgenres of trance and techno, with a splash of classics in the mix. Styles our artists will be showcasing are ~ TECHNO-TRANCE, TECH TRANCE, HARD TRANCE, PSYTRANCE, PSYTECH, HARD TECHNO, ACID, NEORAVE and so much more! If you like high-energy music that gets you moving on the dance floor, this is the festival for you!
Tri Vision Events is rooted in DIY, 90's rave counterculture and aims to revive the pillars of our scene - PEACE, LOVE, UNITY, and RESPECT. Join us for this specially curated ARTISTIC & MUSICAL journey, into the Cosmos and Beyond!!✨
-Funktion-One Sound
-48 Hours of NON-STOP music
-One Stage, One Vibe, One Tribe!
-Live Art/Live Painters
-Flow Arts (Fire/LED Performances)
-Flow Meetups (Open to all Attendees)
-Sci-fi & Fantasy-themed event, any Cosplay welcomed & encouraged!
-Costume Contest
-Camping
-Workshops
-Vendors
-PLUR Vibes!!🌈✨💕
-Mojave Desert Location (2 hrs from LA
-Leave No Trace♻️event
-Age 18+ w/ID
---------------------------------------------
***Tickets***
Tier 1 - Sold Out!
Tier 2 - Sold Out!
Final Tier - $80
---------------------------------------------
***Location & Property Rules***
-TRANCEPORT FESTIVAL is a campout in the Mojave Desert. Bring everything you need to survive for 3 days, such as plenty of water and enough food. We are expecting nice weather in April with average temps in the high-70s to low-50s, but always be prepared for unpredictable desert weather.
-DIRECTIONS: We are doing this OLD SCHOOL Underground Rave Style! Location will be released the day of the event. Only share with those you know & trust! For those traveling out of town, the nearest city is Barstow, CA & approx. 2 hours from Los Angeles. Eventbrite ticket holders, check your email on the day of the event or go to our FB Event Page➡️ https://fb.me/e/2wBdLOlwm
-Doors are open at 12pm-Friday, April 14th and the event will run until 1pm-Sunday, April 16th. Everyone will need to exit the venue by 2pm on Sunday, April 16th.
-For everyone's Safety, Peace of Mind & Consideration for the Land - Please NO glass containers - NO open fires - NO pets - NO renegade sound systems. Age 18+ w/ ID only.
-This is a LEAVE NO TRACE♻️event, which means you are responsible for taking home your own trash and doing your best to leave your campsite as if you were never there. Be especially mindful of your MICROTRASH. Please do not toss cigarette butts or bottlecaps on the ground.
-Trash bags will be provided at the gate. RESPECT the land, wildlife & each other, so that we may continue to put on events in the beautiful Mojave Desert. Thank you!💚
-To learn more about the principles of Leave No Trace➡️ https://www.nps.gov/.../leave-no-trace-seven-principles.htm
---------------------------------------------
***Artist Lineup!!!***
CHRISTOPHER LAWRENCE (3 hr set) / Label Head: Pharmacy Music
DJ JORDAN - U.S. DEBUT (Germany) / HQ Noir, Autektone Records, Ithica Records, Black Snake Recordings, Gain Records
GANESH (Techno Set) / HTE, Outburst, FSOE, Dolma Rec / Label Head: HQ Recordings, HQ Noir, HQ Ascension
THEE-O (Trance Set) / re:love, Viva La Tech
TRICERADROPS / Pharmacy Music, BMSS Records
CLAWZ & CASSKA Presents Generation Chaos (special 3 hr NEORAVE set) / Rave Alert (Clawz) & DBMC (Casska)
--MOONTRIBE COLLECTIVE TAKEOVER--
dela MOON (Techno Set) / Moontribe Collective
BRAD MOONTRIBE / Moontribe Collective
CHADWICK MOONTRIBE / Moontribe Collective
chelsie241 / Moontribe Collective
DREW HOLLY / Wulfpack, Terrakroma, Black Square Recordings, Moontribe Collective
---------------------------------------------
BELINDA – U.S. DEBUT (Canada)
DJ DENISE (Trance Set)
MICHAEL LIU / Secret Psychedelica, Maharetta Records, Pisces Music
FOGGY RAY / Pharmacy Music, Let it Out Records
GIZMA / Antu Records
TEKTRIX / Pharmacy Music, Sculpted Sounds
TATTOOPUDGE b2b BREMARIE / TechnoFamLA Resident DJs
gALEXii (Psytrance Set) / Super Trippy Hippie
CHRISTINA ASHLEE / HQ Recordings, DI.FM Resident DJ, Subatomic, Electronic Agenda
LOST IN TIME / HQ Recordings, A+R Ballistic/Rated Records
JACK SPAIDZ
ATHENA (Techno Set) / Boogie Factory/SF
frankieGMZ (Techno Set) / Tri Vision Events Resident DJ
NATURAL HIGH (Techno/Hardgroove Set) / Tri Vision Events Resident DJ
---------------------------------------------
***Flow Artists, LED/Fire Performers & Dancers!!!***
Flowed Out Dayze ~ Flow Arts Coordinator
Bright Sky
Brandon Ward
Grady
Flowing Flower
Julie Saucin
Cinder
MoonEyes
AtomNUKE
Esoterika Sol
Chancey Frank
Olivia Taylor
Courtney Fortner
Fyrefly
Graviti
Maya Blaze
Emily Deabreu ~ Lyra Performer
Vera Vanguard ~ Go-Go Dancer
Lil Demon ~ Go-Go Dancer
---------------------------------------------
***Tranceport Festival 2023 Flow Meetups***
-DJ Sets/Meetup Times TBA
-We will be having open flow meetup circles for anyone that wants to show off their skills or learn new ones, practice, create, inspire, and connect with like-minded individuals!❤️‍🔥
-All props and styles are welcome! Bring your daytime flow toys, LED and fire props! POI, FANS, HOOPS, TRIADS, STAVES, WHIPS, WANDS, ORBITS, FLAGS, TORCHES, STAFFS, BATONS, SABERS, SPHERES, GLOVES, RINGS..AND SO ON!✨
*Martial Arts props with any type of blade are excluded from this list, and are not allowed.
*Anyone who intends to spin fire must check-in at the gate and practice safe fire-spinning techniques. The fire circle will be located away from the dancefloor at a safe distance, please be mindful of other attendees, fellow flow artists & dancers. Thank you!
---------------------------------------------
***Live Artists/Painters***
Dylan Thomas Brooks
Annelise McKay
Wander
Richard A. Powell
Kashi
CRODAS
Kalee B. Choiniere
Matthew Villa
Beckabunss
Teddy Rhodes
Bruce Boyd
Jossimar Comodo
Suzy Adra
Naomi Duben
Charles XXV - Installation Artist
---------------------------------------------
***Workshops***
Maya Blaze
~Hoop Trance & Dance Workshop~
A follow-along hoop experience to help people access their own unique flow state!
Suzy Adra
~Painting as Tantric Practice~
Let's see what happens when we use dance to harness the energy to paint. Paint supplies available but feel free to bring your own and join the experiment! No painting experience required.
Harm Reduction Workshops, Essentials & Free Water provided by Harm Reduction Circle!
Check them out here➡️ https://www.harmreductioncircle.org
---------------------------------------------
***Vendors***
Exist The Alien
Stroke Family Creations
MoonEyesJames
Earth Tribe Designs
Turtle's Magic Touch
---------------------------------------------
Photography ~ Beau McGavin
Photography ~ Philly The Kid
Funktion-One Sound by Chino Sound
Shade Structure by Khorde Vision
Deco/Stage Design by Space Nature Tech
---------------------------------------------
More TBA! STAY TUNED!
Check out our Tranceport Festival Playlist!!➡️ linktr.ee/trivisionevents
Instagram➡️
www.instagram.com/trivisionevents
www.instagram.com/tranceportfestival
Questions & Volunteer inquiries➡️ trivisionevents@gmail.com