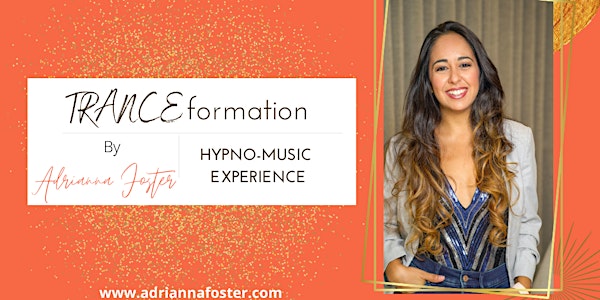 TRANCEformation hypnosis experience
TRANCEformation hypnosis series A One of a Kind Experiential Online Event created by Adrianna Foster
Refund Policy
Contact the organizer to request a refund.
Eventbrite's fee is nonrefundable.
About this event
TRANCEformation hypnosis series
One of a Kind Experiential FREE Online Event.
Join me every 3rd Saturday of each month in a powerful hypnosis experience designed to create behavioral transformation in your life. Bringing together my two passions "Music and Healing" TRANCEformation is the perfect tool to help you re-write your story in your OWN terms.
Did you know that 90% of our behaviors is controlled by our subconscious mind? That means that our daily choices are a result of a vast collection of unintentional, habitual thoughts behaviors and actions… The subconscious mind is silently controlling and designing our lives…
Hypnosis has been proven to be one of the most effective methods to help you heal and change your unwanted behaviors and patterns that no longer serve you. It is completely safe and extremely effective in bringing deep perspective into your life as well as create sustainable transformation through emotional and subconscious support.
For the past decade, I have specialized in Reconstructive Regression Practice through hypnosis and I have worked with hundreds of women and men helping them overcome their implicit limiting beliefs and step into tangible, sustainable transformation. I have been a professional singer for 21 years, devoting myself to inspire others through the power of music, making it a catalyst for change in their lives and supporting thousands or people in their healing.
I created TRANCEformation to be able to serve the community through a powerful and unique experience that will give you the opportunity to reprogram the unconscious patterns that currently control your behaviors, putting YOU in charge of your life. Every month I will choose a different topic that will help you program healthy patterns in your subconscious mind to design your life exactly as you want it to be!!!!
Are you ready to be in charge?? Are you ready to be in ownership???
This experience is FREE. Join us and spread the word!
My intention is to make this a global event to raise our consciousness and vibration and, together, create healing and transformation in the world.
When: Every 3rd Saturday of the month
Time: 11:30 a.m. Eastern Time
Where: Online (zoom)
FREE EVENT (by donation)