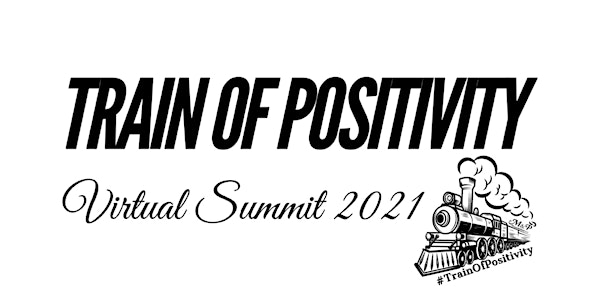 #TrainOfPositivity Virtual Summit 2021
The #TrainOfPositivity Virtual Summit is a 100% free online event where positive humans around the world share their uplifting messages.
About this event
This event is 100% online and 100% free!
From Monday, August 2nd to Friday, August 6th, enjoy 5 daily videos of uplifting messages from a wide variety of positive humans from across the globe. Check out our lineup of positive influencers so far!
And here is the best part...There is no set schedule to follow! That's right! Each morning of the summit you will receive an update of the positive videos to watch for the day. There is no set order and no set times you have to watch these uplifting videos by. It's all-you-can-eat positivity from an a-la-carte menu! Super easy!
The week will also be filled with Live Q&A's through Instagram Live to meet and greet some of the contributors as well! It's a fantastic way to get an energy boost and to network with great humans across the world (USA, UK, France, and More!).
Feel free to sign up for this easy going, low commitment, positive experience!...and don't forget to invite some positive friends as well!
Curious about the summit? Check out last year's 2020 #TrainOfPositivity Virtual Summit for some free good vibes as well!
If you have any questions at all, please feel free to email M&P Presentations LLC at Info@MPPresentations.com. We would be happy to support as best we can!
Thanks for your time and have a great day!
Sincerely,
Matt Matkovich and Phil Januszewski
M&P Presentations LLC
Email: Info@MPPresentations.com