TRAINING WEBINAR: CONTROLLING HYPERTENSION IN ADULTS
Description
The American Heart Association (AHA) and American Stroke Association, together with the Centers for Disease Control (CDC) and American College of Cardiology (ACC), published an advisory in Nov. 2013 highlighting the importance of algorithms in clinical care, noting that a set standard for treatment saves lives.
The AHA in collaboration with local community clinics are working together to drive health impact in multicultural communities through the adoption of the AHA high blood pressure treatment algorithm and driving toward moving 13.6 million individuals from uncontrolled to controlled blood pressure.
This webinar is for community clinics interested in adopting our high blood pressure treatment algorithm in order to provide the tools and training for this initiative. There will be an opportunity for Q&A at the end of the webinar.
Please register via this invite and complete the PRE-SURVEY online by FEBRUARY 9th, 2016.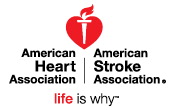 Organizer of TRAINING WEBINAR: CONTROLLING HYPERTENSION IN ADULTS