[TRAINING] Logging and Monitoring in Cloud Foundry: Chicago
Description
Why this training?
Logging and monitoring components are crucial for flawless operation of any complex real-world system, Cloud Foundry in particular.
At the training, the attendees will learn how to effectively organize activities around distributed system monitoring and collection of logs from infrastructure components, Cloud Foundry components and applications.
---
Who should attend?
The Logging and Monitoring in Cloud Foundry training was developed for Cloud Foundry operators and devops engineers.
---
You will know how to:
See logs and metrics from different levels of deployment stack:

Applications

3rd party services

Cloud Foundry

BOSH

IaaS
See possible ways of monitoring components described above (agents, firehose nozzles, buildpacks, etc)

Find out which metrics you can find useful in your CF installation

Gain experience with:

Firehose nozzle

Visualize metrics

IaaS/3rd party services monitoring

Pushing sample application into CF and collecting some metrics from it

Tips and tricks with Elasticsearch deployment
---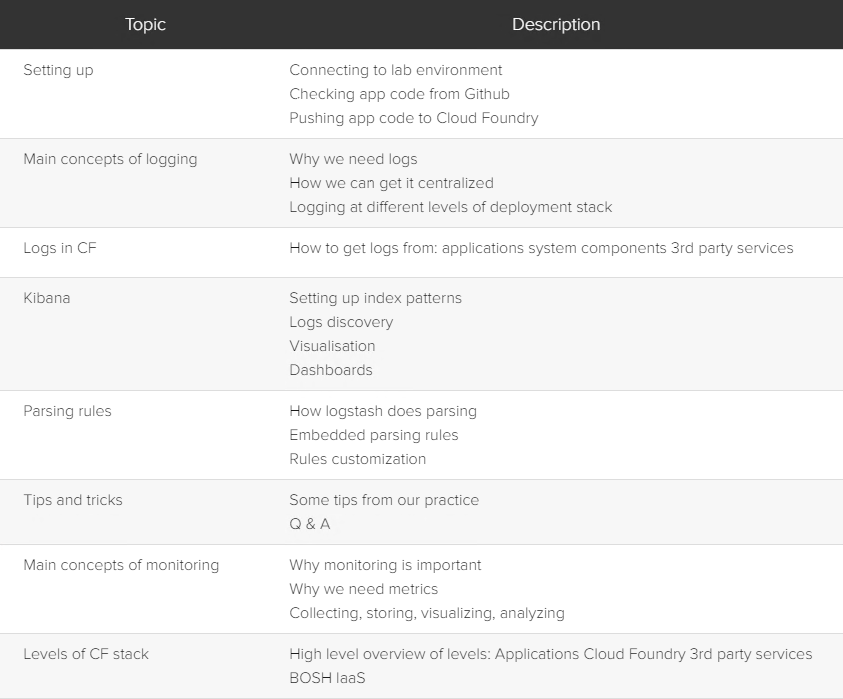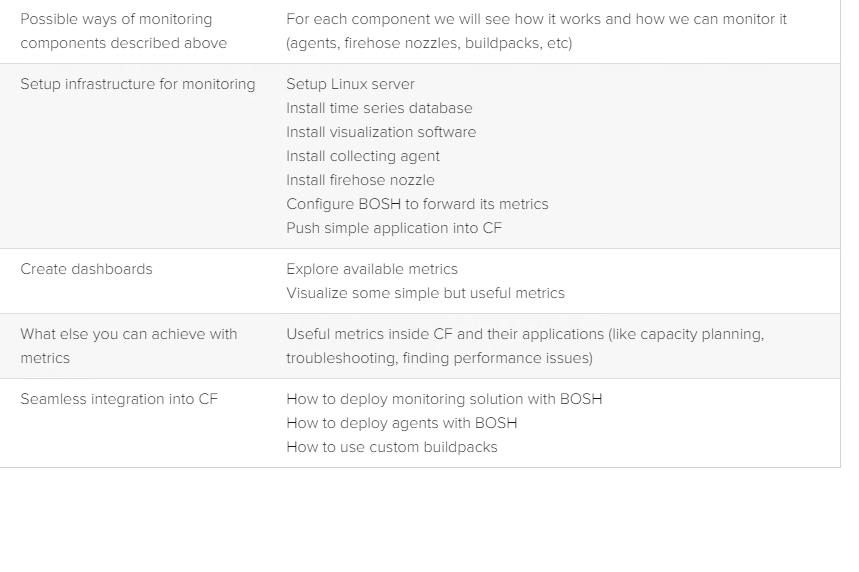 Payment info:

If you would like to get an invoice for your company to pay for this training, please email to training@altoros.com and provide us with the following info:

Name of your Company/Division which you would like to be invoiced;
Name of the person the invoice should be addressed to;
Mailing address;
Purchase order # to put on the invoice (if required by your company).

The tickets are limited, so hurry up to reserve your spot NOW!

---

This training is provided by Altoros, Cloud Foundry Summit approved training provider. Altoros has delivered training to VMware, SAP, EMC, Hospira, Siemens, Fidelity, and many others.