Description
DESCRIPTION
Hyperledger Fabric is the leading open source software platform for permissioned enterprise blockchains. Learn how to use the latest version (1.0) of Hyperledger Fabric codebase in a real blockchain network environment where you can play with smart contract deployments.
This 1-day training leads participants through an explanation of blockchain and distributed ledger technology basics and an overview of the main use cases of permissioned blockchains.
This is followed by an instructor-led interactive workshop where trainees will learn how to develop and deploy their own blockchain on IBM Bluemix, and write their smart contract in Java or Go.
Who should attend:
The training is intended for architects, developers, IT managers and innovation product managers who need to deliver blockchain solutions.
Prerequisites:
Working knowledge of Java

Basic understanding of PKI and docker

Development environment with JDK 1.8 and Gradle

ssh access to AWS EC2, IBM Bluemix or local Ubuntu

Your laptop with pre-installed JDK, Gradle or Go, and Docker Compose
Training Program
Day 1, June 14th
Introduction
Introduction to blockchain technology

Public and permissioned blockchains

Use cases for permissioned blockchains

Hyperledger project
Fabric 1.0 Workshop
Fabric 1.0 architecture

Endorsers, orderers, clients, smart contracts

Set up development network

Anatomy of config files and crypto material

Deploy and exercise example smart contracts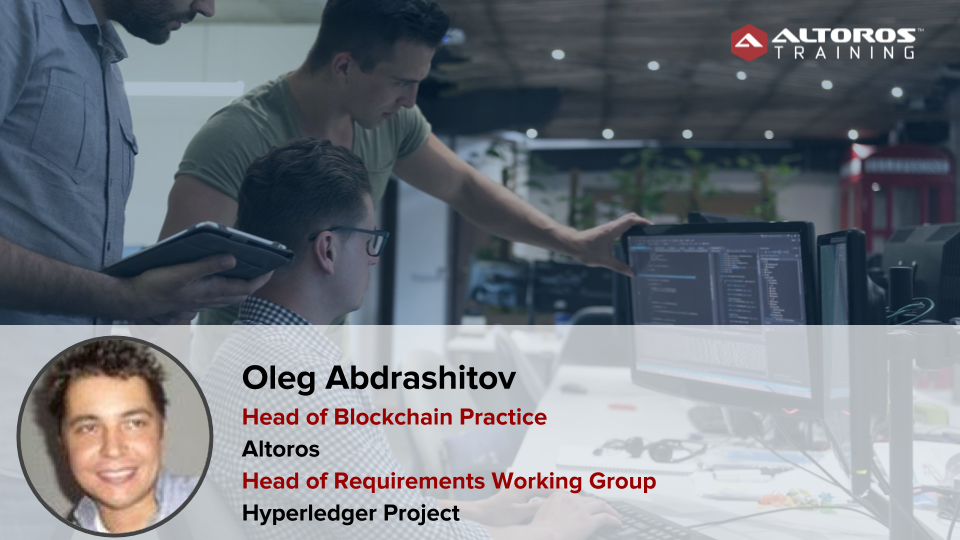 About the Trainer:
Oleg Abdrashitov

,

Blockchain Practice Lead / Trainer

Oleg Abdrashitov heads the Blockchain Practice at Altoros and the Requirements Working Group at Hyperledger.

Oleg's career spans 19 years in software development for the financial services companies. He has built systems supporting high frequency trading, middle office and online exchanges. Oleg has worked at top investment banks, hedge funds and has founded startups and consultancies. He is currently engaged by clients in finance and insurance to train engineers and architects on blockchain.

Together with team Altoros, Oleg won the blockchain hackathon at Consensus 2016 with Decentralized Energy Utility Project, and delivered two working prototypes for the financial industry - Distributed Clearing Platform For Derivatives, and Bond Issuance and Trading.




About Altoros:

Altoros is a digital transformation consultancy that has built a reputation in blockchain space. We are an active member of Hyperledger project, contributing expertise of our engineers.

We have built a number of blockchain application prototypes for insurance and financial services clients and conducted a technical training on Hyperledger Fabric 0.6 for a large financial services corporation, as well as a number of blockchain workshops for executives in (Re)Insurance, Lending & Securitization field.