Description
Training from the Back of the Room:
Take your training skills to a more advanced level as you discover how the human brain really learns which is very different from traditional assumptions about learning. Explore the most current "cognitive neuroscience" about effective instruction - how the brain takes in, stores, retrieves and uses knowledge. Discover six powerful learning principles based on the best of brain science, then apply these principles every time you train, teach, or coach others. These Accelerated Learning principles go hand-in-hand with team-based Agile and Scrum processes and principles. If you are an Agile coach or Scrum trainer, you will be especially pleased to discover how to combine Agile/Scrum concepts with collaborative learner-engagement. During this dynamic, two-day training program, you will also practice using the 4Cs instructional design "map" with the content you teach, regardless of the complexity of the topic, size of the class, or level of learners. The 4Cs is a brain-based, four-step, Accelerated Learning instructional design model now used by hundreds of Agile coaches and Scrum trainers around the world.
Who should attend?
Teachers/Administrators/Professors

Trainers

Speakers/Presenters

Coaches

Anyone who needs to engage an audience
FAQs
Lunch will be provided along with beverage refreshments and afternoon snack (please note any dietary restrictions).
You will receive: A copy of the Sharon's best-selling book Training from the BACK of the Room! A copy of a 55-page workbook that is only available with this program – a wonderful resource for use during and after the workshop. A beautiful certificate of completion that is not only suitable for framing, but can also be used as proof of training, which is a prerequisite to attend Sharon Bowman's Trainer Certification Course.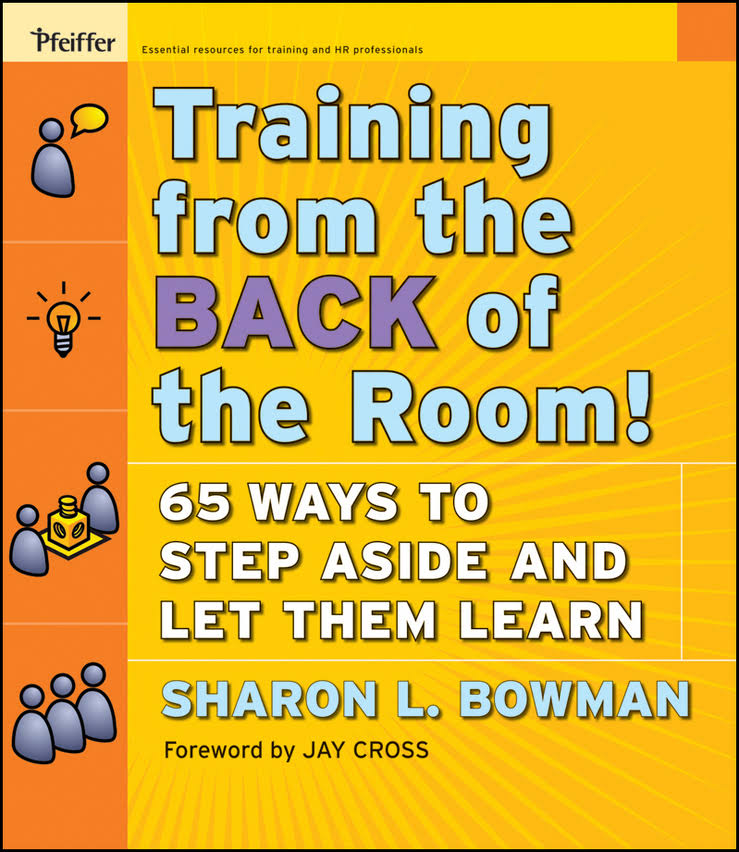 Prerequisites for this course?
None.
Learning Outcomes
After participating in this informative and interactive program, you will be able to:
Explain and define the most current brain science about human learning - information that is directly applicable to all instruction, whether in classrooms, one-on-one, or computer-based
Apply "The Six Trumps" - six learning principles based on brain science that will significantly enhance learning and retention, regardless of the content being taught
Recognize these six learning principles in action
Use these principles in any learning environment: classroom, e-learning, one-on-one, small and large group instruction
Combine brain science and technology and enhance learning by using both in creative, collaborative ways
Access new resources that will expand your knowledge of the most current brain science about human learning
Utilize a trainer's tool bag of practical tips and activities - a collection of best practices that you created during the training program
For Agile coaches and Scrum trainers: Combine Agile and Scrum processes and principles with Accelerated Learning to create collaborative, interactive, fun and memorable learning experiences
What are my transportation/parking options for getting to and from the event?
There are two airports in Chicago: Midway and O'hara International Airports and both have Uber and Lyft as well as rental car options.
There are several hotel choices nearby.
If you are looking to book hotel accommodations or recommendations elsewyhere please contact Kim Brainard at agilebrainard@gmail.com
Closest Airport (s): Midway and O'hara
How can I contact the organizer with any questions?
Please contact us with any questions or support at anytime. Kim Brainard: agilebrainard@gmail.com
What's the refund policy?
In order to receive a refund of your tuition for this class you must notify us no later than 10 business days prior to the class start date. Limited to only 30 seats.....Sign-up now in order to ensure your spot is reserved! Have questions about Training from the Back of the Room or Illustration through Visulaization? Contact Kim Brainard agilebrainard@gmail.com