About this Event
What is Training from the Back of the Room (TBR)?
TBR is an advanced experiential training at its best.
Developed by Sharon L. Bowman, this official 2-day "Training from the BACK of the Room" (TBR) Practitioner Class is a globally-acclaimed, interactive, skills-building train-the-trainer class for anyone who is a trainer, teacher, instructor, coach, or facilitator of learning.
In this 2-day TBR Practitioner Class, you'll explore how the human brain really learns, which is very different from traditional assumptions about learning. And you'll be introduced to "cognitive neuroscience" concepts – the brain science behind all effective instructional design and human learning.
De-facto standard in the Agile/DevOps training world, TBR increases long term stickiness of learning and helps effectively model Agile mindset principles.
What will you be able to do after this training?
Apply six learning principles based on current brain science every time you train or facilitate, regardless of the complexity of your topic, size of the group, or level of the participants.
Demonstrate a variety of brain science elements important to adult learning, using your own training topics.
Increase learners' attention, retention and engagement with learning activities that engage the whole brain.
Use the 4C "map" of instructional training design and delivery model.
Add to your toolbox over 65 brain-based learning activities for all topics and all instructional formats: classroom, e-learning, one-on-one, small or large group meeting.
Access a collection of new brain science resources to enhance your training skills whether you teach in real or virtual classrooms.
Create effective training programs that combine your own material with the brain-based strategies from this program.
Explain to your colleagues the basic concepts of the psychology of human brain as it applies to learning, training and memory.
Become a member of an ongoing "mastermind" group of trainers and continue your TBR journey through collaboration, idea exchange and community support.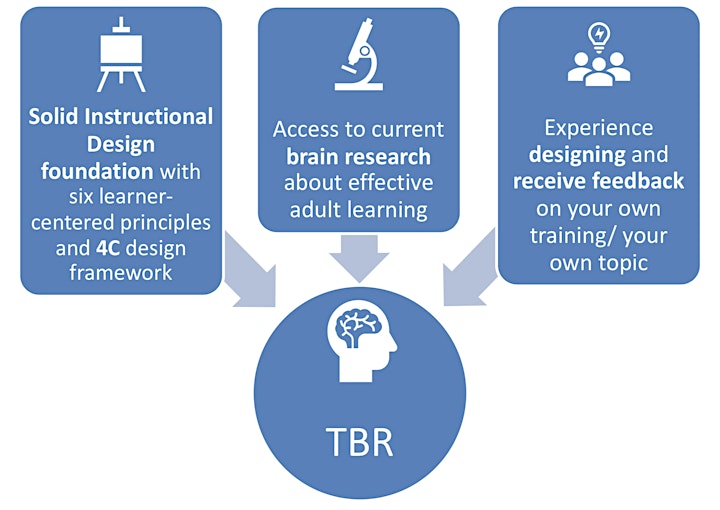 Who can benefit from attending this TBR class?
Corporate and non-corporate trainers
College instructors, classroom teachers
Agile Coaches, Scrum Trainers, Team facilitators
L&D, HR and People Operations professionals
Anyone who has a need to deliver internal and external presentations, workshops or training.
Why take this class with Dana Pylayeva?
What makes this class stand out from classes offered by other TBR Certified trainers is my experience and my passion for creating engaging workshops while holding a psychologically safe space for the participants.
I value creativity & improvement over rigid instructions & standard delivery. Every TBR class I run has an element of discovery and co- creation. Yes, you will get to learn EVERYTHING that's in the standard TBR curriculum , plus you will benefit from my expertise in Agile Games, Liberating Structures and so much more!
I will be sharing my stories from the trenches – how I've been applying TBR for re-designing Agile and DevOps technical trainings, running distributed sessions with my teams and presenting to executives.
I've coached and trained teams in US, Canada, Ireland, Japan, Russia, India and UK, I've spoken at 49 conferences in 15 countries - everywhere people enjoyed being engaged and learnt with TBR approach.
Thinking of submitting a conference proposal? This is my second year serving as a program chair at the largest, most prestigious international Agile conference with Agile Alliance. I've been a reviewer, conference organizer for over 8 years and know how a good session proposal looks like!
In the second day of my TBR class you will learn how to write your best learning objectives with the Bloom taxonomy! Who else will teach you that?
I am an educational games designer & author – check out my "Introduction to DevOps with Lego, Chocolate and Scrum" book published by Apress, "Self-selection game" on Leanpub as well as "Fear in the Workplace" and "Safety in the Workplace" games on The Gamecrafter.
Client testimonials:
"Dana delivers an amazing session, applying the concepts and techniques she teaches to her own work. She manages to create an environment where participants feel safe and willing to participate and learn. The session was packed with value!"
"Great investment of time. Will benefit my future students! I never knew learning would be so much fun. You walk away with an arsenal of techniques for high engagement learning. Big feedback: Dana is wonderful!"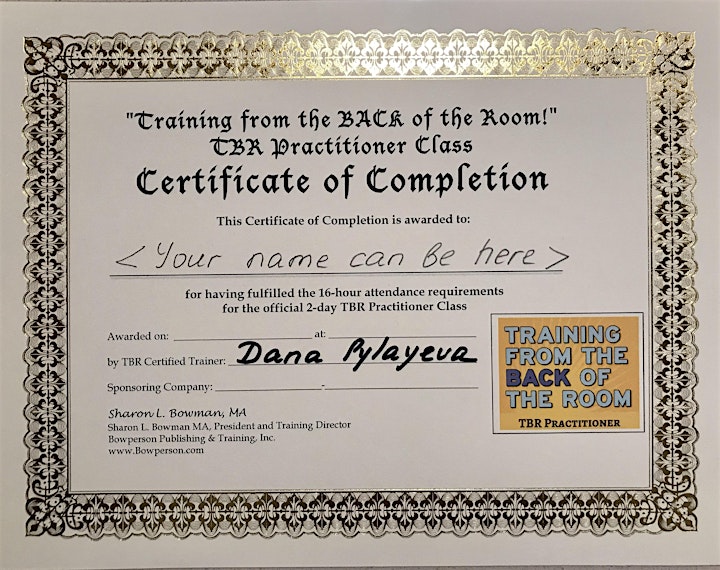 What else will you get in this class?
If you are coming to this class from outside of NY tri-state area, please save some space in your suitcase. You will get all sorts of goodies to bring back!
A copy of "Using Brain Science to Make Training Stick" by Sharon Bowman
A copy of her best-selling book "Training from the BACK of the Room! 65 Ways to Step Aside and Let Them Learn".
A copy of a 55-page workbook that is only available with this program – a wonderful resource for use during and after the workshop.
A certificate of completion that can be framed as well as used as proof of training (a prerequisite to attend Sharon Bowman's Trainer Certification Course). **Please note, you must be present on both days to receive the certificate of completion.**
Up to 16 SEU (Category C) good towards maintaining your certifications with Scrum Alliance.
Are there any pre-requisites?
None, bring your own authentic self and a desire to learn by doing.
What do you need to know?
Dress code: casual layers. We will be moving a lot in this class!