Event Information
Refund Policy
Contact the organizer to request a refund.
Eventbrite's fee is nonrefundable.
About this Event
Are you a Trainer, Coach, Teacher, Executive, HR professional, Consultant or Facilitator who has been looking for ways to make your training or presentation content and delivery more engaging, interactive, fun and actionable? Would you like to create material for both online and in-room training and make it stick? Would you like your attendees engaged and mindful during the entire duration of your workshop?
"Training from the Back of the Room" is a fresh approach to learning, training, presenting, facilitating developed by Sharon Bowman that uses cognitive neuroscience without boring lectures and bleak corporate slides.
"Training from the Back of the Room" teaches you how to engage all the 5 senses and principles of mindfulness to keep your learners active and engaged throughout the class and is recognized internationally as one of the most effective frameworks for accelerated learning.
Highly experiential, this 2-day workshop will introduce you to 6 learning principles that maximize learning effectiveness and accelerate content retention. In this workshop, you will learn by doing! Over 65 quick brain-based activities will help you solidify research concepts as well as "The 4C Map" - a brain-based instructional design and delivery model from Accelerated Learning which you can immediately apply to create your own training, presentation, workshop, business pitch or delivery of HR policies in both online and in-room format.
What will I be able to do after this training?
Apply six learning principles based on current brain science every time you train or facilitate, regardless of the complexity of your topic, size of the group, or level of the participants.
Demonstrate a variety of brain science elements important to human learning, using your own training topics.
Increase learners' attention, retention and engagement with learning activities that engage the whole brain.
Use the 4C "map" as a training design and delivery model for any brain-based instructions.
Choose from 60+ brain-based learning activities for all topics and all instructional formats: classroom, e-learning, one-on-one, small or large group meeting
Access a collection of new brain science resources to enhance your training skills whether you teach in real or virtual classrooms
Create training classes and programs that combine your own material with the brain-based strategies from this program.
Explain to your colleagues the basic concepts of the psychology of human brain as it applies to learning, training and memory.
Become a member of an ongoing "mastermind" group of trainers who have as their commonality brain science, the 4Cs map and a passion for training excellence.
Who can benefit from attending TBR class?
Corporate and Non-Corporate trainers
College Instructors and Classroom Teachers
Agile Coaches, Scrum Trainers, Team facilitators
Learning and Development Professionals
HR & Marketing Professionals
Executives
Virtual Content Creators - Online Training, Webinars, Podcast, etc.
Anyone who has a need to deliver internal and external presentations, workshops, e.g: You!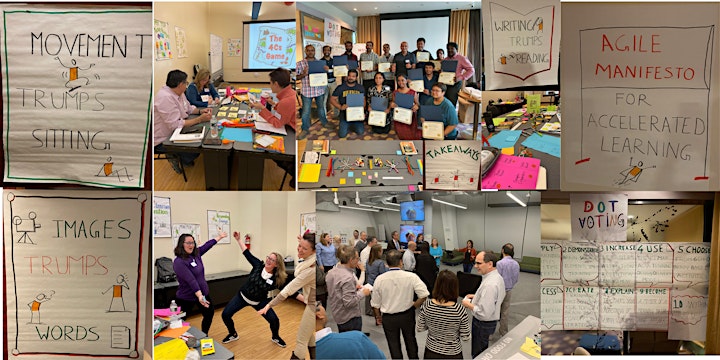 Why take this course with Concepts and Beyond Inc.
1. Each course is facilitated by two TBR Certified Trainers bringing their individual knowledge, expertise and high energy to the training that enrich our learner's experience. Learners feel psychologically safe and the high engagement techniques enable learners to gain knowledge in the 2 days which is retained in their long term memory.
2. Our co-teaching stems from the feedback of our attendees / trainees. They enjoy the conversation style delivery of the training, feedback and inputs from 2 trainers. Our focus is continuously improve the training skills of our trainers. Mentoring our students to be their best and successful Certified trainers if they choose to to beyond being a practitioner.
3. Our trainers use mindfulness ideas from Eckart Tolle's New York bestseller books "The Power of Now" and "A New Earth" coupled with brain science principles to keep the learners in the Now that helps memory intelligence rise to the surface as well as internalizing it for years to come.
4. Portion of the proceeds go to American Cancer Society, Defeat DIPG, a foundation that funds DIPG research and provides assistance for cancer treatments. Read our story at https://bowperson.com/2020/01/giving-back-with-training-from-the-back-of-the-room-contributed-by-nicole-fleming/
5. Concepts and Beyond was the first to bring TBR to the New York Metropolitan area and in India
What do our learners say after experiencing our TBR training
"Simple, Powerful, Very Very Useful"
"Anil is an amazing trainer whose encouragement to bring innovative ideas beyond the established ways is refreshing"
"I thought I was l already a good trainer, before I took this class. I am happy that's a myth now. This was one of the best weekends I have spent while I am town"
"One and only life changing course, it would have been a 'Big Loss" in my life if I did not attend this session. Thanks Concepts and Beyond "
"Can I attend your session once more? Ready to bear all costs"
"One of the best actionable training I have attended in 10 years"
"Besides the standard curriculum, Anil shared variety of valuable information in the "how about?" section. Highly appreciate it. Do this training if you wish to grow in life"
What will I get?
A copy of "Using Brain Science to Make Training Stick" by Sharon Bowman
A copy of her best-selling book "Training from the BACK of the Room! 65 Ways to Step Aside and Let Them Learn".
A copy of a 55-page workbook that is only available with this program – a wonderful resource for use during and after the workshop.
A certificate of completion that can be framed as well as used as proof of training (a prerequisite to attend Sharon Bowman's Trainer Certification Course). **Please note, you must be present on both days to receive the certificate of completion.**
Up to 16 SEU (Category C) good towards maintaining your certifications with Scrum Alliance.
Cancellation Policy:
Substitutions are welcome at any time. Transfers within 4 weeks of the course date may require an administrative fee. Cancellations require an administrative fee. We need a minimum of 8 people in order to have a successful training experience. If the course is canceled due to low enrollment, a full refund will be offered. For more questions reach us at kriti@conceptsandbeyond.com
YOUR TRAINERS:
Anil Jaising:
I am an executive and a public speaker in a financial services organization. I have presented and trained executives and teams from an early stage in my career. My role is to change mindsets of adults audiences that seek data based research and experience based knowledge and skills. I have been using Training from the Back of the Room from 2011 and became a certified trainer to share my "life changing" TBR experience and foster future trainers to have a high sense of awareness and empathy for their learners. I have been a reviewer and speaker at the Agile Conference and Global Scrum North American and European Gathering since 2017. In a TBR workshop, I bring this experience to co-create great training design and delivery for all attendees. I have delivered public/private training and workshops in several countries across the world. My Agile/Scrum and DevOps training use effective TBR design and include stunning visuals that engage the brain and have no powerpoint slides. I continually help review world renowned speakers with their proposals and workshops designs and I bring that knowledge and expertise to my learners. I am a third degree blackbelt in Karate and teach kids martial arts using TBR techniques. I can be reached at https://www.linkedin.com/in/aniljaising and Twitter @aniljaising
Linda Fung:
I am Linda Fung I am a trainer who is passionate about teaching and how to make learning fun and engaging.
I am also a ScrumMaster and an agilist. I started my career as a developer and later on embarked on the Agile journey about six years ago. TBR is a life-transforming experience for me. Since my TBR practitioner class, TRB has equipped me with the knowledge to transform agile training in our company and making a positive difference for our agile teams. Personally, I have used TBR to teach my kids Chinese by introducing games and activities into the teaching. They thoroughly enjoy the class and are always looking to the next one.
I have been speaking at Agile and Scrum conferences the past two years including Agile 2018 and Global Scrum Gathering 2018 at London and Global Scrum Gathering 2019 at Vienna. I am very thankful for TBR. It has made me a better trainer by harnessing the power of brain-based learning. I can be reached at Linkedin
Date and Time
Refund Policy
Contact the organizer to request a refund.
Eventbrite's fee is nonrefundable.