About this Event
Training from the Back of the Room is a fresh approach to learning and training.
Based on cognitive neuroscience without boring lectures and bleak corporate slides.
TBR teaches you how to engage 5 senses, keep your learners active and engaged throughout the class.
Developed by Sharon Bowman, the "Training from the Back of the Room" is now recognized internationally as one of the most effective frameworks for accelerated learning.
Highly experiential, this workshop will introduce you to 6 learning principles that maximize learning effectiveness and accelerate content retention. In this workshop, you will learn by doing! Over 65 quick brain-based activities will help you solidify research concepts as well as show you new tools and facilitation techniques you can immediately apply with your teams.
In this workshop, you will get to know about "The 4C Map" - a brain-based instructional design and delivery model from Accelerated Learning. Best part - everyone in the class will get to build one for their training topic and will get feedback from the TBR trainers.
"Engaging, Fun, Practical. Take this course if you teach, present, train, coach or facilitate. Your clients will thank you!"
On Saturday, July 18 & Sunday, July 19, 2020.
Two instructors, double the fun. Anil Jaising and Kriti Jaising experience their energy and fall in love with TBR. Bring this innovative training style to your environments.
Are there any prerequisites?
Nope. Bring your own authentic self.
How large is the class?
Class size is limited to 30 participants, reserve your seat early to avoid disappointment.

What will I get?
A copy of "Using Brain Science to Make Training Stick" by Sharon Bowman
A copy of her best-selling book "Training from the BACK of the Room! 65 Ways to Step Aside and Let Them Learn".
A copy of a 55-page workbook that is only available with this program – a wonderful resource for use during and after the workshop.
A certificate of completion that can be framed as well as used as proof of training (a prerequisite to attend Sharon Bowman's Trainer Certification Course). **Please note, you must be present on both days to receive the certificate of completion.**
Up to 16 SEU (Category C) good towards maintaining your certifications with Scrum Alliance.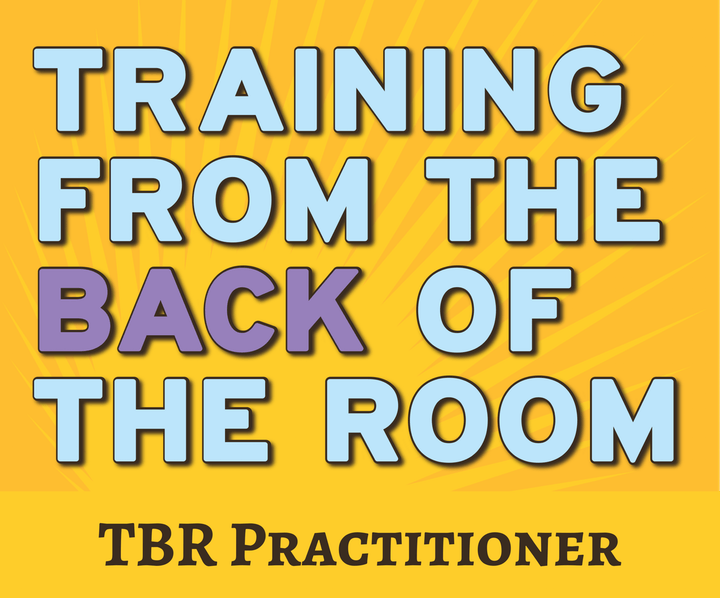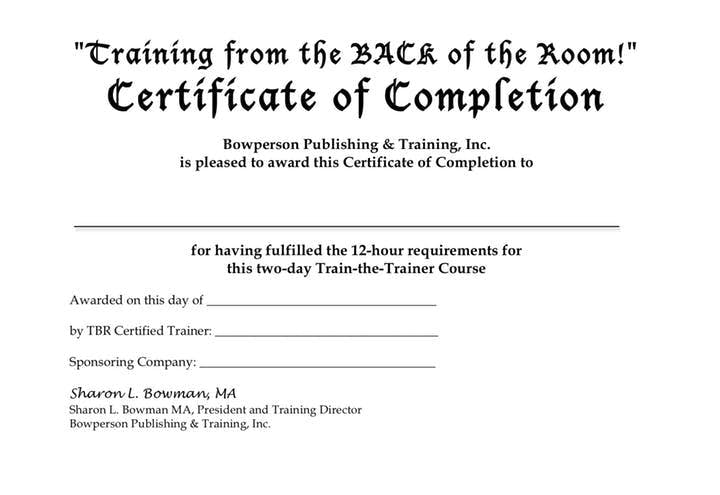 What will I be able to do after this training?
Apply six learning principles based on current brain science every time you train or facilitate, regardless of the complexity of your topic, size of the group, or level of the participants.
Demonstrate a variety of brain science elements important to human learning, using your own training topics.
Increase learners' attention, retention and engagement with learning activities that engage the whole brain.
Use the 4C "map" as a training design and delivery model for any brain-based instructions.
Choose from 60+ brain-based learning activities for all topics and all instructional formats: classroom, e-learning, one-on-one, small or large group meeting
Access a collection of new brain science resources to enhance your training skills whether you teach in real or virtual classrooms
Create training classes and programs that combine your own material with the brain-based strategies from this program.
Explain to your colleagues the basic concepts of the psychology of human brain as it applies to learning, training and memory.
Become a member of an ongoing "mastermind" group of trainers who have as their commonality brain science, the 4Cs map and a passion for training excellence.
Who can benefit from attending TBR class?
Corporate and non-corporate trainers
College instructors, classroom teachers
Agile Coaches, Scrum Trainers, Team facilitators
Other learning specialist
Anyone who has a need to deliver internal and external presentations, workshops, etc You!
YOUR TRAINERS:
Anil Jaising:
I am Anil Jaising and I am an executive and a public speaker in a technology organization. My role is focused on Agile, product management and organizational change and I am charged with changing mindsets of senior executives and teams. From the beginning of my career in 1993, I realized that if I wanted my audience to experience and learn my ideas, I have to deliver impactful presentations. TBR has dramatically changed how I deliver my workshops and the impact it has made on my audience. I recently created an experiential workshop "The 3 ways of DevOps" using the 4Cs that have had rave reviews in both Agile Alliance 2018 and Scrum Alliance 2018. All my speaking, training and workshops now focuses on sharing my real life experiences with TBR techniques. My mission is to teach TBR both in class and embedded in my workshops to engage audiences and improve how they communicate and teach. Twitter @aniljaising will get feedback from the TBR trainers.
Kriti Jaising:
I am Kriti Jaising, the Founder and a Trainer at Concepts & Beyond Inc. I have over 20 years experience in advertising, digital marketing and consumer research. Mother of 2, I have been on the Board of Directors of ECPTA from last 3 years. Along with being actively involved in my children's school life, planning & executing numerous educational and fun activities, I get to interact closely with the School system, Superintendent, teachers and students. This exposure opened my eyes to the dynamic changes in the learning landscape. This has drawn me to be a TBR Practitioner & Trainer. As a Trainer and Founder of Concepts & Beyond, I want to extend the outreach of TBR, implementing the values of Training from the Back of the Room into sales, consumer research, and education therefore improving presentations and the quality of learning as whole. After working in several different fields over the years I have witnessed the room for these fields to grow and heed the values of TBR.