Experience how neuroscience helps to accelerate content retention, maximize learning effectiveness, and keep your audience truly engaged!
About this event
COVID-19 Information: We cannot wait to see you in person on September 9th & 10th! We will follow current CDC guidelines at the time of the training. We encourage all attendees to be fully vaccinated two weeks prior to the start date for the safest possible experience. Attendance is limited to 20 to promote better distancing and safety practices during the training.
Class Overview:
Take your training skills to a more advanced level as you discover how the human brain really learns - which is very different from traditional assumptions about learning! Explore the most current cognitive neuroscience about effective instruction - how the brain takes in, stores, retrieves and uses knowledge. Discover six powerful learning principles based on the best of brain science, then apply these principles every time you train, teach, or coach others.
These Accelerated Learning principles go hand-in-hand with team-based Agile and Scrum processes and principles. If you are an Agile coach or Scrum trainer, you will be especially pleased to discover how to combine Agile/Scrum concepts with collaborative learner-engagement.
During this dynamic, two-day training program, you will also practice using the 4Cs instructional design "map" with the content you teach, regardless of the complexity of the topic, size of the class, or level of learners. The 4Cs is a brain-based, four-step, Accelerated Learning instructional design model now used by hundreds of Agile coaches and Scrum trainers around the world.
Leave this train-the-trainer event with a trainer's tool bag of practical, brain-based instructional strategies you can put to use immediately in your own training programs. You'll also leave with a 55 - page workbook filled with new resources and brain science information, as well as copies of Sharon Bowman's best-selling books: "Training from the BACK of the Room" and "Using Brain Science to Make Training Stick".
Limited to only 20 seats... Sign-up now in order to ensure your spot is reserved!
Who should attend?
Corporate and non-corporate trainers
College instructors, classroom teachers
Agile Coaches, Scrum Trainers, Team facilitators
Speakers/Presenters
Other learning specialists
Anyone who has a need to deliver internal and external presentations, workshops, or needs to engage an audience. This means YOU!
Prerequisites:
None
Learning Outcomes
After participating in this informative and interactive program, you will be able to:
Explain and define the most current brain science about human learning - information that is directly applicable to all instruction, whether in classrooms, one-on-one, or computer-based
Apply "The Six Trumps" (as in cards, not politics!) - six learning principles based on brain science that will significantly enhance learning and retention, regardless of the content being taught
Recognize these six learning principles in action
Use these principles in any learning environment: classroom, e-learning, one-on-one, small and large group instruction
Combine brain science and technology and enhance learning by using both in creative, collaborative ways
Access new resources that will expand your knowledge of the most current brain science about human learning
Utilize a trainer's tool bag of practical tips and activities - a collection of best practices that you created during the training program
For Agile coaches and Scrum trainers: Combine Agile and Scrum processes and principles with Accelerated Learning to create collaborative, interactive, fun and memorable learning experiences
Takeaways:
A collection of "brain activating tools" - game prizes, training souvenirs, and learning aids - that can be used in the participant's own training programs
Training-legend Sharon Bowman's best-selling book "Training from the BACK of the Room! 65 Ways to Step Aside and Let Them Learn"
Sharon Bowman's newest book "Using Brain Science to Make Training Stick"
A copy of the 55-page participant workbook that is only available with this program
A certificate of completion
About The Instructor:
Katjarina "Katja" Hurt is the training manager and lead instructor for Anchorpoint Response. In 2018, Katja founded Wilderness Chaplains, a nondenominational wilderness crisis response organization from which Anchorpoint Response was developed. Her training approach is centered around meeting the needs of adult learners who seek research based, field-applicable knowledge and skills. She is an approved trainer for Sharon Bowman's "Training from the BACK of the Room," and the International Critical Incident Stress Foundation's "Assisting Individuals in Crisis" and "Group Crisis Intervention" programs.
Katja's training background includes over a decade of facilitating courses for various first-response agencies from urban public safety teams to remote rescuers and ski patrollers. Prior to launching Wilderness Chaplains and Anchorpoint Response, Katja worked for the Department of Corrections as a Curriculum Specialist and Instructor-Trainer, traveling around Washington State to on-board new instructors and provide annual in-service training in community and correctional settings. Her position with training and development followed several years as a field officer providing probation and parole supervision for high level offenders in Washington and Missouri. She has always been dedicated to public service and has a passion for the neuroscience behind adult learning and behavior change.
When she is not teaching, Katja enjoys spending time outdoors in her Pacific Northwest home. She is an avid mountaineer, sea kayaker, and skier who enjoys adventuring with her dogs and introducing people to the beauty of nature.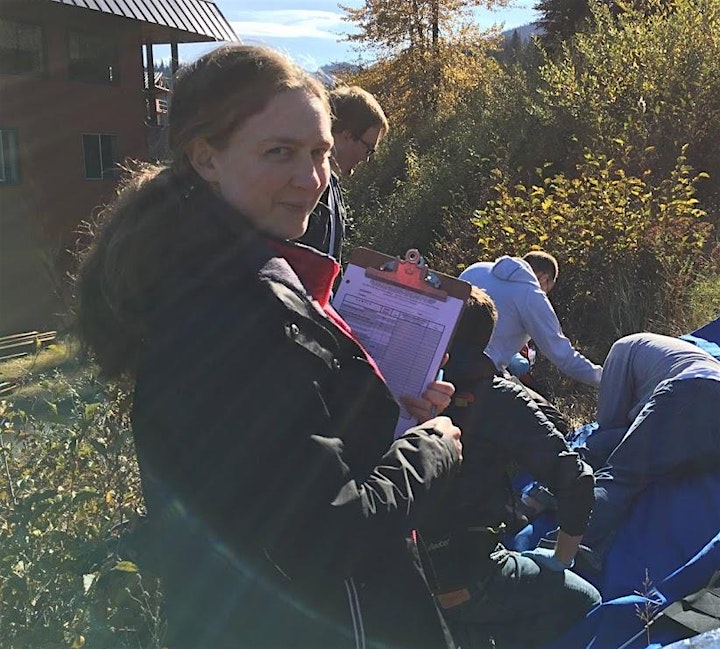 Cancellation Policy:
Contact the organizer to request a refund. Written cancellations 30+ days prior to the event are fully refundable. Written cancellations between 10 and 30 days will be 50% refunded. Cancellations within 10 days of the event will not be refunded.
Course Confirmation:
Training from the BACK of the Room requires a minimum of eight people to be held. If enough participants have not signed up two weeks prior to the course, the course is subject to cancellation. If the course is cancelled, you will receive an offer to attend an alternate class date or a 100% refund.
*Eventbrite's fee is nonrefundable.
Organizer of Training from the BACK of the Room (TBR) Practitioner Class