Training from the BACK of the Room (TBR) Los Angeles

Monday, December 9, 2019 at 9:00 AM

-

Tuesday, December 10, 2019 at 5:00 PM (PST)
Event Details
"Training from the BACK of the Room" (TBR)
In this two-day "Training from the BACK of the Room" (TBR) course, we explore the latest brain-based learning techniques. 
Cognitive Neuroscience based training challenges the ways we have been learning for years. In this high energy, the practical and memorable course written by Sharon Bowman, you'll explore a fresh approach to learning and training based on cognitive neuroscience without boring lectures and bleak corporate slides. TBR teaches us how to engage 5 senses and keep our learners active and engaged throughout the class.
"Training from the Back of the Room", developed by Sharon Bowman, is now recognized internationally as one of the most effective frameworks for accelerated learning.
You will explore what it is that makes students learn - how the brain takes in, stores, retrieves and uses knowledge. The focus is on learning how to apply TBR in your own training programs, meetings and workshops by experiencing TBR in action. During the two days, you will get a chance to experiment with many different TBR related concepts and techniques to enhance learning in your own classroom.
You will discover six powerful learning principles based on the best of brain science, then apply these principles every time you train, teach, or coach others.
You will also practice using the 4Cs instructional design "map" with the content you teach, regardless of the complexity of the topic, size of the class, or level of learners.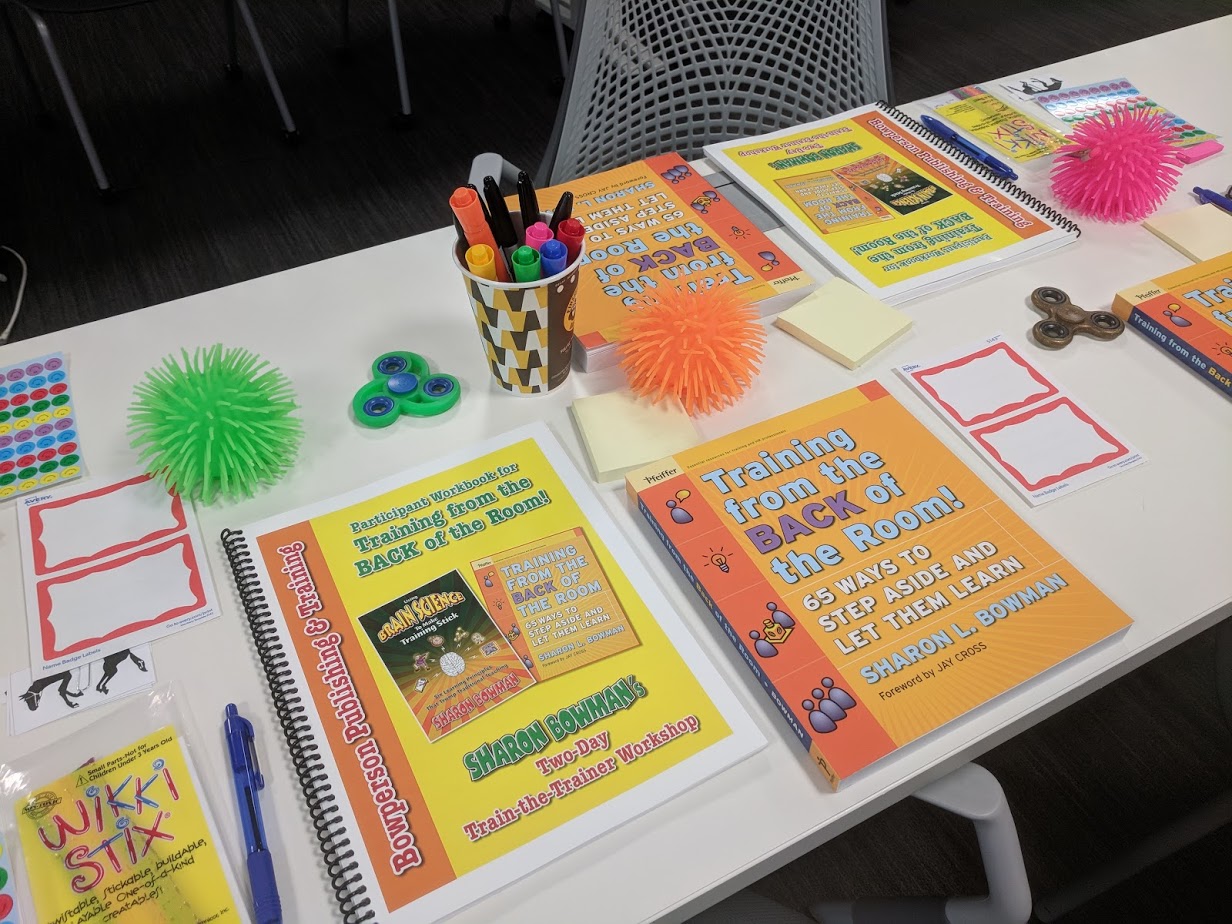 Agenda
Day 1
Connection activities (to other learners, to content and to learning outcomes)

Setting up for success

Trainers toolkit – added to throughout the day

The Six Trumps – six learning principles based on brain science
Myths and facts about how humans learn

Using concept centers as an instruction method

Application of the "trainer's toolkit" and brain science principles

Conclusion activities (summarizing and reflecting on the learning, action plans)
Day 2 
Cognitive Dissonance

, Reticular Activating System and the Triune Brain

Introduction to Accelerated Learning and the 4Cs – design and delivery model

General design and delivery reminders

Creating a 4Cs map – first draft
Practical task – design your own training session (application of the 4Cs map and toolbox strategies to specific training topics)

Conclusion activities (reflecting on the learning, action plans, celebration).
Target Audience
The "Training from the BACK of the room" workshop is suitable for: 
T

eachers, 

F

acilitators 

C

oaches

S

crum masters

P

roject managers.

Trainers
Prerequisites
There are no prerequisites for this training. Bring your own authentic self.
WHAT YOU WILL RECEIVE
A copy of "Using Brain Science to Make Training Stick" by Sharon Bowman
A copy of her best-selling book "Training from the BACK of the Room! 65 Ways to Step Aside and Let Them Learn".
A copy of a 55-page workbook that is only available with this program – a wonderful resource for use during and after the workshop.
A certificate of completion that can be framed as well as used as proof of training (a prerequisite to attend Sharon Bowman's Trainer Certification Course). For receiving the certificate of completion, you must be present on both days.
Up to 16 SEU (Category C) good towards maintaining your certifications with Scrum Alliance.
Cancellations & Refunds:
Substitutions are accepted at any time. Cancellations must be notified by email and refunds will be provided according to the following:
We reserve the right to postpone or cancel this event if there are less than 5 registrations or if presenters are unable to attend due to illness. If necessary, you will be notified no later than 5 days prior to the event and all registration payments will be refunded promptly. We will not be responsible for any other costs incurred.
Know your Trainer:

Ravneet Kaur, Enterprise Agile Coach & Trainer, Accredited Kanban Trainer and Coach
Ravneet is an Enterprise Agile Coach and engaging Trainer favoring hands-on and experiential learning approaches. 
She has trained and certified people in Agile Way of Working in the USA, Europe, Australia, and India, including the Management and Leadership Teams, Product Managers, Product Owners, and Scrum Masters, Development Managers and Development Teams.
She has supported several Agile Transformation including for organizations like Philips, Bosch, Hella, Daimler, Royal Bank of Canada, Deutsche Bank and Gillig. 
Certifications
Training from Back of the Room (TBR) Trainer

Master Trainer for Lean Agile Institute (LAI) Certified Courses

Lean Kanban University (LKU) Certified Accredited Kanban Trainer (AKT)

LKU certified Kanban Coaching Professional Masterclass

iSQI certified Trainer for Practitioner in Agile Quality (PAQ)

iSQI certified Trainer for Certified Agile Business Analyst (CABA)

iSQI certified Trainer for Certified Agile Essentials (CAE)

ICAgile Certified Instructor

ICAgile Certified Enterprise Agile Coach (ICP-CAT)

ICAgile Certified Agile Coach (ICC-ACC)

ICAgile Certified Agile Facilitator (ICC-ATF)

Certified SAFe Program Consultant 4.0 – (SPC4.0)

Project Management Institute-Agile Certified Practitioner – (PMI-ACP)

Project Management Institute- Project Management Professional – (PMI-PMP)

Certified Scrum Professional (CSP)

Certified SCRUM Master (CSM)

Certified Scrum Product Owner (CSPO)

ISTQB® Certified Tester

ETSI Certified TTCN-3® Expert

OMG Certified UML Professional™ (OCUP)

Intel Certified Project Manager

Intel Certified Leader as an Expert
Organized by: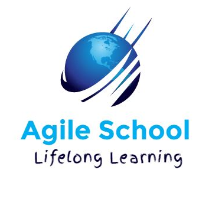 For any query, please write to us at contact@agileschool.org
visit our site www.agileschool.org
or call us +1-510-258-2345 
Save This Event
When & Where

Hyatt Regency Los Angeles International Airport
6225 W Century Blvd
El Segundo (Los Angeles)
Los Angeles, CA 90045


Monday, December 9, 2019 at 9:00 AM

-

Tuesday, December 10, 2019 at 5:00 PM (PST)
Add to my calendar
Organizer
"It's not your aptitude but your attitude that determines your altitude"
Since the foundation in 2016,  Agile School offers agile guidance to the organizations and individuals that help them deliver.
Whether you're introducing agile  Scrum. Kanban or SAFe to your organization or want to make good teams great, we can help you succeed with agile.
To leverage the benefits that Agile brings to Corporate & Organizations, Agile School supports teams, programs, and management in adopting the Agile way of working.
Focusing on short-cycled value delivery, we use our expertise and experience.
Agile School provides effective training, pragmatic coaching and organizes events to ignite, sustain, and reinforce the Agile mindset.
Agile School provides a variety of services that can help any organization adopt and improve their use of agile processes and techniques in order to build extremely high-performance development organizations.
Whether you are interested in coaching, consulting or training, we can help.
Objective
The objective of the company is to render personal services and to take on complete projects in the fields of IT, Management, Digital Transformation, Agile Transformation, Telecommunications, New Media, the Energy sector and Banking.
Our aim is to find the ideal solution for companies of all sizes and from all sectors.
By choosing our company as a business partner you benefit from our experience, our national and international contacts, and cooperation partners.
In providing these services we have constantly made a considerable contribution to reducing costs and increasing efficiency for our customers.
Our long-term success is based on the wide range of solution methods we can apply to handle your individual requirements.
 Agile School provides the following certified training & workshops on a public & private basis.
Scaled Agile Framework (SAFe) Training and Certifications

iSQI Certified Agile Business Analyst (CABA)

iSQI Certified Agile Essentials (CAE)

iSQI Certified Agile Tester (CAT)

PMI Agile Certified Practitioner (PMI-ACP)

PMI certified Project Management Professional (PMI-PMP)

Certified Kanban Trainings (TKP, KMPI, KMPII)

Management 3.0

DevOps Fundamentals

The Phoenix Project – DevOps Simulation

ICAgile Certified Enterprise Agile Coaching Masterclass (ICP-CAT)

ICAgile Certified Agile Coaching Workshop (ICP-ACC)

ICAgile Certified Agile Facilitator Workshop

Training from Back of the Room

Product Delivery Planning Workshop

Lean-Agile Vision and Effective USer Story Writing Workshop

Feedback Culture in Agile Environment
Please contact us to discuss how we can help you Succeed with Agile.
Agile School Inc.