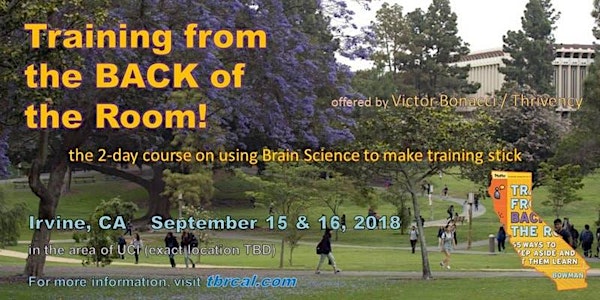 Training from the BACK of the Room! Irvine 2018
Location
UCI's Division of Continuing Education
510 E Peltason Dr.
DCE Building, room 2070 (was 2020)
Irvine, CA 92697
Refund policy
Refunds up to 7 days before event
Description
Training from the BACK of the Room! is a two day course that enables you to explore the most current "cognitive neuroscience" about effective instruction - how the brain takes in, stores, retrieves and uses knowledge. Discover six powerful learning principles based on the best of brain science, then apply these principles every time you train, teach, or coach others.
These Accelerated Learning principles go hand-in-hand with team-based Agile and Scrum processes and principles. If you are an Agile coach or Scrum trainer, you will be especially pleased to discover how to combine Agile/Scrum concepts with collaborative learner-engagement.
During this dynamic, two-day Training from the BACK of the Room (TBR) workshop, you will also practice using the 4Cs instructional design "map" with the content you teach, regardless of the complexity of the topic, size of the class, or level of learners. The 4Cs is a brain-based, four-step, Accelerated Learning instructional design model now used by hundreds of Agile coaches and Scrum trainers around the world.
Leave this train-the-trainer event with a trainer's tool bag of practical, brain-based instructional strategies you can put to use immediately in your own training programs. You'll also leave with a 55-page workbook filled with new resources and brain science information, as well as copies of Sharon Bowman';s best-selling books: "Training from the BACK of the Room" and "Using Brain Science to Make Training Stick".
Whether you are a trainer, instructional designer, an agile coach or someone who wants to improve presentation skills, this workshop is for YOU!
LEARNING OBJECTIVES
After your active participation in this train-the-trainer workshop, you will be able to:

Apply six learning principles based on current brain research every time you train, regardless of the complexity of the topic, size of group, or level of learners.

Demonstrate a variety of brain science elements important to human learning, using your own training topics.

Increase learners' attention, retention and engagement with learning activities that engage the whole brain.

Use the "4Cs Map" as a training design and delivery model for any brain-based instruction.

Choose from dozens of brain-based learning activities for all topics and all instructional formats: classroom, e-learning, one-on-one, small or large group training.

Access a collection of new brain science resources to enhance your training skills, whether you teach in real or virtual classrooms.

Create training classes and programs that combine your own topic and materials with the brain-based concepts and strategies from this program.

Explain to colleagues your understanding of the physiology of the human brain as it applies to learning, training and memory.

Become a member of an ongoing "mastermind" of trainers who have as their community commonality brain science, the 4Cs map, and a passion for training excellence.

(for Scrum trainers and Agile coaches) Combine Agile and Scrum processes and principles with Accelerated Learning to create collaborative, interactive, fun and memorable learning experiences.
Each participant will receive:

One copy each of Sharon's bestselling book "Training from the BACK of the Room! 65 Ways to Step aside and let them Learn" and her newest book "Using Brain Science to Make Training Stick"

A 55-page workbook that is only available with this program – an indispensable resource for use during and after the workshop

A collection of "brain activating tools" – game prizes, training souvenirs, and learning aids that can be used in your own training programs

Training materials in digital format

A certificate of completion, suitable for framing

Lunch, snacks and beverages included
In the event that the course does not meet minimum number of participants, the organizer may choose to cancel the course no later than 45 days prior to the event and issue a full refund to any paid reservations.