[TRAINING] Cloud Foundry for DevOps: Silicon Valley
Description
Why this training?
This four-day course is an in-depth primer on building and operating Cloud Foundry clusters with BOSH as well as a deep dive into deployment, configuration, and management of Cloud Foundry installations.
Students will gain experience in deploying BOSH and Cloud Foundry. From here, the course expands on working with orgs and spaces, quotas, and security groups within Cloud Foundry and covers advanced usage of the Cloud Foundry CLI.
Day three and four are dedicated to exploring topics related to HA deployments, buildpacks, CF CLI plugins, and interaction between the BOSH Director and a BOSH Agent.
---
Who should attend?
DevOps engineers responsible for building and operating the Cloud Foundry platform and seeking a deep understanding and a better knowledge of:
the Cloud Foundry platform

Cloud Foundry components

how to use Cloud Foundry in operations

---






Course objectives
By the end of the training, participants will be able to:
Describe the architecture and main concepts of Cloud Foundry

Prepare the infrastructure for BOSH and Cloud Foundry

Deploy, configure, and manage the BOSH Director

Connect to BOSH and use it to manage cloud services

Deploy, configure, and manage Cloud Foundry

Configure and use the Cloud Foundry CLI (advanced CLI usage will also be covered)

Manage resources and users inside a Cloud Foundry cluster

Ensure that the system is secure

Make the system resilient to component failure

---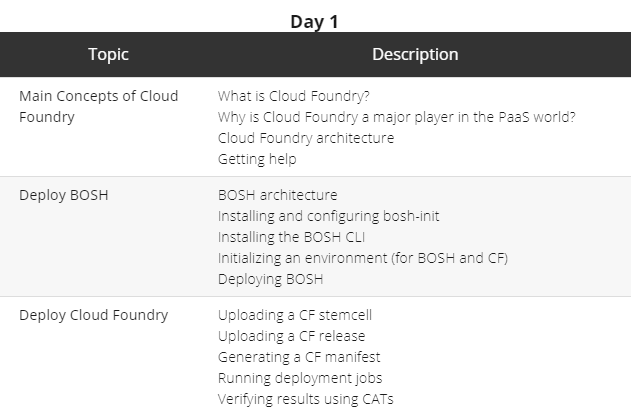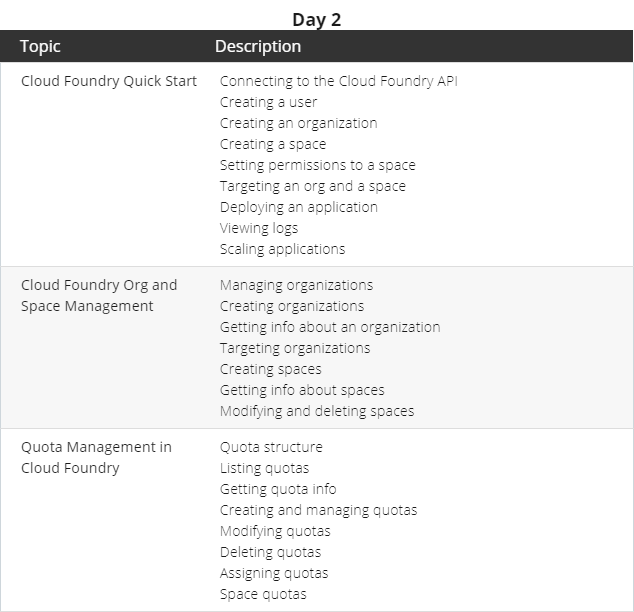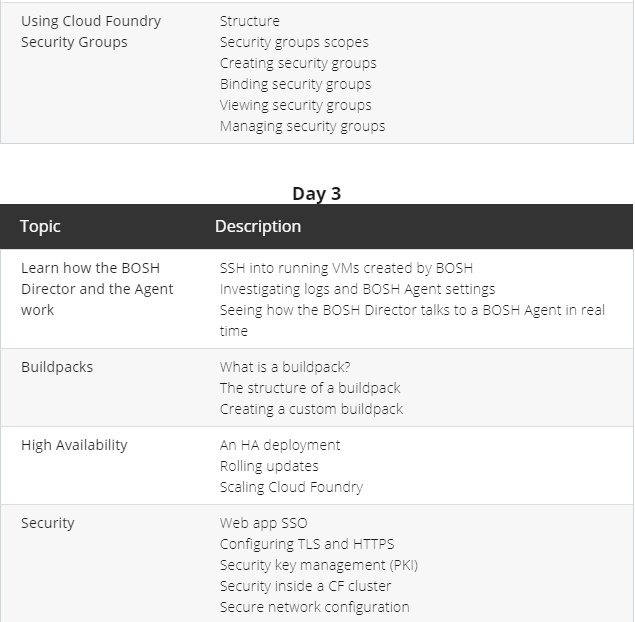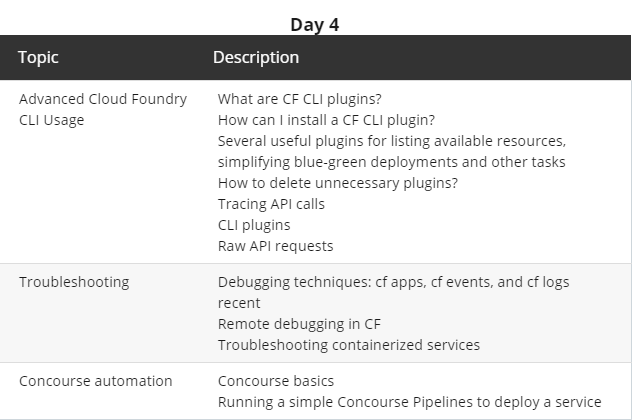 Prerequisites
Altoros recommends that all students have:
Completion of the Cloud Foundry for devops - Essentials course

A basic knowledge of Linux:

SSH to a remote host

Copying files between a local machine and a remote Linux host

Editing files in Linux using vim, nano or Emacs

Basic command line operations

Filtering command results using grep

Experience with Docker:

Running applications inside Docker containers

What is a Docker container?

How are containers different from virtual machines?

What is a Docker image?

A good understanding of the general principles behind distributed systems:

Distributed consensus: how is it different from master-slave replication, how many nodes are required to achieve distributed consensus, what are the algorithms available for it?

Data partitioning and replication techniques

How is horizontal scalability different from vertical scalability?

Cloud service models: SaaS, PaaS, IaaS

Cloud deployment models: private, public, hybrid

First-hand experience with an IaaS provider: AWS:

Creating EC2 instances

Creating VPCs, networks, security groups, load balancers

Managing the DNS using Amazons Route53 service

Creating an S3 object bucket

Understanding of availability zones

Creating a SQL database using AWS RDS

Experience with managing system configuration using Puppet, Chef or Ansible will be helpful

A workstation with the following capabilities:

A SSH terminal client (like ssh or Putty)

A tool to transfer files over SSH (like scp)

A web browser (Chrome/Firefox)

Internet connection

A firewall allowing outgoing connections on TCP ports 22, 80, 8080 and 443

---



Payment info:

If you would like to get an invoice for your company to pay for this training, please email to training@altoros.com and provide us with the following info:
Name of your Company/Division which you would like to be invoiced;
Name of the person the invoice should be addressed to;
Mailing address;
Purchase order # to put on the invoice (if required by your company).
The tickets are limited, so hurry up to reserve your spot NOW!
! Please note our classes are contingent upon having 7 attendees. If we don't have enough tickets sold, we will cancel the training and refund your money one week prior to the training.Thanks for the understanding.
Watch free recorded webinars on Cloud-Native-related topics (choose tag CLOUD FOUNDRY)
---
This training is provided by Altoros, Cloud Foundry Summit approved training provider. Altoros has delivered training to VMware, SAP, EMC, Hospira, Siemens, Fidelity, and many others.