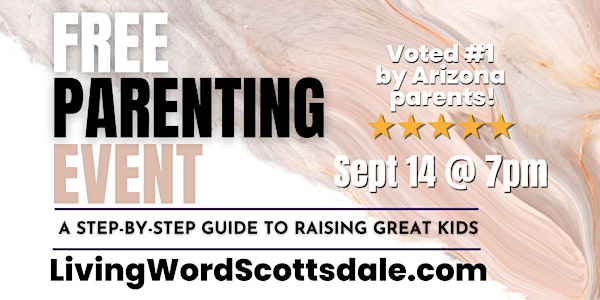 Train Up a Parent Event | Scottsdale
Learn to raise up highly successful, parent honoring, God loving children! Taught by Pastors Mark & Holly.
When and where
Location
Living Word Scottsdale 8551 East Anderson Drive #105 Scottsdale, AZ 85255
About this event
A FREE conference designed to equip you and your family to WIN.
Imagine a world without fits and tantrums, a world where your children do what you ask the first time you ask and with a happy heart, a world where teenagers enjoy their home and their family and are still doing what you ask!
Join us at this one-day event and learn to:
Handle temper tantrums (from tots AND teens).
Raise kids who are disciplined and self-controlled.
Channel a growing independence.
Motivate your child.
Set healthy boundaries for your kids.
Help your child choose good friends.
Navigate future spouse discussions.
Maintain a healthy influence in adulthood.
The transition from parent to friend.
Pastor Holly has a 25 year background in education working with parents and students for success. She has taught in the public and private sector over her career. Pastors Mark and Holly have two kids now one in college and the other in highschool.
Register Free Today!