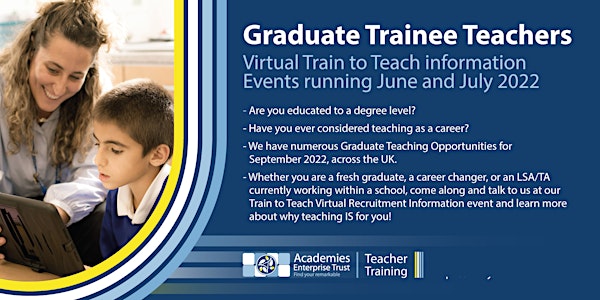 Train to teach with Academies Enterprise Trust - online recruitment event
Hear more about our remaining in-school PGCE salaried & bursary vacancies for 2022
About this event
Are you educated to degree level?
Have you ever considered teaching as a career?
We have numerous Graduate Teaching Opportunities for September 2022, across the UK.
Primary Vacancies:
We still have a small number of Salaried / Unsalaried (bursary) places in our schools. You will need to be flexible on location, have a degree with at least upper second classification (2.2 minimum) and GCSEs (or equivalents) in Maths, English and Science grade C.
Secondary Vacancies:
We only have Maths, English and Science positions available in a range of schools nationwide (London, Essex, Lincs, Staffs, Yorks, Hamps, Birmingham) You will need either a degree in one of these subjects OR a 2.2 degree AND at least a grade C at A-level in either Maths, English or a Science.
Whether you are a fresh graduate, a career changer, or an LSA/TA currently working within a school, come along and talk to us at our Train to Teach Virtual Recruitment Information event and learn more about why teaching IS for you!
This is an online event. You will be sent sign-in details the day before the event.