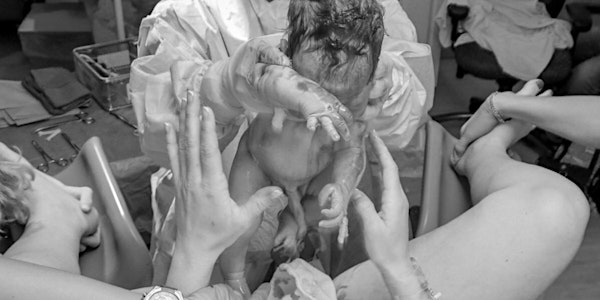 Train for 10 Centimeters
When and where
Location
Bob Duncan Center 2800 South Center Street Arlington, TX 76014
Refund Policy
Refunds up to 7 days before event
Description
How does TV portray birth? 100% of the time the momma's water breaks first with a gush at the most inopportune time. Then, she all of a sudden starts screaming due to painful contractions. People around her panic, trip over things and more chaos sets in. Finally, there is a commercial and she is holding her 3 month old baby!! Fear, panic, chaos is all for the dramatic effect of our entertainment by professional actors/actresses, which gives us a false impression of what birth truly can be.
What does childbirth really look like?
Do I have to have my baby in a hospital?
How can we remain calm and fearless of childbirth?
Will my water actually break first?
All these questions and more will be answered at this empowering, edcuational 1 day event!! This is the first time a 1 day event has included all your birth and postpartum options knowledge you will need to make the best decisions for your body, your birth and your baby. Let's TRAIN!!
TRAIN:
If someone trains you to do something, they teach you the skills that you need in order to do it. If you train to do something, you learn the skills that you need in order to do it. -Collins Dictionary

To prepare someone or be prepared for a job, activity or sport by learning skills or by mental or physical activities. -Cambridge Dictionary
This empowering training will cover the most important highlights of what you need to know to prepare your body for birth and increase your chances at a vaginal delivery! Our professional birth training staff is ready to train YOU in the skills you need to create you optimal birthing experience. Our team speakers consist of a midwife, a prenatal chiropractor, a doula, a childbirth educator and a lactation consultant. This team will be sharing their professional expertise on your birth and postpartum options in Texas to prepare you mentally, and physically for your birth game day.
This training is perfect for couples who are thinking about starting a family, who are already expecting or for those who would like a better outcome for their next birthing experience. Moms and dads are encouraged to attend! Some of the most common questions that will be covered are:

How do I chose a healthcare provider?
How do I chose my birthing environment?
How do I have a drug free, all natural birth?
How do I avoid a traumatic birth experience?
How do I avoid a unnecessary cesarean?
How to increase my chances of a vaginal delivery?
What should I be eating during pregnancy?
Is it ok to exercise during pregnancy?
How does chiropractic care take hours off my labor?
How do I prepare my body for labor?
How can a doula help me in labor?
Can I eat my placenta?
What happens to a my body after I give birth?
How can I take care of my baby?
Should I baby wear my baby?
Will I spoil my baby if I hold him/her to much?
What is belly binding?
Is it ok to use essential oils during pregnancy, birth and postpartum?
Does breastfeeding hurt?
What if I have low milk supply?
Do I have to vaccinate my baby?

All these questions and much, much more will be answered at this training. Bring your questions with you!! This will be an interactive training event. You will learn to ask questions to better your birthing experience!! You are here to TRAIN FOR 10 CENTIMETERS!!

Healthy Mommy, Healthy Baby, Labor On!
Professional Birth Training Team:
Krisha Crosley CD(DONA), BBCD
Serenity Life Doula
Traci Santangelo CNM, IBCLC
Birth Pointe Midwifery

Dr Kenyon Godwin, DC
Active Family Wellness Center

Nikia Lawson CD(DONA)
Birth Blessings

GAME PLAN:
Will Call 8:30-9:00AM
Train for Birth starts promptly at 9:00AM
Train with the Midwife
Train with the Prenatal Chiropractor
Train with the Doula

Fuel Your Body 12:00PM-1:00PM

Train for Postpartum starts promptly at 1:00PM
Train for Mom & Baby
Train for Breastfeeding
Train for Baby Wearing, Belly Binding
Train for Essential Oils
GAME OVER 4:00PM

The more knowledge you have on a subject the better decision you will make about that subject. This is your body, your birth and your baby. This training will empower you and your partner to be the captain of your birth and teach you the skills you will need to know to lead your team. Knowledge is power! You don't get rematches in birth. Make it the best game day of your life!

Be prepared for a FULL day of training!! Wear comfortable clothing, walking shoes to train. You will receive special training gear for attending and thousands of dollars in prizes will be awarded!! Along with the immense knowledge you will receive, you will train to endure birth by specific movements and stretching. Your water intake will increase, healthy yummy food will be provided and you will be given plenty of restroom breaks.

We want you crossing the finish line at the end of your game day with a oxytocin glowing high, feeling very accomplished with your beautiful reward and sharing your totally awesome experience with all!

#trainforbirth #trainforpostpartum #trainfor10centimeters #startswitheducation

Healthy Mommy, Healthy Baby, Labor On!

************************************************************************************************************

This event will be photographed by a professional photographer: KE Documentary.

************************************************************************************************************