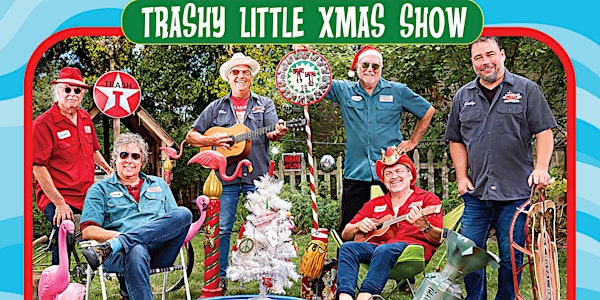 Trailer Trash-Trashy Little Xmas Show! Live at The Granada
Ages 21+
Granada Theater & Uptown Lobby
Join us for a trashy festive Christmas show!
When and where
Location
Granada Theater 3022 Hennepin Ave S Minneapolis, MN 55408
About this event
WHAT THE DICKENS IS THIS?
Years ago, Dwight D. Eisenhower was right when he said, "Beware the
Christmas–Industrial Complex!" Every year we sweat and toil, only to
be judged by a fat little elf in a cheap suit. Nowadays it's the
Polar Vortex, War On Christmas, Season Affective Disorder and Snow
Emergencies. No wonder we are full of anxiety!
Here's the remedy: Don your gay apparel, Humbug Hat, Crazy Xmas
sweater, Naughty/Nice Elf Suit and come join us. It's 50% tradition +
50% bizarre ritual. It's an irreverent celebration. It's the most
fun you can have with your Grinch underwear on!
Their TRASHY LITTLE XMAS SHOW has become a perennial tradition for holiday revelers. They have performed at Super Bowl LII Live, at Jesse Ventura's Inaugural Ball at the Target Center, and for the opening party at the new Guthrie Theater. They've provided the soundtrack to countless Twin Cities courtships and hundreds of wedding receptions. Somewhere in that time, the group racked up seven Minnesota Music Awards, appeared in two movies, (Herman USA and Dill Scallion) and put out seven albums.
THE GUYS
Nate Dungan – guitar, vocals
Randy "Moe" Anderson – guitar, vocals
Jon Duncan – piano, organ, accordion, vocals
Keely Lane – drums
Steve Price – bass, vocals
Randy "Tyrone" Broughten – pedal steel, lap steel
Dinner reservations are available in the Uptown Lobby.
Parking is available at Seven points parking ramp across the street or off street south of 31st & Hennepin.