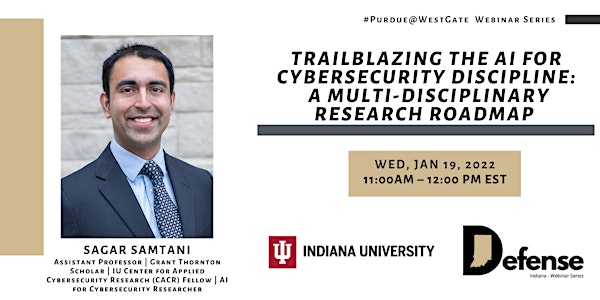 Trailblazing the Artificial Intelligence for Cybersecurity Discipline
This webinar will cover Innovative solutions to proactively tackle emerging cybersecurity challenges via new data and research applications
About this event
Overview:
Cybersecurity has rapidly emerged as a grand societal challenge of the 21st century. Innovative solutions to proactively tackle emerging cybersecurity challenges are essential to ensuring a safe and secure society. Artificial Intelligence (AI) is increasingly becoming a viable approach for sifting through terabytes of heterogeneous cybersecurity data to execute fundamental cybersecurity tasks such as asset prioritization, control allocation, vulnerability management, and threat detection with unprecedented efficiency and effectiveness. Despite its initial promise, AI and cybersecurity have been traditionally siloed disciplines that relied on disparate knowledge and methodologies. Consequently, the AI for Cybersecurity discipline is in its nascency. In this talk, Sagar will first provide an overview of prevailing cybersecurity data, summarize extant AI for Cybersecurity application areas, and identify key limitations from in the prevailing landscape. Based on these key issues, Sagar will offer a multi-disciplinary AI for Cybersecurity roadmap that centers on major themes such as cybersecurity applications and data, advanced AI methodologies for cybersecurity, and AI-enabled decision making. To help scholars and practitioners make significant headway in tackling these grand AI for Cybersecurity issues, Sagar will summarize promising funding mechanisms from the National Science Foundation (NSF) that can support long-term, systematic research programs.
Speaker Bio:
Dr. Sagar Samtani is an Assistant Professor and Grant Thornton Scholar in the Department of Operations and Decision Technologies at Indiana University. Dr. Samtani graduated with his Ph.D. from the AI Lab from University of Arizona. Dr. Samtani's research interests are in AI for Cybersecurity, developing deep learning approaches for cyber threat intelligence, vulnerability assessment, open-source software, AI risk management, and Dark Web analytics. He has received funding from NSF's SaTC, CICI, and SFS programs and has published over 40 peer-reviewed articles in leading information systems, machine learning, and cybersecurity venues. He is deeply involved with industry, serving on the Board of Directors for the DEFCON AI Village and Executive Advisory Council for the CompTIA ISAO.
**A zoom link will be sent out one day prior to the event**
If you have any questions, please feel free to email Samantha Nelson, Program Manager, Purdue Foundry at WestGate, at sjnelson@prf.org.