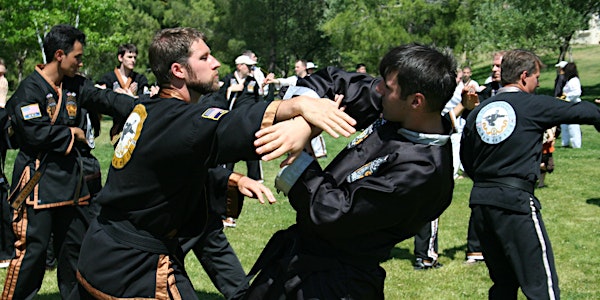 Multiple dates
Traditional Martial Arts Self-Defense
Learn to defend yourself and your loved ones using fighting and conditioning techniques passed down over 9 generations.
Date and time
April 1 · 10am - November 4 · 11am EDT
Location
2014 Murray Ave 2014 Murray Avenue Pittsburgh, PA 15217
Refund Policy
Contact the organizer to request a refund.
Eventbrite's fee is nonrefundable.
About this event
For over 50 years, Oom Yung Doe has been teaching individuals to improve and protect themselves. Our Saturday morning self-defense classes use our 8 Martial Arts curriculum to teach simple and effective techniques aimed at ending any situation as quickly as possible. Through conditioning, you build strength throughout your body in order to improve your health and effectively use a given technique. By drilling techniques, you learn to instinctively use fingers, hands, elbows, knees, and feet to strike quickly and accurately.
Our 8 martial arts curriculum determines the movements covered in each class based on which one of the 8 is being taught that week. Techniques vary from close range defenses against grabs, using joint locks and throws, to longer range defenses, using body movements and kicking to create or keep distance between yourself and an attacker.
These lessons are intended to bring up your ability to defend yourself in an unexpected and unwanted situaition. They are not built around sport technique, but real life situations. The main focus of traditional martial arts is to build yourself up, mentally and physically, to live a happy and healthy life, all the while learning to protect yourself and your loved ones.
General Class Schedule
10am - Breathing exercise to focus the mind and energize the body and "Bow in" to begin the lesson
10:05 - Gradual warm up leading into HIIT conditioning and stretching.
10:20 - Learn technique and drill
10:30 - Apply technique with partner using pads
10:45 - Build and expand on technique
11am - "Bow out" of the lesson and finish
Learn more from our local and national websites.
https://oomyungdoe-pa.com
https://www.oomyungdoe.com
Frequently asked questions
WHY 8 MARTIAL ARTS? ISN'T IT BETTER TO FOCUS ON JUST ONE AT A TIME?
I'M SO UNCOORDINATED, HOW COULD I POSSIBLY DO THIS?
DO YOU SPAR HERE? WHY DON'T YOU DO FULL CONTACT SPARRING?
DO I NEED TO DO ANYTHING ELSE OUTSIDE OF OOM YUNG DOE TO STAY IN SHAPE (SWIMMING, RUNNING ETC.)
About the organizer
The School of Oom Yung Doe, the Grandmaster "Iron" Kim Style, is true martial arts training. We are the original school to teach 8 traditional martial arts as one for the complete development of the mind and body.
We offer a wide range of events that target different aspects of the human experience. From stress relief, to fitness condtioning, to self defense, our goal is to give you the tools to meet the challenges of life and rise above them.